Mike Pompeo entered the State Department as secretary for the first time Tuesday with an upbeat message to the beleaguered employees, saying he was "enormously humbled" to stand before what he called the most important diplomatic corps in the world.
Interested in
Trump Administration?
Add Trump Administration as an interest to stay up to date on the latest Trump Administration news, video, and analysis from ABC News.
"The U.S. diplomatic corps needs to be in every corner, every stretch of the world, executing missions on behalf of this country, and it's my humble noble undertaking to help you achieve that," Pompeo said.
Pompeo also announced President Donald Trump will visit the State Department Wednesday for the first time to officially swear Pompeo in alongside other cabinet members.
"It's an important day for the president's first trip to this important place," Pompeo said. He made no mention of Rex Tillerson's turbulent tenure before Trump fired him.
Pompeo emphasized the learning curve he faces. He jokingly told a story about advice he received from a platoon sergeant during his early military career: "You'll do well to just shut up for a while." Pompeo said he plans to lay out his leadership style and his expectations for State within the next week or so. Pompeo got a generally warm reception with employees applauding and laughing at his jokes.
About his leadership style, Pompeo said "this is very different. One of my first rules is 'don't talk down to people.'"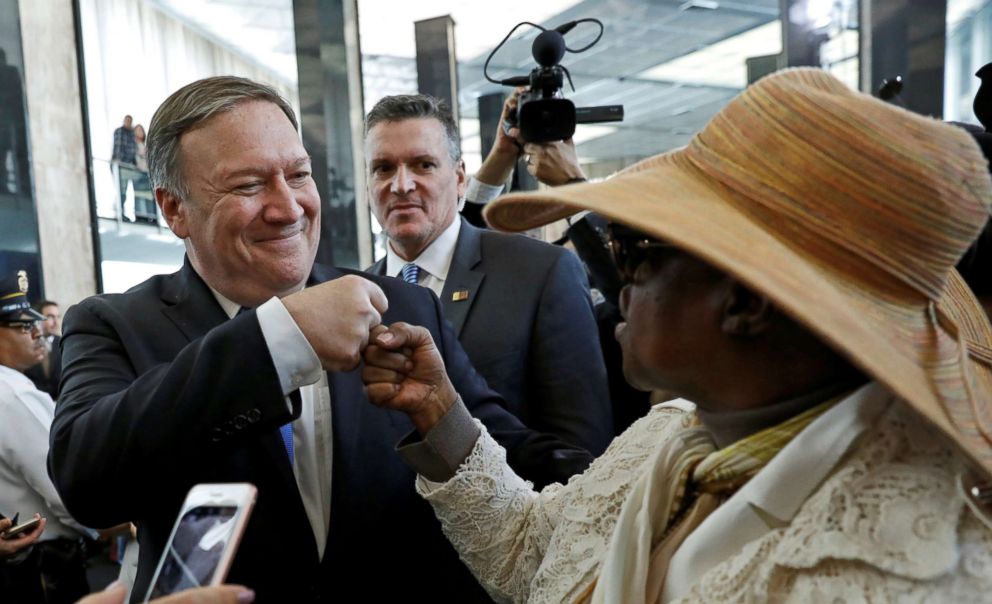 Deputy Secretary of State John Sullivan, who has been serving as acting secretary of state, introduced Pompeo and described him as a cross between Gen. George Patton and Supreme Court Justice Oliver Wendell Holmes.
"That's a pretty tough combination to face as an opponent but the good news for us is he's coming here to lead our team," Sullivan said.
Pompeo was also flanked by his wife, Susan.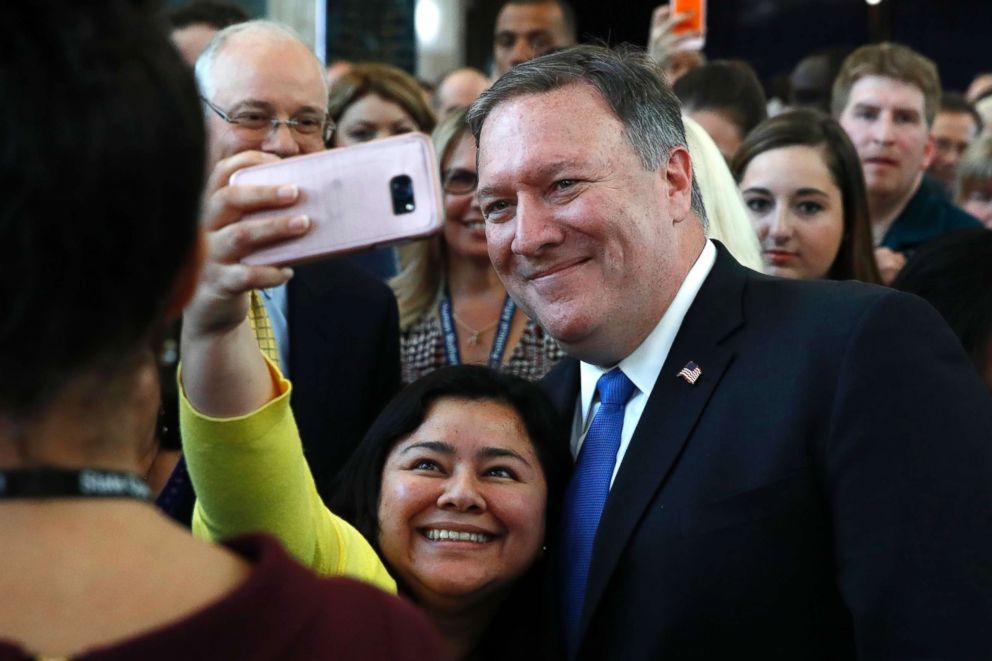 Pompeo began his remarks by joking about his whirlwind trip to Belgium, Saudi Arabia, Israel and Jordan, which began just hours after he was initially sworn in as secretary of state last Thursday by Supreme Court Justice Samuel Alito.
"I think I have the record for the longest trip to the first day of work," Pompeo said.
On that trip, Pompeo discussed the Iran nuclear deal with allies in the Middle East ahead of President Trump's expected May 12th decision on whether to pull out of the deal.