Puerto Rico to waive rent payments for public housing as 10,000 remain in shelters
Ten thousand in Puerto Rico still in shelters 10 days after hurricane hit.
September 30, 2017, 7:44 PM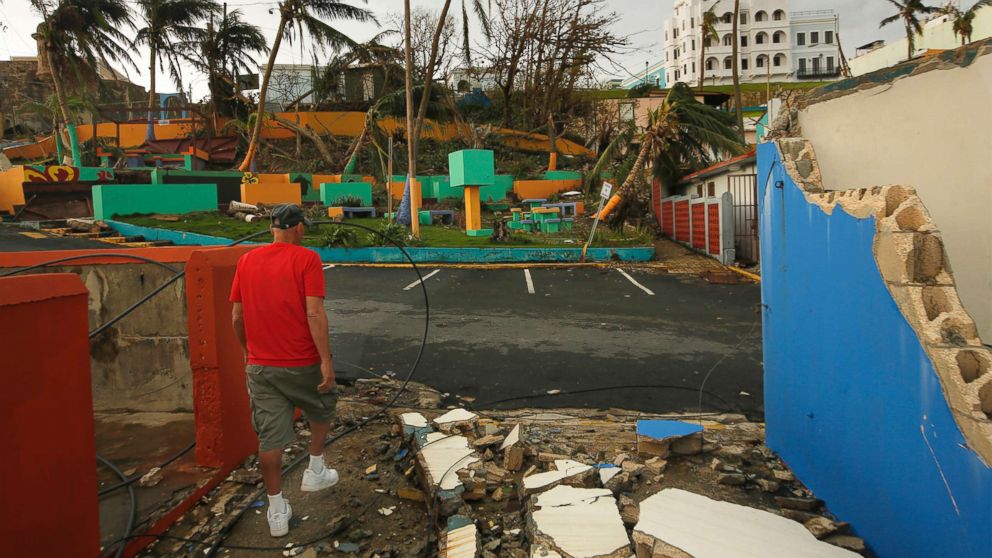 — -- Ten days after Hurricane Maria ravaged Puerto Rico, the U.S. territory's governor approved a moratorium on rent payments for those living in public housing as residents struggle to recover from the devastating storm, while 95 percent of customers there and in the U.S. Virgin Islands are still without power.
Puerto Rico Gov. Ricardo Rossello said at a joint press conference Saturday with the Federal Emergency Management Agency (FEMA) that the moratorium will stay in effect until January. An estimated 10,000 people remain in shelters, he said.
Rossello also announced the moratorium in Spanish on Twitter.
Maria made landfall as a major Category 4 hurricane in Puerto Rico on Sept. 20, killing at least 16 people, knocking out power, decimating infrastructure and drowning the island's agriculture. Residents at the time were still recovering from the powerful Hurricane Irma two weeks earlier that had unleashed heavy rain and high winds.
The back-to-back storms also pummeled the U.S. Virgin Islands, another American territory. As of Saturday morning, 95 percent of customers are without power, while 45 percent of customers now have access to safe drinking water in both Puerto Rico and the U.S. Virgin Islands, according to the U.S. Department of Defense.
In Puerto Rico, the highest priority now is to restore the island's communications and power grid, the governor said.
As of Saturday morning, just over half of Puerto Rico's gas stations had reopened, and Rossello said additional fuel will be arriving throughout next week.
Meanwhile, 51 of 69 hospitals are now open, with most running on diesel-powered generators.
Authorities have reestablished radio communication in San Juan and some surrounding areas. All landlines were working again as of Saturday morning after dozens of antennas were lifted to get telephone service up again, the governor said.
In Old San Juan, signs that the capital city's historic district is slowly coming back to life began to emerge Saturday, with people walking through the narrow, brick roads and cars lining the streets. Many restaurants in the district were open -- with limited menus -- and a drug store and a grocery store, both still without power, were open for business.
Hundreds of National Guard members and first responders from law enforcement agencies, including New York City's police and fire departments, are on the ground in Puerto Rico to help with the recovery efforts.
With thousands of cargo containers filled with necessary supplies that have arrived at a port in San Juan not yet distributed, Rossello told reporters Saturday that his government will purchase some of the crates to make sure they get to those in need across Puerto Rico.
FEMA told ABC News that any aid it has delivered to Puerto Rico has been immediately distributed. The agency, in coordination with its federal partners, has provided millions of meals and millions of liters of water to Puerto Rico this week, officials said.
At Saturday's joint press conference with Rossello, FEMA Region II Acting Administrator John Rabin said his agency is working closely with law enforcement to ensure supplies are being delivered. Another 2 million meal kits and 1.5 million liters of water are expected to arrive in Puerto Rico, Rabin said.
U.S. Army Lt. Gen. Jeffrey Buchanan was appointed by the Pentagon to lead the U.S. military response to relief efforts in Puerto Rico. The three-star general and his team were fully integrated with FEMA and response stakeholders on the ground on Saturday.
Buchanan told ABC News that he toured parts of the island by helicopter today, and that the devastation is some of the worst damage he's ever seen. He said that he expects the 4600 troops currently on the ground -- many of whom are working to get fuel to hospitals to power generators -- will increase to over 5000 in the coming days. Buchanan estimated that as of Saturday evening, 20 hospitals on the island are fully back on the electrical grid.
The U.S. military is conducting daily flights delivering food and water for up to 250,000 residents there, according to a press release from the U.S. Northern Command.
"The central challenge in Puerto Rico continues to be the distribution of commodities and services to every point of need," the statement said. "Therefore, our active-duty response efforts will continue to focus on commodity distribution."
President Donald Trump plans to make his first visit to Puerto Rico on Tuesday, after critics on both sides of the aisle accused his administration of a lackluster response to the catastrophic damage left by Maria.
Following requests from Gov. Rossello, Trump on Thursday authorized that shipping restrictions, via the Jones Act, be waived immediately for the island over the next 10 days. The move is intended to expedite the delivery of relief supplies there.
At a press conference Friday, San Juan Mayor Carmen Yulín Cruz continued her impassioned pleas with the Trump administration for more federal assistance, saying FEMA has "collapsed" in Puerto Rico and residents have not received help quickly enough.
"We are dying, and you are killing us with the inefficiency and the bureaucracy," Cruz said in a tearful speech. "If we don't get the food and the water into people's hands, we are going to see something close to a genocide."
ABC News' Alex Perez contributed to this report.