A few miles from where Ray Clark sits in prison, 10 men await execution on Connecticut's death row.
The grim shadow of death row and the company of some of the nation's toughest criminals is hardly something that Clark, who before he was charged with killing Yale grad student Annie Le had barely a spot on his record, could have ever considered.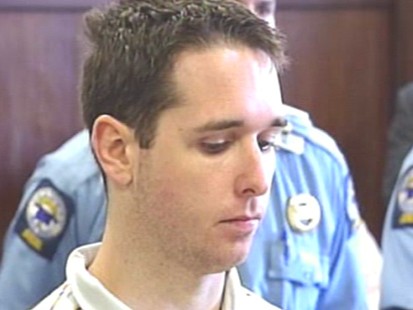 But his arraignment on murder charges has changed Clark's life forever. Instead of caring for lab mice at Yale and playing softball in games after work, he sits in a cell at the MacDougall-Walker Correctional Institution.
And one day if he's found guilty, he could be transferred to a cellblock at the Northern Correctional Institution, the home of Connecticut's death row.
Clark entered no plea at his appearance in court Thursday, and was sent to McDougall-Walker, a prison for the state's high and maximum security inmates.
As is common with high-profile inmates, Clark likely spent his first night behind bars in a separate area of the prison, commonly called a pretrial holding cell,f or his own safety, according to Ed Bales at the Federal Prison Consultants LLC.
"He's with killers and rapists and murderers and his lifestyle over the past 24 hours has changed completely," said Bales. "But these people don't have access to Clark right now." , Under Connecticut law, Clark has 60 days from the day of his arrest to waive his right to a probable cause hearing, which is required in order to stand trial for a crime such as murder, which is punishable by death or life imprisonment.
It would be at the probable cause hearing, according to Timothy Everett, a professor of law at the University of Connecticut School of Law, where a prosecutor would argue for the charge to be upgraded to capital murder, the only charge in the state for which the death penalty can be invoked.
If Tried and Convicted, Could Ray Clark Receive the Death Penalty?
"Murder alone does not carry the death penalty in Connecticut unless the state goes further and charges a capital felony," said Everett. "In order to charge a person with a capital felony, a person would have to commit a murder in a number of ways specified in the statute."
According to that statute, the death penalty is applicable to any individual who murders a police officer, hires someone to murder, murders while he was already convicted of a murder or murders while he is sentenced to life in prison.
Convicted murderers can also be executed if they killed someone while committing first-degree sexual assault or killed a person whom they had kidnapped. Double-murders, as well as the murder of a person under the age of 16, is also punishable by death.
In Clark's case, the affidavits have not yet been released and little is known about what exactly went into Le's killing.
"It might be very hard, and by design it should be hard, to sentence someone like Clark to death," said Everett. "Relatively few of the murder cases in Connecticut are tried as capital felonies."
John Walkey, a Connecticut-based criminal attorney, said that only two of the eight provisions that allow a criminal to be sentenced to death are possible in the Clark case.
"This case isn't even eligible for the death penalty unless the state stretches the way it interprets kidnapping," said Walkey. "Kidnapping as a rule in the traditional sense means being taken and held for ransom, but the interpretation of kidnapping is actually much less than that. It could be merely someone taking someone against their will and moving them from one place to another."
If Clark were to be convicted of sexually assaulting Le in the first degree, which requires the involvement of a deadly weapon, the crime could also be eligible for the death penalty, said Walkey.
Steven Duke, a professor of law at the Yale Law School, said that it's more likely than not that if Clark is convicted, he will spend his life in prison, and not just because of the strict requirements that must be met for the death penalty to prevail.
"In my opinion, in 10 or 15 years from now there won't be a death penalty in Connecticut," said Duke, adding that the opposition to the death penalty in the state over recent years has grown tremendously.
In 2005, the first death row inmate in 45 years was executed. Michael Ross, put to death by lethal injection May 13, 2005, had been convicted of killing four women and had admitted to killing four others.
Today, the 10 men who await their executions are in various stages of appeal, a long process that Duke said makes death row inmates chance of dying of natural causes rather than at the executioner's hand much more likely.
"It certainly seems like it's harder in Connecticut to have the death penalty imposed than it is in places such as Oklahoma or Texas," said Walkey. "The people of Connecticut are just not as strongly in favor of the death penalty as they are in other parts of the country.
"The death penalty tends not to be a punishment that is sought and when it is, it's only in the most extraordinary cases," he said.
If convicted and sentenced to life, Clark could very well stay in the same jail he's in now, but would be moved to a cell closer to the other 2,101 inmates. He would be assigned a job that could be anything from working at the commissary to performing basic janitorial duties.