— -- Two rival teams in North Carolina displayed the embodiment of good sportsmanship when they worked together to allow a teen with paraplegic cerebral palsy to achieve his dream of playing football.
Lou Stamey, a 15-year-old who is confined to a wheelchair and has limited speech, scored a touchdown at the beginning of Canton Middle School's football game against Waynesville Middle School on the night of Sept. 22. The game was a precursor to the Friday night game between Pisgah High School and Tuscola High School, one of North Carolina's biggest football rivalries, which draws up to 20,000 fans annually, Canton Middle School football coach Joshua Simmons told ABC News.
Lou's love of football was passed on to him by his father, a local referee who called football games at the high school, middle school and youth levels before he unexpectedly died three years ago, Lou's mother, Belinda Stamey, told ABC News.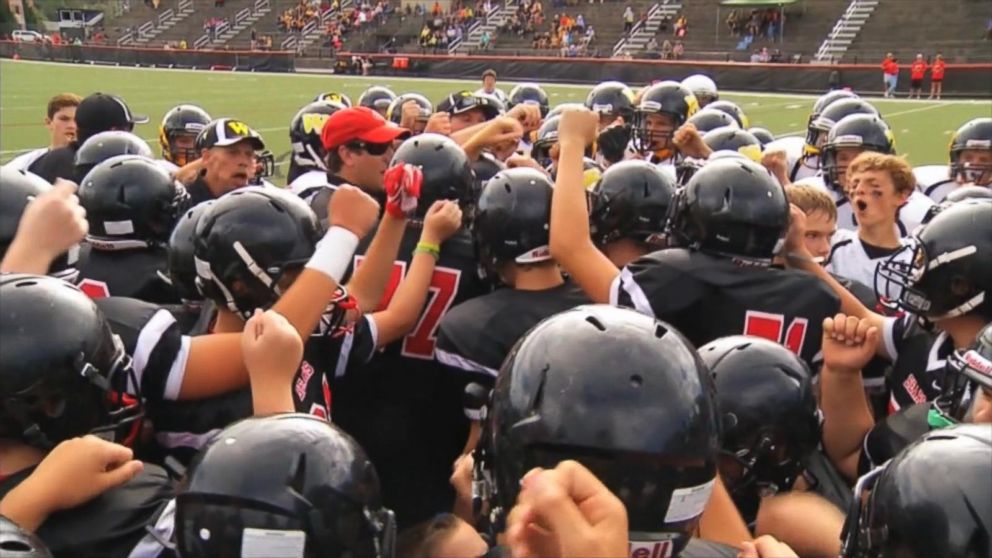 Simmons approached Lou's gym teacher and asked her if she thought Lou would be interested in participating in the football game.
"Lou's very special in our school," Simmons said. "He brings a lot of joy to a lot of people."
Simmons created the "Lou Play," and worked with Waynesville Middle School football coach Robert Sutton to pull it off. In the play, the ball was snapped to Canton's quarterback and handed to Lou, who held it in his lap. Classmate Brayden West then pushed Lou toward the goal line as Waynesville defenders dived for him.
"Look, Lou, they're cheering for you," a teammate can be heard saying to him as they make their way toward the goal.
Once he scored the touchdown, players from both teams rallied around Lou and chanted his name, Simmons said.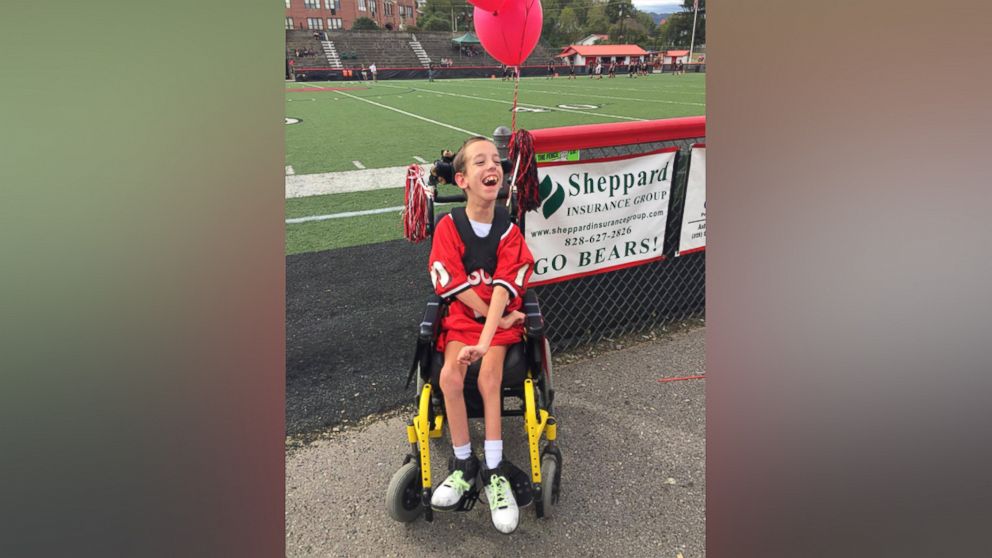 For one special moment, the rivalry "took a backseat to Lou," Simmons said, calling it "such a cool day."
For the rest of the game, he held a sign that read "Eat my dust," made for him by his mother.
"He thought it was funny," Stamey said of the sign. "He has a great sense of humor."
Simmons said it took effort from both teams to make the play a success, giving Waynesville credit for going "well beyond" his expectations. Waynesville's football coach, Robert Sutton, told ABC affiliate WLOS in Asheville that he was glad to be a part of the play.
While Simmons said including Lou in the biggest football game of the year was something the teen "would never forget," he said he hopes that it taught his players a lesson to never take for granted their ability to walk.
It was a "dream come true" for Lou to be on the field with his teammates, Stamey said. After his father died, he would see referees on televised games and say, "Daddy?"
Although the points from Lou's touchdown didn't count toward the official school, the momentum it created must have paid off. Canton won the game 38-8.
This may not be Lou's final participation in a rivalry game. Next year, Lou will attend Pisgah High School, and the "popular" teen will continue his role as a "staple in the community" there, Stamey said.