Wet, heavy snow is falling across the East Coast this morning, the second storm this week for winter-weary residents.
Ice and snow is covering roadways, creating slick driving conditions and grounding thousands of flights. Anywhere from a few inches to a foot or more of snow is expected to fall on the East Coast.
By 4:30 a.m. the snow changed to sleet in New York City, with additional ice and sleet accumulation expected this morning due to low temperatures.
A winter storm warning was issued for Philadelphia, with the city experiencing rain and sleet. Rain fell across Washington, D.C., and Baltimore.
The storm could bring over a foot of snow to Albany, N.Y. and Hartford, Ct. Boston could also get hit hard, possibly as much as 10 inches. The storm should pull out of the Northeast late this afternoon.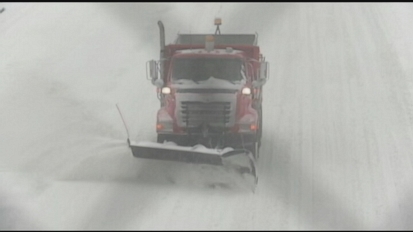 All of the precipitation is impacting flight schedules. According to FlightAware.com, more than 2,000 nationwide flights have been delayed, with another 2,000 canceled by 7 a.m.
Some states declared states of emergency ahead of the storm, including New Jersey and Mississippi.
The snow was falling across the Midwest Tuesday, forcing schools, businesses and government buildings to close. Almost 13 inches fell in Topeka, Kansas, making it the third-biggest snowstorm in the city's history.
The Northeast was hit by a separate snowstorm two days ago.
As if all the snow wasn't enough, an additional storm system is brewing – and could potentially dump more slushy snow across the country next week. At this point, weather models for the approaching storm system vary.
The Associated Press contributed to this report.