A diplomatic showdown is brewing over the return of a Serbian basketball player accused of pummeling an American student into a coma in an upstate New York bar. The Serbian fled for his homeland with the help of his government, despite a bail condition that required him to forfeit his passport, according to U.S. officials.
Miladin Kovacevic, 20, was among three State University of New York at Binghamton students charged with second-degree felony assault after a May 4 dance floor confrontation in the Rathskeller Nightclub ended with the hospitalization of 22-year-old graduating senior Bryan Steinhauer, according to Binghamton police.
"It was a typical dance floor incident," Lt. John Chapman, a spokesman for the Binghamton Police Department, told ABC News. "Some words were exchanged, some pushing and shoving, and this happened."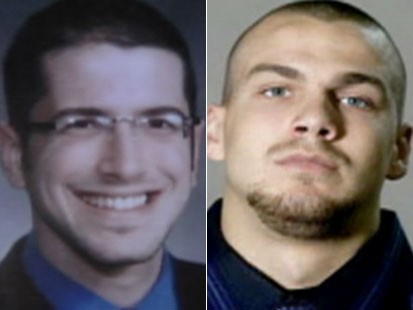 The altercation occurred after Steinhauer asked the girlfriend of Kovacevic's friend to dance, police said. Steinhauer, at 5 feet 9 inches tall and 135 pounds, was allegedly beaten by the 6 feet, 9 inch Serbian and two of his friends.
"During the dispute, Miladin punched the victim a couple of times, knocking him to the ground and then repeatedly kicked him in the head," Chapman said, citing witness reports.
Irwin Rochman, attorney for the Steinhauer family, declined to say where his client is hospitalized but said the Brooklyn native, who had a job lined up with accounting firm KPMG in August, remains comatose nearly two months after the incident.
Kovacevic, for now, is safe at home in Serbia, but the U.S. ambassador to the newly independent central European nation, with support from members of the New York congressional delegation, has formally asked Serbian officials to help return Kovacevic to New York.
"This case is a top priority for the U.S. government," Cameron Munter, U.S. ambassador to Serbia, said in a statement released Tuesday. "I met formally today with senior-most officials in the [Serbian] Ministry of Foreign Affairs to formally request that Kovacevic return to the United States to face justice."
Serbian officials assured American diplomats that they plan to cooperate with the request, Munter said.
But it was the actions of officials from the Consulate General of the Republic of Serbia that triggered the diplomatic dispute in the first place.
Kovacevic, who was in the United States as a recruit for Binghamton's Division I basketball team, spent about a month in the Broome County jail following his arrest before Serbian Vice Consul Igor Milosevic arranged to post his $100,000 bail June 6.
A judge also ordered Kovacevic to surrender his passport, but Milosevic provided paperwork that allowed the suspect to leave the country three days later from Newark International Airport.
Milosevic has returned to Serbia, where American officials are urging disciplinary action for his role in returning Kovacevic against the terms of his bail. "We are appalled at the behavior of the Serbian Consulate, which inappropriately issued an emergency travel document to Kovacevic after he was ordered to relinquish his passport and remain in the United States by the presiding judge," Munter said in his statement Tuesday.
Serbian Consul General Slobodan Nenadovic has reportedly been fired, according to U.S. officials with knowledge of the dispute. A man who answered the phone at the consulate general's office said he was not authorized to speak about the Kovacevic case but confirmed that both Milosevic and Nenadovic had returned to Serbia. Nenadovic had also contacted Rochman, the Steinhauers' attorney, to offer his regrets about the beating victim.
New York Sen. Charles Schumer, who has spearheaded a group of New York lawmakers working with American diplomats to urge Serbian officials to return Kovacevic, called Nenadovic's firing "a clear sign" that the Serbian government is taking the issue seriously.
Given Munter's formal request for the suspect's return, Schumer said he will not be satisfied until Kovacevic is back in the United States.
"Now the Serbian government has no excuse," Schumer said in a statement Tuesday night. "The paperwork has arrived, and we expect them to do everything they can to return Mr. Kovacevic to the United States so justice can be done."
Schumer spoke directly to Secretary of State Condoleezza Rice and FBI Director Robert Mueller about Steinhauer's case this week, a spokesman from the senator's office confirmed to ABC News. He also appealed to Attorney General Michael Mukasey about what he called "despicable" actions by some Serbian officials.
Fellow U.S. Sen. Hillary Rodham Clinton added that it was "unconscionable" that a foreign government official would help Kovacevic's flight.
Kovacevic's parents, an orthopedic surgeon and psychiatrist who live on a ranch in Kula, a 40,000-resident city north of Belgrade, have told reporters from American media outlets that they fear their son could not get a fair trial in New York because of a "media circus" that would bias the proceedings against him.
"We feel he is a victim of small-town values ganging up against a foreigner," Peter Kovacevic, the suspect's father, told the New York Post. "He was targeted because he was Serb and a very large man." His mother, Branka, was hospitalized when she learned Munter, the ambassador, wanted her son's return.
Kovacevic, nicknamed "Minja," arrived at Binghamton's basketball program from a Virginia prep school in 2006 as a highly touted recruit -- one of two 6 feet, 9 inch Serbians to join the Division I squad that year, according to an athletic department press release at the time.
Rochman, the Steinhauer family attorney, acknowledged that there are legal questions about extraditions involving the two countries that can only be answered by the respective governments. Under his interpretation of the treaty between the two countries, he said, Serbian officials are not obligated to extradite Kovacevic, but there is nothing preventing them from doing so.
In the meantime, the Steinhauer family watches as the 22-year-old's condition improves slightly. "This is a young man with the brightest of futures," Rochman said. "What I'm interested in is getting this thug back to the United States so he can face American justice."