Was it "class war" or just classless? That's the question residents of Beverly Farms, Mass., have been debating since their traditional Fourth of July parade turned into a bawdy procession mocking a group of pregnant high school girls from a neighboring town.
The village of Beverly Farms' annual Parade of Horribles has for 150 years invited residents to build floats that satirize current events or poke fun at politicians and celebrities. But when residents of the tiny village decided this year to lampoon 17 girls from a high school in nearby Gloucester, the mayor of that town called foul.
"The City of Gloucester is deeply offended by certain individuals trivializing and making a mockery of teenage pregnancy, which, unfortunately, is a national problem that we as a society must confront," Mayor Carolyn Kirk said in a statement Monday, after learning about parade floats that included a giant phallus that sprayed the crowd with water and from which people threw condoms and candy.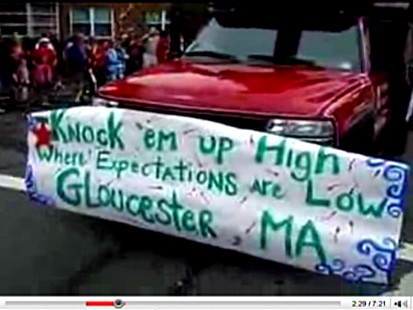 Video of the event posted in the Internet shows a number of homemade floats with signs including: "Knock 'Em Up High Where Expectations Are Low -- Gloucester, MA" and "We Didn't Wear a Rubber, Now We're Stuck Cooking Supper."
On one float, young women or girls who appear to be not much older than the Gloucester High School teens stuffed balls in their shirts to appear pregnant and danced suggestively to a hip-hop song behind a banner that read "Baby Shower."
The Gloucester teens made worldwide headlines last month when it was revealed that 17 girls at the same school had become pregnant at the same time. The school's principal and the mayor gave conflicting media accounts about whether the girls had intentionally planned a "pregnancy pact" or whether the incidents were coincidental.
Over the weekend Kirk told the Boston Herald that the parade pitted the rich village of Beverly Farms against the people of Gloucester, a blue-collar fishing village.
"It basically triggers a class war between this well-to-do enclave and a working-class city," she said.
Residents of Beverly Farms, population 3,500, were split on whether the floats were in the spirit of satire and good fun, or whether they crossed the line.
"Anything goes, and there really are no rules other than not making personal assaults," said Maura Curran, a parade judge who resigned in protest over the floats she described as "offensive."
"Some people made floats this year that were pretty tasteless. Some people felt they were within the spirit of the parade, but I disagreed with them," she said.
She said in years past, the floats were wittier and the humor intended just for the adults in the crowd.
"This is a horribly sensitive subject because there are kids involved, both here and in Gloucester. This is a family event and some things this year just weren't funny."
Curran, a self-described "soccer mom" and fourth-generation member of the village, said some locals took particular offense to the float with the large phallus that sprayed water and the condoms that were distributed.
"Generally, you write something on a sign and the kids don't get the joke. But when they're picking up condoms and asking if they're candy, that is just too much."
The parade is not sponsored by the village of Beverly Farms, or the larger town of Beverly to which it belongs, but is put together by volunteers.
Participants typically decorate their floats the night before in secret. There is no official theme of the Horribles Parade, and judges will sometimes attempt to censor some signs as they pass.
Alison Weingartner, who helped organize the parade and has lived in the village for the past 14 years, said her biggest complaint was the floats simply "were not as funny or smart as they had been in the past."
"Some people were really offended, but it's a Horribles Parade. Get over it," she said.
Weingartner called Kirk's "class war" accusations "baloney."
"It's complete baloney for the mayor to call this a class war. Most of the people making the floats are working class townies. It is completely untrue that class had anything to do with this."