Authorities investigating the murder of Nancy Cooper, a mother of two who went missing after going for a jog near her North Carolina home, obtained a search warrant for Cooper's home as well as permission to take forensic evidence from her husband, Brad Cooper.
"At around 2 a.m. this morning the Cary Police Department obtained a search warrant for the home that the Cooper's shared, both vehicles and for Brad Cooper himself," Police Chief Pat Bazemore said in an early morning press conference.
Investigators said they believe that Cooper's murder Saturday was neither an "isolated incident" nor a "random act of violence."
Bazemore said that investigators worked throughout the night but still have not made any arrests or named a suspect or person of interest in the homicide. Police have not revealed how she died.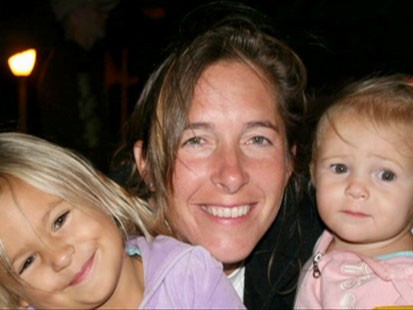 The search warrant will allow investigators to do a much more thorough search of the couple's upscale property, as well as permit them to take forensic evidence from Brad Cooper, Bazemore said.
Cooper, 34, was last seen by her husband at 7 a.m. Saturday morning before going for a jog, police said, and was also spotted by friends the night before at a neighborhood dinner party.
But when a friend who had planned to meet Cooper later on Saturday became concerned when the stay-at-home mother of two failed to show up, she alerted police.
"Her friend Jessica Adams called 911 Saturday at 2:51 p.m.," said Deanna Boone, interim deputy public information officer for the town of Cary, N.C., who said she did not know why Cooper's husband was not the one to report her missing.
After more than two days of searching, a local man walking his dog reported seeing a body on the banks of a storm water retention pond within miles of Cooper's home.
Late Tuesday evening, authorities confirmed that the body was in fact that of Nancy Cooper, and declared the case a homicide investigation.
"The search for our Nancy is over," said Cary Police Chief Pat Bazemore during Tuesday's press conference. "Early today, the state medical examiner told us that it was Nancy who was found last night just miles from her home."
Present at both news conferences was Cooper's family -- both parents, her brother and identical twin sister; her husband did not attend either conference.
Brad Cooper, police said, had received an "open invitation" to the gatherings but had opted not to come.
"Brad Cooper was supposed to be here and he is not," said Bazemore at Tuesday's conference. "At the last minute he did decline and chose not to come this evening."
When asked what Brad Cooper's reaction was to the news of his wife's death, Bazemore said, "He's devastated."
At today's press conference, Brad Cooper's absence was again addressed.
"I do not know why he's not here," said Bazemore, who added that a police officer had been assigned to each of the family members, ncluding Brad Cooper, for the duration of the investigation.
"We've had a police car outside Brad's home and following him," said Bazemore. "We've also had a police car for her family, to do anything for them to make this less difficult."
Police say Brad Cooper has cooperated with authorities and, with the help of family members, has been caring for the couple's two young daughters, ages 2 and 4.
ABCNews.com could not reach Brad Cooper, who works at the networking company Cisco Systems, but he spoke to a reporter from North Carolina's News & Observer Tuesday before his wife's body was found.
Admitting that he and his wife were having "marital problems," the husband told the paper that he didn't believe the situation to be so bad that his wife would leave him.
Authorities declined to comment on local reports that a surveillance video exists in which Brad Cooper is allegedly shown purchasing bleach the night before Cooper's disappearance.
"We cannot confirm or deny whether he was at the store and whether he did purchase bleach or any kind of cleaning products the morning of her disappearance," said Bazemore.