When police came across Kelley Kong-Kham in a Florida mall, they found her dirty, covered in bug bites and begging for food.
The 10-year-old, police said, had been dumped on the beach by her noncustodial mother, who took off with her 8-year-old sister and hasn't been seen since.
Kelley, Fort Lauderdale Police Det. Yvette Martinez told ABCNews.com, was "at first very reluctant to even talk to us -- said she was the devil."
Police in both Florida and Philadelphia, where the girls were abducted from foster care, are now looking for Tammy Kong-Kham, 35, and her youngest daughter, Kimberly, who have been missing for two weeks.
Kong-Kham took her daughters from Philadelphia to southern Florida on a Greyhound bus in October, Martinez said. She settled on a local beach, digging a hole in the sand under a playground where she forced the girls to hide out during the day.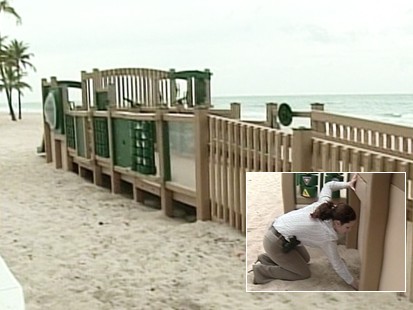 Kelley told police she and her sister once were not let out of the hole for more than two weeks, Martinez said.
Their mother would leave and bring them food, Martinez added, but they were forced to eat and urinate and defecate in the hole that measured about 2- to 3-feet high and about 3 feet long.
"During the day she could hear the kids playing and laughing, but the mom said, 'You have to be quiet,'" Martinez said.
Sometimes, she said, the girls didn't eat anything for a day or more.
Kelley told police that about two weeks ago, her mother told her that the three would get caught if they stuck together. The 10-year-old told police that her mother took Kimberly and left her under the playground with coconuts to use for drinking and told her to stay there for a few days, Martinez said.
Kelley eventually made her way to a local mall. One of the workers at Neiman-Marcus told police that they saw the girl trying on makeup at their counter, Martinez said.
When approached by police, Kelley initially told officers that she was 18 -- even providing a corresponding birth date -- and that she had recently graduated from high school in New Jersey and was waiting for her parents to join her in Fort Lauderdale.
Martinez said the girls' father, Jimmy Kong-Kham, lives in the Philadelphia area and that he has been interviewed. ABCNews.com was unable to reach Jimmy Kong-Kham today.
It was unclear how long the girls had been in foster care and how their mother was able to abduct them. A spokeswoman for the city's Department of Human Services referred questions to the Philadelphia Police Department, which did not return messages seeking comment.
In warrants and information disseminated by police, the family's last name is alternately but mistakenly spelled "Kongham."
Martinez said they don't know why Tammy Kong-Kham chose to move the girls to Florida, but police believe she's likely still in the area.
Police also are investigating any possible contacts the family may have made while in Florida. Kelley told police that her mom sometimes took them to friends' houses and detectives are trying to determine who those friends were, Martinez said.
Kelley was expected to be returned to Philadelphia today.
Anyone with information on Tammy and Kimberly Kong-Kham can call the Fort Lauderdale Police Department at 954-828-5548.