The U.S. Coast Guard today rescued a man clinging to an overturned pleasure boat in waters off Florida's Gulf Coast, but three other men, including two NFL players, are believed to be still missing at sea.
The rescued man, Nick Schuyler, was seen being transported back to land in a Coast Guard helicopter, but three companions who were in the boat with Schuyler, including pro football players Corey Smith and Marquis Cooper, are still missing.
Schuyler was transported to Tampa General Hospital. A phone number for his sister Kristen was answered by a man who identified himself as a family friend. The man said Schuyler's family was with him as he was being taken into the emergency room and that Schuyler was in stable condition.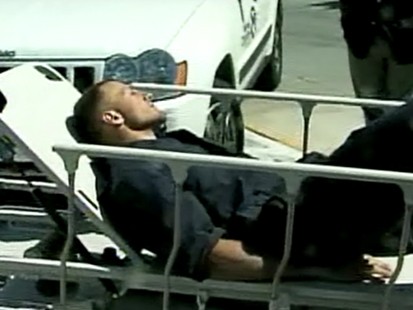 Television pictures from outside the hospital show Schuyler conscious, sitting up and talking as he was pushed on a gurney wearing a Coast Guard jumpsuit.
Schuyler told rescuers that the 21-foot boat, owned by Cooper, was anchored when it flipped Saturday evening in rough seas. Schuyler told rescuers the others got separated from the boat and that he had been clinging to it since.
Schuyler, along with Cooper, an Oakland Raiders linebacker, Smith, a Detroit Lions defensive end, and a fourth man, William Bleakley, were reported missing by one of the men's relatives early Sunday morning.
Bleakley and Schuyler are both former University of South Florida players.
Massive Search Continues
Four airplanes, two helicopters and three Coast Guard boats continue to search the area for the still missing men this afternoon. Some of the aircraft are employing heat-seeking radar devices to find the missing men.
Coast Guard Capt. Tim Close said investigators were interviewing Schuyler at the hospital to see if he could give them any more information about when the boat was first turned over, how long he was in sight of the other men and whether anyone was wearing life jackets.
"The search is ongoing," he said. "we're looking for more information from Mr. Schuyler to refine that search."
Close said that since Schuyler was the only passenger found with the boat, rescuers would tailor their search to stop looking for the vessel and begin looking for individuals.
The water temperature in the area is about 62 degrees, low enough to induce hypothermia after several hours.
Rough Seas Continue
Close said he was "not going to speculate on any survivability at this point."
Schuyler, he said, was first noticed by a spotter aboard the Coast Guard vessel Tornado, which then called for a helicopter to rescue the man.
The Coast Guard searched some 16,000 square miles west of Clearwater Pass but were hampered by rough seas and weather.
By Monday, waves had reached 6 to 8 feet, still enough for a small craft advisory but considerably smaller than Sunday's 15-foot waves, according to The Associated Press.
The men were aboard a 21-foot Everglades-manufactured boat, the Coast Guard said. The boats are built with compressed foam encased in Fiberglass, which makes them difficult to sink.
The men left the Seminole Boat Ramp in Clearwater Pass at 6:30 a.m. Saturday, according to the Coast Guard in St. Petersburg. They were expected to return that night but never did.
The Associated Press and ABC News' Scott Mayerowitz contributed to this report.