Mass hysteria isn't exactly the response a fragrance designer aims for.
Panic ensued at a Fort Worth, Texas, Bank of America call center Wednesday after a few workers complained of headaches, dizziness and shortness of breath.
Inquiries into the root of the fear revealed one suspect, according to Lt. Kent Worley, a spokesperson for the Fort Worth Fire Department: perfume. However, the apparently nauseating fragrance hasn't been identified, wasn't found during a hazmat search and isn't being considered truly hazardous.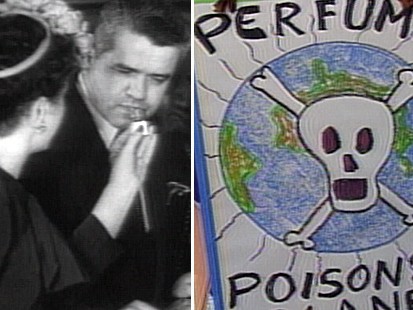 This isn't the first time Worley claims to have experienced the mass hysteria phenomenon.
Worley appeared on "Good Morning America" for two consecutive shows a little over 12 years ago following a similar incident.
In an interview with Joan Lunden, Worley discussed the 1997 incident, in which about 1,100 people fled an office building following reports of noxious fumes, that apparently led one woman to seizures and vomiting.
The real cause was never found, even after the building was re-evacuated the following day.
Though the department took the April 1997 incident seriously, Worley said experience made the department take this report with a grain of salt. "At the height of this we only had three units there," said Worley. "At first it was just a handful of people, but then they just kept coming out."
But not everyone in the building felt the panic. Most of the evacuees were standard employees, namely callers, according to Worley. "The management didn't even know until we told them," Worley said. "But we had people leaving from other floors, not just the one where it happened."
After a 12:45 911 call, 12 workers were transported to the hospital via ambulance, MedStar ambulance spokeswoman Lara Kohl said. An announcement was made over the building's loud speaker stating that employees who felt ill should go outside.
Another 22 individuals with non-critical symptoms were brought to the ambulance on city busses. Over 100 other employees were assessed on the scene and released, bringing the total "afflicted" to a little fewer than 150.
No one is even looking for the bottle, according to Worley, and authorities don't believe it was actually dangerous, especially following the 1997 incident. He even went as far as to call the mass exodus a psychosomatic reaction.
The incident hasn't officially been called mass hysteria, despite Worley's comments, and an actual physical cause for concern has not been ruled out. "It is possible that this was a trigger for some genuine bona fide physical reactions in many people and for others it may have been from a tendency to being susceptible to the influence of other people," said Anthony Mawson, a professor of epidemiology at the University of Mississippi Medical Center.
An incident in which large numbers of people exhibit physical reactions to a psychological stimulus can be classified as mass hysteria.
"We can get very anxious and fearful if we hear certain things that could affect one very strongly, like the threat of unemployment," Mawson said.
Mawson, the author of "Mass Panic and Social Attachment," said he was not familiar with the Fort Worth incident and could not comment on whether the case was an example of mass hysteria.
All kinds of feelings, including fear, are contagious, said Harry Klinefelter, a clinical psychologist from Fort Worth.
"If you're afraid and have these terrible things in your mind, the power of suggestion can cause you to distort your perception, misinterpret your situation and even convince yourself you may have these physical symptoms," he said.
There have, however, been other accounts of mass hysteria incidents.
In 1998, a high school in McMinnville, Tenn. was evacuated after a teacher smelled something like gasoline and reported a headache and nausea.
Thirty eight people were hospitalized that night for similar symptoms and even more were treated when they school was re-opened five days later. No toxic compounds were ever actually found at the school.