For six families, the skeletal remains found in two cars submerged in an Oklahoma lake can solve decades-old mysteries of vanished loved ones.
For at least one family, their loved one was just yards away and 12 feet deep in a lake where they skied, swam and ate for so many years.
Debbie McManamon has been haunted by the disappearance of her grandfather, who vanished 44 years ago when she was just 13 years old.
When she heard about the two cars and six sets of remains recovered from the bottom of Foss Lake in Oklahoma, she said she knew it was her grandfather.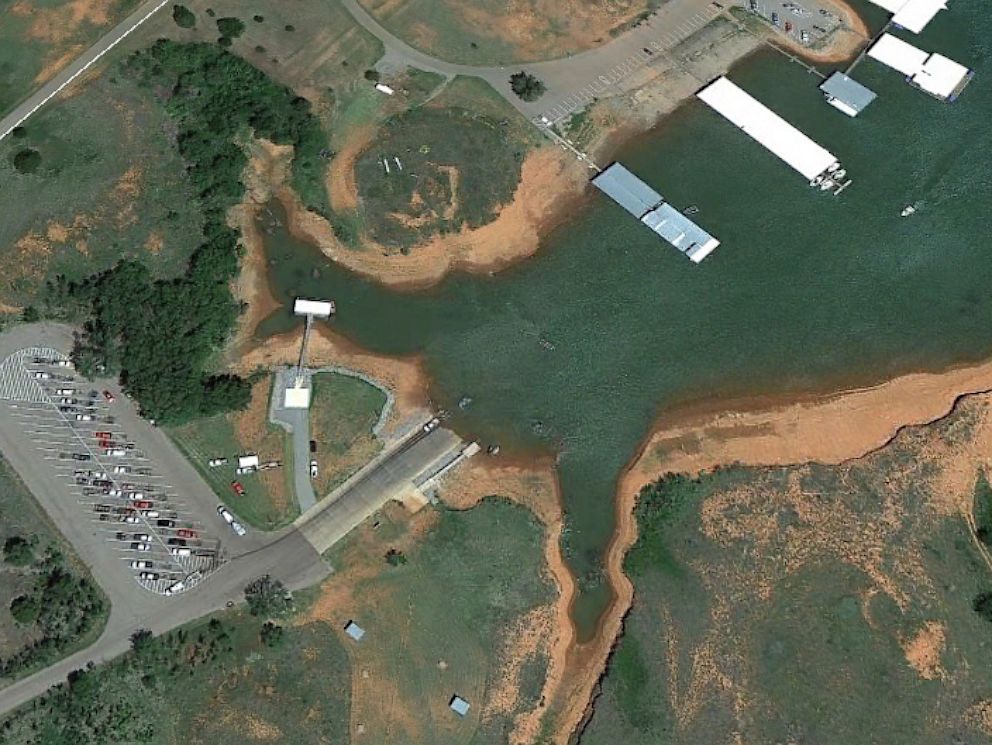 Authorities have not yet processed DNA to make a positive match, but McManamon, 57, of Dill City, Okla., said the "puzzle fits together."
"They pretty well confirmed it," she said. "All the evidence, everything fits as far as the time, the vehicle, the people that were with him."
She heard about the cars from a friend who sent her a news story on Facebook.
"I went, 'Oh my goodness,'" McManamon told ABCNews.com. "I called my husband, he drove home and we drove up to the lake and everything started unfolding."
"I just walked down there and they stopped me and they just looked at me like, 'What do you need?'" she said. "And I said, 'I think that could be my grandfather's car. He's been missing since April 8, 1969.'"
The last time McManamon saw her grandfather John Porter was when she and her parents went to see him for a weekly visit.
"By Friday, he was gone," she said. "He had just disappeared. His house was intact, his utilities were turned on, his money was in the bank. There were no disturbances [at his house]."
The family knew something was not right. McManamon's father and uncle notified local police and the family put Porter's photo in an Amarillo newspaper.
"We didn't feel like he would just take off and leave," she said. "We never thought that he would do that. We thought maybe there could be foul play."
She said authorities helped as much as they could with limited resources, but the case eventually went cold.
"My dad never gave up," she said. "As soon as his job was over, he'd come home, grab something to eat, would get my mom in the car and would drive and drive and drive [looking for Porter]."
She would think of her grandfather every June 6, his birthday, and every time she drove by where he used to live.
She imagined different scenarios of what may have happened and wondered if her grandfather had been robbed and killed by a hitchhiker or living as a John Doe in a nursing home with dementia.
But none of those situations felt right. She and her family had a different theory.
"As the years rolled by -- we're not too far from the lake, maybe 20-some miles -- we'd think, Yeah, I think he's in the lake," she said.
Her kids swam and skied at the lake. She has taken her grandchildren there to feed the fish and the ducks. They have eaten at a little restaurant 200 yards from where the rusty and mud-caked car was pulled up this week.
"It's a terrible thing to know that they were there for 44 years," she said. McManamon's father is now 85 years old and suffers from dementia. She has explained the discovery to him and he has been to the lake, but he's struggling with the news.
It is believed that her grandfather was in the car with two friends who also disappeared, a man and a woman.
That second man in the car is believed to be a man named Clebern Hammack, according to his cousin Cletius Hammack.
Hammack, 67, now lives in Fresno, Calif., and heard about the cars in Oklahoma from his son who was researching diving online and stumbled upon a news article about the find.
He didn't know anything about his father's lost cousin but recognized that the lake was in the town where his father grew up and sent him the article.
"I thought, Oh, my gosh. I looked at the 50s Chevy that was there and I thought, you know, he left in a Chevy. I just kind of put two and two together and that was my first inkling that it was him."
Hammack got in touch with local authorities and said everything he told them matched up to what they knew. A DNA test has yet to be done to confirm that the remains are those of Clebern Hammack.
He was last seen in 1969 when he was leaving a fill-in job at a restaurant where Cletius Hammack's mother also worked. On the day he disappeared, they both left the restaurant at the same time.
"She got in her car. He got in a car with a man and a woman and that was the last anyone ever saw of him," Hammack said of his cousin. "He just vanished. That was it."
The family had no idea what happened. They knew that Clebern had received his paycheck that day and there were rumors that maybe someone hit him over the head and dumped his body. The rumor was that he was in Foss Lake.
"It was extremely hard on his mother and up to the day she died, she was about 100 and she really thought he was coming back and that he was alive," Cletius Hammack said. "She's the one that never got over it."
She died in the 1990s, still thinking that her son was alive.
Both families are now coming to terms with the discoveries and grateful for the closure.
"It's a happy day for all of us," McManamon said of her family. "It's closure. We're going to take his remains and go to Elk City and put him close to his sister."
Hammack said that even though his family had mostly accepted that Clebern was dead, the discovery was "bittersweet."
"We're glad we found him," he said. "Some of my cousins have talked about maybe having his bones cremated and putting him with his mother so that she finally has him."
Authorities are still investigating how the cars may have gotten into the water and whether there may have been foul play involved. A Google satellite map view of the area where the cars were discovered just three feet apart does not show any roads very close to the water. Officials believe the cars might have gone into the water a year-and-a-half apart.
The cars were discovered when Oklahoma Highway Patrol's lake patrol division was testing new sonar equipment last week in Foss Lake in Custer County, Okla., when they detected some unusual echoes that indicated the presence of large metal objects under the water.
Three feet away, they found a second car with more skeletal remains in it. They have since recovered six skulls and matching bones.
Custer County Sheriff Bruce Peoples said the second cars might belong to Jimmy Williams, 16, who was reported missing in 1970. His car was a 1969 blue Chevrolet Camaro, which looked similar to one of the cars that were recovered.
He was last known to be driving around with his friends Thomas Rios, 18, and Leah Johnson, 18, and none of them have been seen since.