A dangerous storm system that spawned a chain of deadly tornadoes over three days flattened homes and businesses, forced frightened residents in more than half a dozen states to take cover and left tens of thousands in the dark Tuesday morning.
Interested in
?
Add as an interest to stay up to date on the latest news, video, and analysis from ABC News.
At least 28 people have died in the storms, with 10 killed in the South on Monday and 19 in the central U.S. one day earlier.
Mississippi Emergency Management confirmed at least eight deaths across the state. Deaths were reported in Rankin, Lee and Winston counties.
PHOTO: Tornadoes Reduce Neighborhoods to Rubble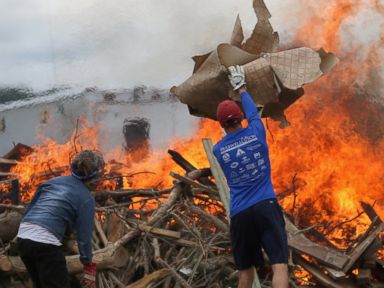 In Alabama, two weather-related fatalities were confirmed in the Billy Bob Trailer Park in Coxey, in the northern part of the state. The system has caused other storm-related fatalities in Arkansas, Tennessee and Oklahoma.
Residents across the South awoke to sirens, tornado warnings, damaged property and downed trees today. Hundreds of tornadoes have touched down in recent days, including 13 across Alabama in the last 24 hours.
One of those tornadoes destroyed the Kimberly Church of God in Kimberly, Ala. Pastor Stan Cooke was using the church as a community shelter, keeping about 25 people safe underground.
"I cried. I cried," Cooke said. "The church is not the people, the people are the church."
In Mississippi, Republican state Sen. Giles Ward huddled in a bathroom with his wife, four other family members and their dog Monday as a tornado destroyed his two-story brick house and flipped his son-in-law's SUV upside down onto the patio in Louisville.
"For about 30 seconds, it was unbelievable," Ward said. "It's about as awful as anything we've gone through."
The dangerous weather jangled nerves a day after the three-year anniversary of a historic outbreak of more than 60 tornadoes that killed more than 250 people across Alabama on April 27, 2011.
WATCH: Deadly Tornadoes Leave Extensive Damage
Trees in Louisville, Miss., had been snapped in half and stripped of their branches, while sheet metal had twisted itself around road signs and tree trunks. Rescue workers stepped gingerly over downed power lines.
Numerous watches and warnings were still active in Alabama, with forecasters warning the severe weather could continue all night.
In Tupelo, Miss., a community of about 35,000 in northeastern Mississippi, nearly every building and restaurant was left without a roof. Some, like Vanelli's, were left without walls. While the restaurant was destroyed, 13 people inside survived, with credit going to the restaurant's quick-thinking owner, Vaz Vanelli. He rushed his customers and employees into a large cooler.
"The building shook a little bit and your ears popped," Vanelli said. "Ten to 15 seconds later, it's done."
Some buildings had their roofs sheared off, while power lines were knocked down completely or bent at 45-degree angles. Road crews were using heavy machinery to clear off other streets.
The storm even sent the staff at a TV news station running for cover. NBC affiliate WTVA-TV chief meteorologist Matt Laubhan in Tupelo, Miss., was reporting live on the air at around 3 p.m. when he realized the twister was approaching. He warned not only viewers but his 35 co-workers to get to safety.
"This is a tornado ripping through the city of Tupelo as we speak. And this could be deadly," he said in a video widely tweeted and broadcast on YouTube.
Moments later he added, "A damaging tornado. On the ground. Right now."
The video showed Laubhan peeking in from the side to see if he was still live on the air before yelling to staff off-camera to get down in the basement.
"Basement, now!" he yelled, before disappearing off camera himself.
"I tell people at home at that point, 'You gotta get to your safe place,'" Laubhan said later. "What kind of example are we setting if we don't go?
"I knew that we had to send everybody, and hopefully that would tell people at home this was the instant where you have to go."
The Associated Press contributed to this report.