— -- A pair of white nationalist rallies in two Tennessee towns went off relatively peacefully today, with only one arrest, after police prepared carefully to keep demonstrators and counter demonstrators under control.
One "White Lives Matter" attendee who was standing with the white nationalists was arrested during the first rally, in Shelbyville. The white male, wearing a green fleece jacket, was approached by a flurry of cops who quickly pulled him through a temporarily detached metal barricade, pinning protesters on two sides of a street. Police took the unidentified man away in a golf cart.
At the second rally, in Murfreesboro, there were no reported injuries, damage or arrests, city officials said.
At the event in Shelbyville, a group of white nationalists shouted and threw Confederate items across to the counter-protesters, who had their own message of dispelling hate.
Early on it was clear who was in control.
Attendees were met with a heavy and organized police presence. Some were required to pass through a checkpoint where they were searched as there was a strict no weapons policy enforced.
The groups were pinned behind metal barricades and met with an armed and prepared police force, who closed streets along Lane Parkway from West Lane to North Main Street and North Cannon Boulevard from Main Street to West Holland.
Several protesters wore Confederate flags, also known as the "Stars and Bars," draped over them like capes during the start of the rally in Shelbyville.
Many protesters grouped with the white nationalists brandished several white flags with a black cross checked through it signifying the "Southern Nationalist Flag."
According to the Southern Poverty Law Center, or SPLC, the flag was adopted in 2013, and stands as the central symbol of the League of the South, which organized the events.
The symbolism, the SPLC notes, is intended to "evoke the St. Andrews Cross and the Confederate Battle Flag."
The League of the South president Michael Hill gave a speech to a group of white nationalists, who responded with chants of "Blood and soil."
As he spoke, music by Bob Marley and Ritchie Valens blared with counter-protesters across the street who, it appeared, were almost festively trying to drown him out.
Hill called the opposing demonstrators communists, after telling them: "All you people over there -- your day is coming. Your day is coming."
"You're responsible for more damage in the past century than anybody else," he said.
"When we say blood and soil we mean our nation," Hill said. "Our nation is our people. Our skin is our uniform."
He said the rally was meant to show that this land is undisputed.
"We are here to stake a claim to that which belongs to us," he said. "We will not give up until we won this fight."
And then he belted out multiple times "Hail Dixie!"
ABC News' attempts to reach Hill, whose voice mail concludes with "God Save the South!", were unsuccessful.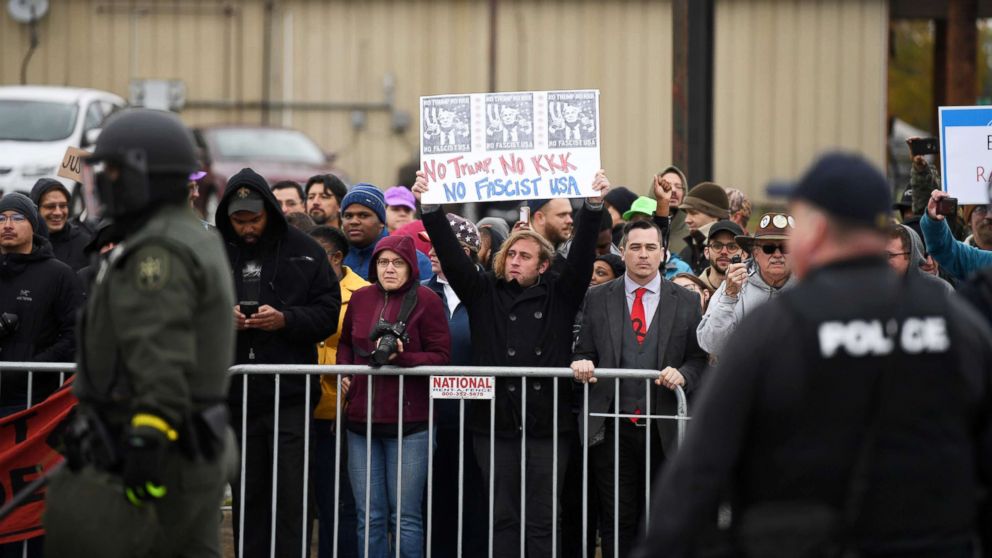 The "White Lives Matter" rallies were partially organized by white nationalist group League of the South, according to city officials.
Counter-protesters were also chanting responses, but clashes appeared to be non-existent thanks to both sides being cordoned off behind metal barricades.
Some of the counter-protesters' handmade signs incorporated Halloween themes.
One protester held a sign with a white ghost face that read: "Y'all sukkk," to dismiss the abbreviation for the Ku Klux Klan.
Another held up a similarly themed sign: "Boo to hate."
The contingent of counter-protesters were not formally backed by the Black Lives Matter movement. Black Lives Matter Nashville said in a tweet Friday that any dedicated opposition hoping to counter the rally should steer clear.
"We believe that gatherings of neo-nazis and klansman like these distract us from destructive ways systemic white supremacist rallies against the lives of Black and Brown folks in Middle Tennessee and this country every day," the group said.
The wave of worry has spread since August when a white nationalist rally in Charlottesville, Virginia, turned violent after a car plowed through a group of demonstrators, and injuring 34 people and killing Heather Heyer.
Much of the focus of the rallies is on issues such as last month's deadly church shooting in Antioch, Tennessee, illegal immigration and refugee settlement in Middle Tennessee, the Shelby Police Department said in a press release.
Officials had asked demonstrators on both sides to "respect each other's rights and respect the role of law enforcement in maintaining and peace and discouraging aggressive behavior, said Shelbyville City Manager Shanna Boyette in a video streamed on Facebook Friday.
Residents who live and work near protest sites were encouraged to err on the side of caution and avoid the areas, if possible.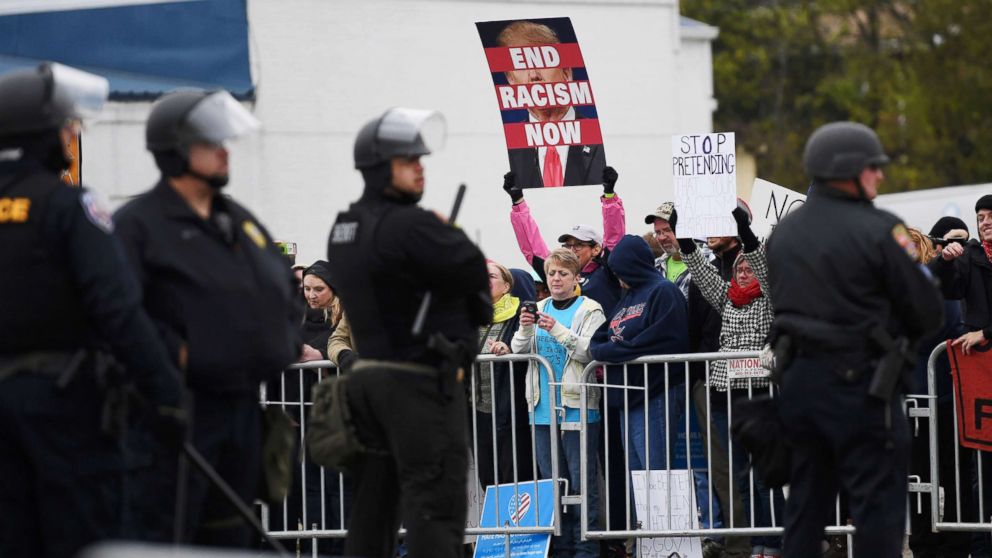 League of the South President Michael Hill informed Shelbyville city officials that the group intended to hold a sidewalk rally on Oct. 28, according to a press release. Such a gathering does not require a permit or approval from the city.
In a statement posted online, Hill instructed protesters to "obey all authorities charged with keeping public order."
"Stand your ground, speak your mind and proclaim your message, but do not initiate physical contact with anyone who opposes you," he said. "Engage in violence, and at the proper level, only in defense of your own person, that of your compatriots, and your property."
In downtown Murfreesboro, the League of the South is also expected to be joined by other affiliated groups in its rally, the city said in a release.
Murfreesboro is home to Middle Tennessee State University, where resident halls will be locked due to the rally beginning Friday at 5 p..m. through Monday at 8 a.m., the university said in a press release.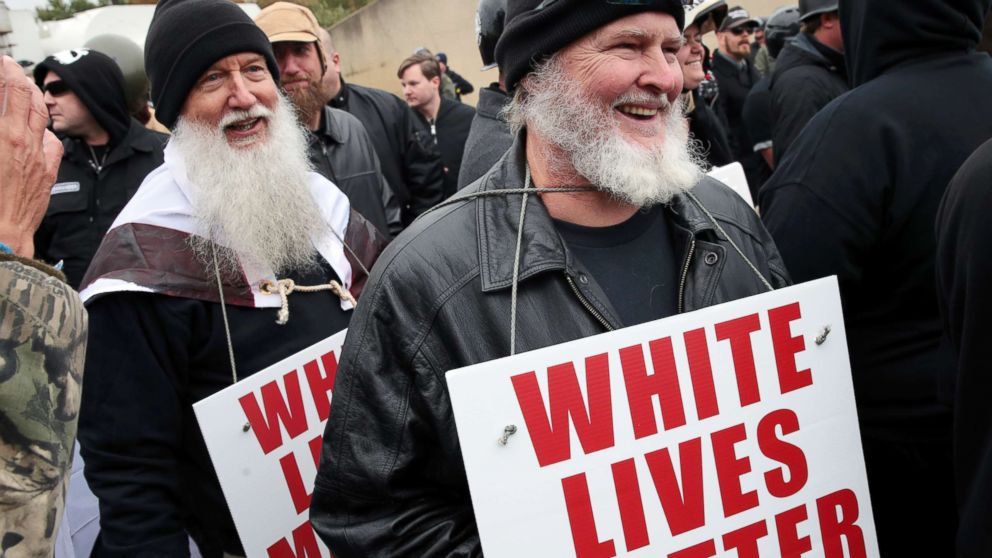 "As the sixth fastest-growing mid-size community in the nation and home to MTSU, the largest undergraduate university in Tennessee, the city and county are proud of the community we are building and the diversity of its residents," the city press release stated.
The Tennessee Bureau of Investigation will be present at the rallies and "visible as a show of force and support for local law enforcement agencies," said TBI Director Mark Gwyn in a statement.
Both cities stated that they have a responsibility to protect free speech rights and those who seek to exercise those rights.
"Given the recent incidents in our country surrounding protest and counter-protests, the city is taking very seriously multiple concerns regarding the safety of expected protesters, counter-protesters, the public, and the protection of private and public property from damage," Shelbyville officials said.
Last week, Florida Gov. Rick Scott declared a state of emergency in response to Richard Spencer's speech at the University of Florida. Tennessee Gov. Bill Haslam has not declared a state of emergency, but state authorities will be in close contact with local police, the Wall Street Journal reported.
On Saturday, Sen. Lamar Alexander, R-Tenn., tweeted a statement on the white nationalist rallies in Murfreesboro and Shelbyville.
"While the Constitution gives everyone the right to assemble, the Constitution makes it absolutely clear that we are all Americans without regard to race," Alexander said. "The views of the white nationalists, Nazis, white supremacists and the Klan are wrong, they are un-American, they are not welcome, and we need to be loud and clear about that."