— -- Texas church shooting suspect and Air Force veteran Devin Kelley escaped from a New Mexico mental health hospital in 2012, according to an El Paso Police Department report, which also said he "was attempting to carry out death threats" that he "had made on his military chain of command."
A witness said Kelley "suffered from mental disorders and had plans to run from Peak Behavioral Health Services ... and take a bus out of state," according to the report.
The report said Kelley had previously been caught sneaking firearms onto Hollaman Air Force Base where he served in New Mexico. The report also noted that Kelley was facing military criminal charges.
Kelley was located and did not resist or make any comments about harming himself or other officers, the report said, adding that he was released to Sunland Park police officers.
The Air Force official confirmed the details in the police report, including that Kelley was a danger to himself and others, faced military criminal charges, had been sneaking firearms onto Holloman Air Force Base and had made threats toward his chain of command. The official also confirmed the description from the person at the facility that Kelley "suffered from mental disorders."
Peak Behavioral Health said in a statement today, "We are deeply committed to providing the best patient care. We never discuss whether someone was or was not a patient at our hospital, and we never discuss any information about our patients. Preserving the confidentiality of this information is not only a matter of policy, it is federal and state law."
The facility added, "Our hearts go out to the victims of this horrible act and their families and friends, and like everyone else in Texas, we are doing everything we can to help the community in recovering and healing from this tragedy."
-- Kelley is accused of carrying out a mass shooting at the First Baptist Church in Sutherland Springs, about 40 miles southeast of San Antonio, on Sunday, leaving 26 dead, according to police, who have included an unborn child in the death count. Twenty others were injured, 10 of them critically, authorities said.
-- There appears to have been "roughly just over 50" people at the church service, with "very few" of them uninjured, officials said.
-- It appears the rifle used in the attack was a semiautomatic weapon and there's no evidence a bump stock was used, authorities said today.
-- Kelley, 26, died after the attack.
-- A pastor told authorities that Kelley attended the church's fall festival on Oct. 31, days before the shooting, the Wilson County sheriff told ABC News.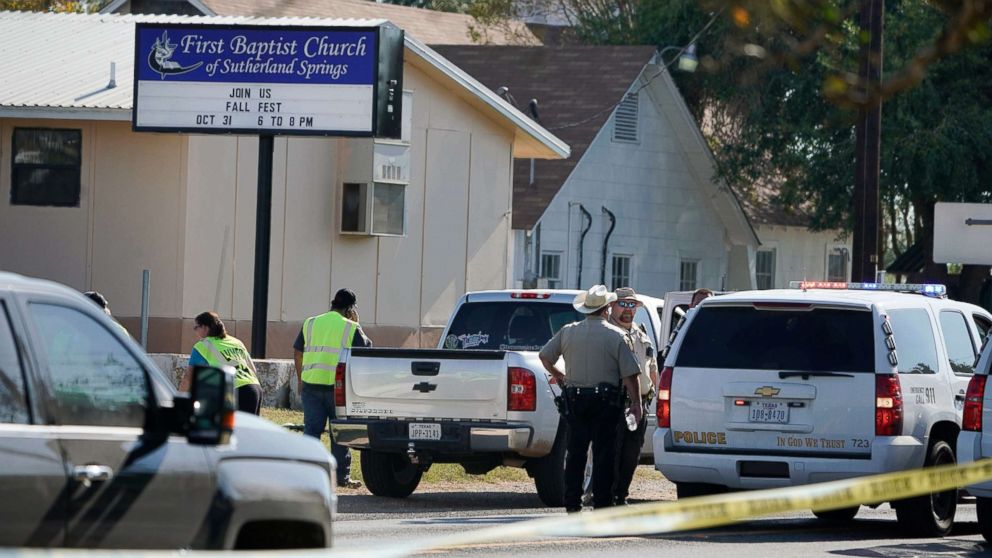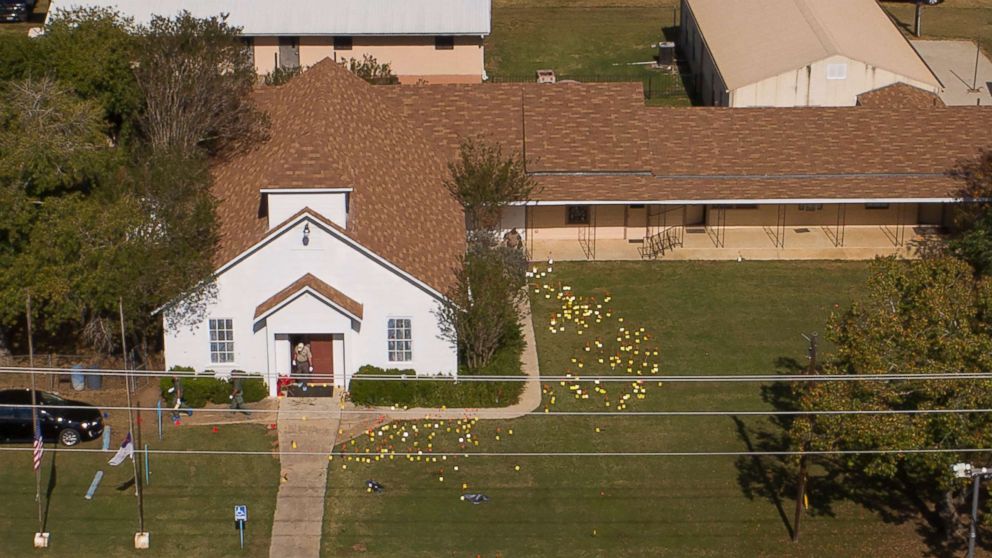 Suspect's phone too encrypted to access
Investigators have been unable to access information on the phone belonging to because it is encrypted, officials said today.
But Christopher Comb of the FBI said today authorities will press forward "until we find an answer."
"We're working very hard to get into the phone and that will continue until we find an answer," Combs said. "I don't know how long that's going to be to be, quite honest with you. It could be tomorrow, a week or a month. We don't know yet. We're going to keep working on the phone and the other digital media we have."
The device "highlights an issue that you have all heard about before with the advance of the technology and the phones and the encryptions -- law enforcement, whether it's at the state, local or federal level, is increasingly not able to get into these phones," Combs said.
He added, "I'm not going to describe what phone it is because I don't want to tell every bad guy out there what phone to buy."
Shooter was 'at odds with his in-laws'
While authorities have not released a specific motive, they said the shooter was "at odds with his in-laws."
The suspect's mother-in-law has attended the church but was not there at the time of the shooting, authorities said. He had "expressed anger towards" her and sent "threatening texts," officials said.
The suspect was not in any FBI database, authorities said.
There's no reason to believe anyone else besides Kelley was involved in the attack, authorities said.
Wilson County Sheriff Joe Tackitt told ABC News that the church's pastor told officials he had a bad feeling about Kelley when he came to the church on Halloween. However, he said the pastor questioned his instincts, asking himself, How do you tell someone not to come to your church?
Suspect 'was there to kill everybody'
Authorities have reviewed video from inside church.
Kelley "was there to kill everybody," a source familiar with the matter told ABC News. "He is a mass killer of children and people."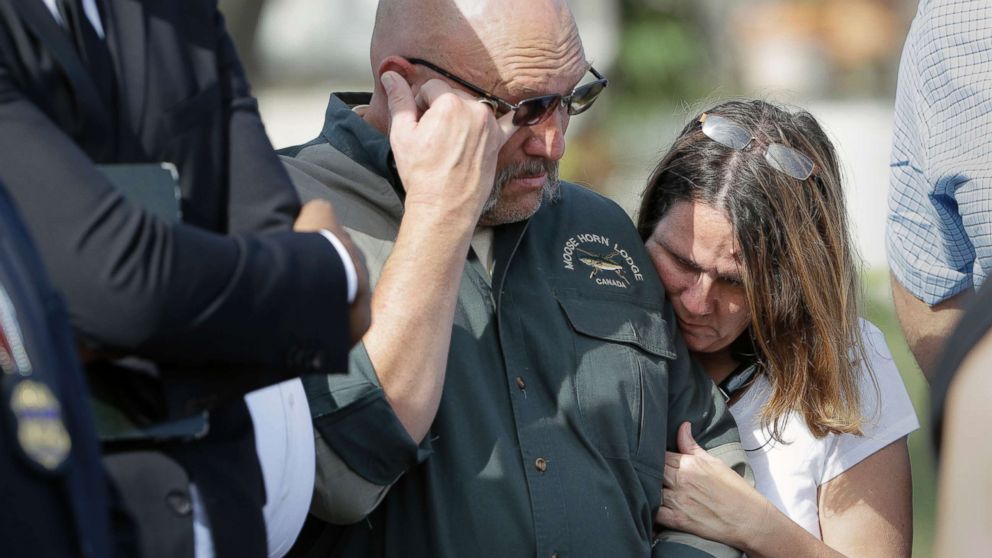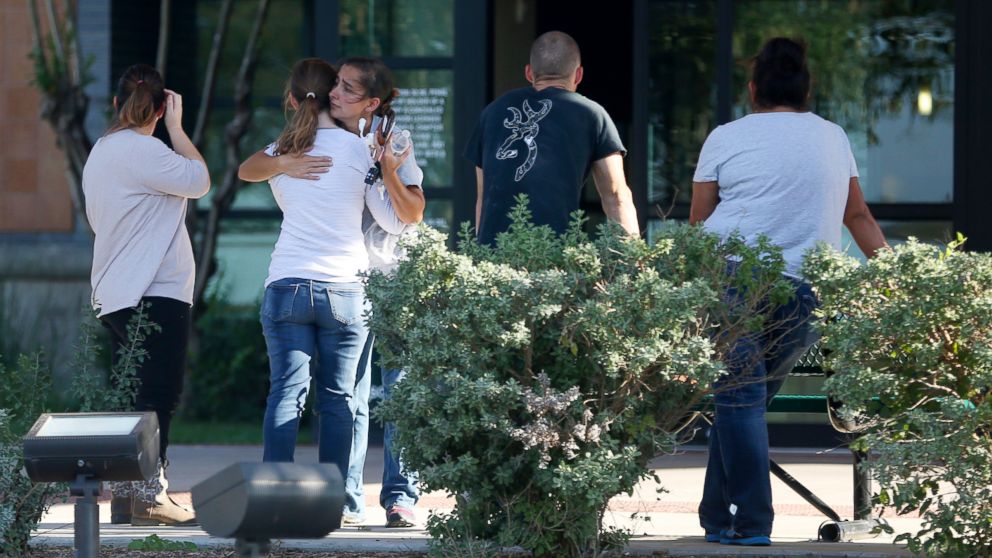 Suspect's Air Force history
Kelley served in the Air Force from 2010 until 2014 and he left after receiving a bad conduct discharge, which is the second-lowest level of dismissal in the armed services.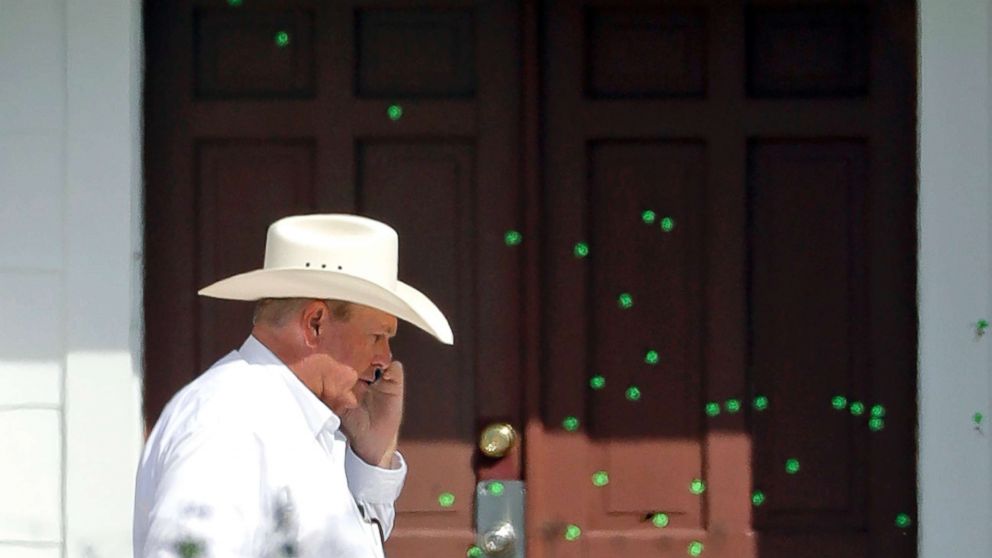 He was court-martialed in 2012 on charges of assault and aggravated assault on his spouse and a child, according to the Air Force.
According to documents from the Air Force, Kelley pleaded guilty to hitting his then-wife with his hands and choking her, as well as striking and hitting his stepson "with a force likely to produce death or grievous bodily harm."
He was found guilty by a mixed jury of officers and enlisted personnel and began his military confinement at the Naval Consolidated Brig, Miramar in California in 2012.
He was discharged from both his confinement and military service in 2014.
ABC News' Jim Scholz, Luis Martinez, Stephanie Wash and Jenna Harrison contributed to this report.