A great white shark is swimming through the Gulf of Mexico toward Texas -- and people across the U.S. are watching its progress.
Interested in
?
Add as an interest to stay up to date on the latest news, video, and analysis from ABC News.
The shark known as "Katharine" was tagged by scientists last year off Cape Cod and is now pinging radars as it swims through the gulf, the Houston Chronicle first reported.
A dozen or so other sharks have also been tagged and named and are swimming off the East Coast of the U.S. and the west coast of Florida, as well as throughout the world.
Katharine is swimming off the Florida coast now and, according to the Chronicle, could be past the Mississippi River within one week and off the Texas shores the following week.
Chris Fischer, founder of the group, said that tracking Katharine is vital to helping understand where sharks spawn. If she does not return to Cape Cod this summer, it could mean that she is pregnant and will have a "pup" in about a year. Scientists are trying to gather more information about shark breeding to help protect them, he said.
"We're thrilled with Katharine. The project has been open source so the public can track it in real time, and we've gotten a massive tidal wave of enthusiasm for it," Fischer said.
"So we've brought fisherman and scientists together to capture and release sharks to help solve the puzzle of their lives, which is where they're breeding and giving birth, so we can leverage that information to help sharks recover from the immense pressure they've been under. It's absolutely crucial," he said.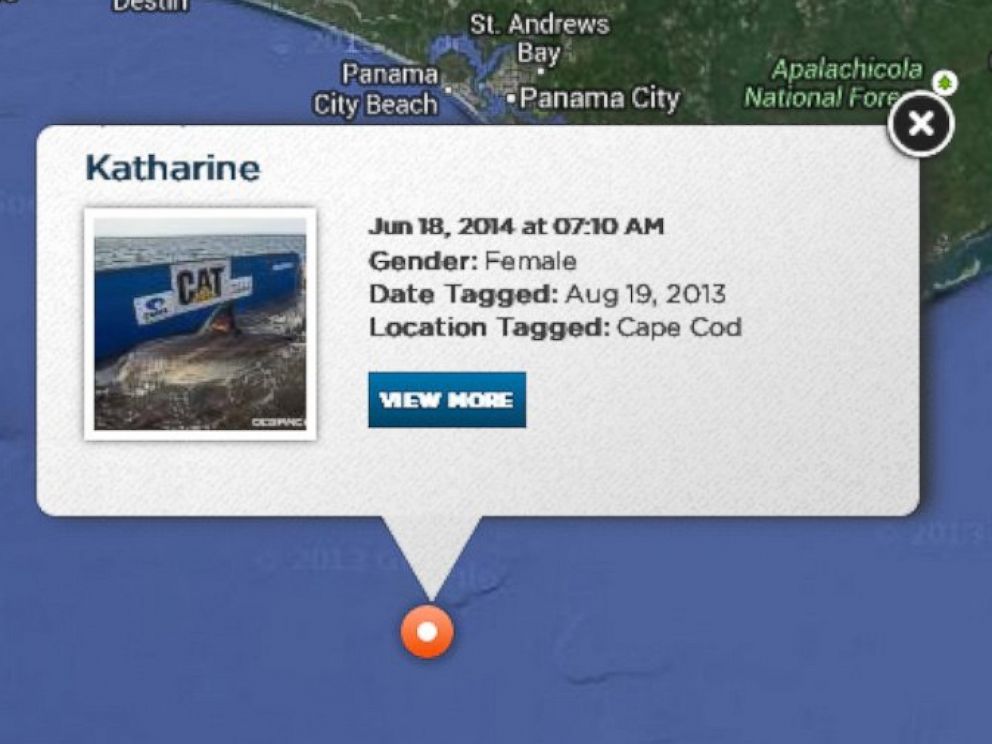 The sharks are tagged and tracked by the research firm Ocearch, which allows any internet user to log on and track the sharks throughout the world.
"Every track is giving us new information and going contrary to all the assumptions that we were going on," said Dr. Robert Hueter, director of the center for shark research at Mote Marine Laboratory. "Having them in the gulf is something we thought happened in the winter time."
Katharine is a 14-foot, 2,300 pound fish. According to the data on Ocearch, she swam around the tip of Florida, stopping around Key West, before swimming north up the Gulf Coast. She is due south of Panama City Beach currently, according to the map.
There are four tagged sharks off the coast of Georgia, one each off the coasts of South Carolina, North Carolina, and Virginia, and two off the coast of New York's Montauk.