A high school valedictorian in Kentucky praised the fight for stronger gun laws by school-shooting survivors in Florida, and applauded his classmates for participating in an anti-abortion march, saying students should "continue to utilize our voices."
The only problem was that Holy Cross High School valedictorian Christian Bales gave his commencement address through a bullhorn outside the graduation venue after officials with the local Catholic diocese ruled parts of his speech were too political and not in keeping with church teachings.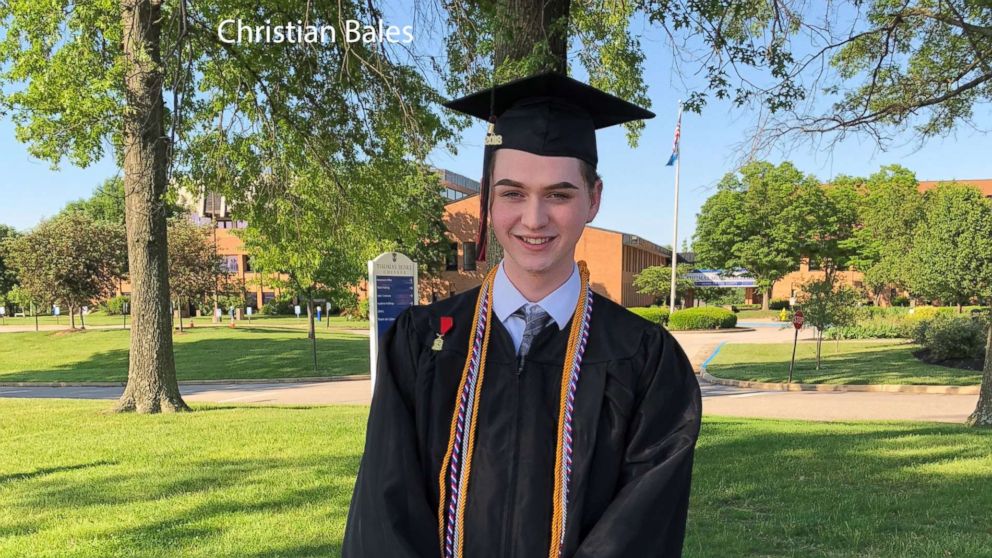 Student Council President Katherine Frantz at the Catholic school in Covington Kentucky, was barred from giving her graduation speech at the ceremony as well.
A spokesman for the Diocese of Covington, Tim Fitzgerald, said, "When the proposed speeches were received, they were found to contain elements that were political and inconsistent with the teaching of the Catholic Church," Fitzgerald said in a statement.
He also said the student speakers missed a deadline for submitting their speeches for review.
Bales, 18, suggested that the diocese's decision may have stemmed from his and Frantz's being known as outspoken on social issues.
"The [student council] president is my best friend, and we have been two huge advocates for social reform in our community, which has likely put us on the radar for the diocese," Bales told ABC affiliate WCPO-TV in Cincinnati.
Bales is an openly gay student who said he plans to major in biology in the fall at the University of Louisville, where he has an academic scholarship.
Bales' mother, Gillian Marksberry, said the students were notified of the decision not to allow them to speak about 10 hours before Friday night's graduation at the Connor Convocation Center at Thomas More College in Crestview Hills, near Covington.
Marksberry said she found the decision "shocking" and felt "very, very emotional" that her son was barred from giving his address.
But Bales and Frantz would not be silenced.
Following the commencement ceremony, they gave their speeches outside the auditorium through a bullhorn, surrounded by fellow graduates and their families.
Marksberry said, "We don't want to be vindictive, we don't want to be vengeful. That's not what this is about. He's earned the right to have a voice."
Bales, reading his speech from his cellphone, said, "'The young people will win' is a mantra that I'm sure many of you have heard if you've been attentive to the media recently. It's a phrase adopted by the prolific [Marjory] Stoneman Douglas teenagers [from Parkland, Florida] who are advocating for an agenda -- our rights to feel secure as humans."
He told the assembled crowd that during his four years at Holy Cross, he learned to "utilize my voice to advocate for my beliefs as an ethical individual."
"Rather than allowing opposition to silence us, we must utilize it as empowerment. As long as we nurture our minds as youth, we'll be able to be equally impactful as we encounter the world," Bales said.
He also mentioned in his speech that during the past year, he and Frantz advocated for the removal of a statue honoring Jefferson Davis, president of the Confederate States, from the Kentucky State Capitol. He also applauded fellow students for participating in a March for Life in January.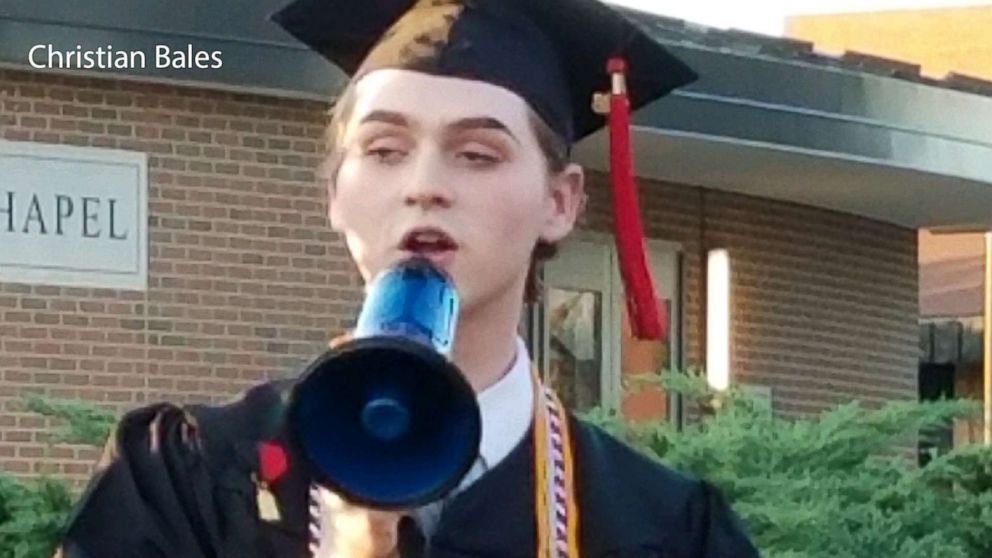 "'The young people will win' because we're finished being complacent," Bales said in his address. "There's a misguided notion that wisdom is directly proportional to age, but we're disproving that daily. Sometimes the wisest are the youngest in our lives, the ones who haven't yet been desensitized to the atrocities of our world."
He went on to tell his classmates, "We are dynamic. We are intelligent. We have a voice, and we're capable of using it in all communities."
He ended by saying, "We must take what we've learned in this community and apply it to the world we are about to encounter. We are the young people, and we will continue to win."