Frigid temperatures and sheets of snow have snarled travel throughout the Northeast region today.
Interested in
Weather?
Add Weather as an interest to stay up to date on the latest Weather news, video, and analysis from ABC News.
At least 3,654 U.S. flights have been cancelled and at least 1,544 have been delayed. Yesterday, close to 500 flights were cancelled and 2,330 were delayed.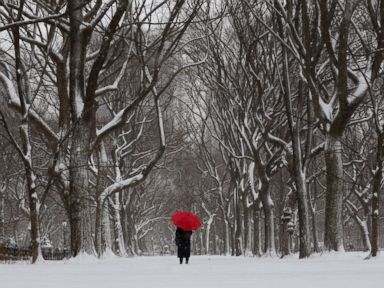 LaGuardia Airport in New York has cancelled 428 flights so far, followed closely by Newark Liberty International Airport (410), John F. Kennedy International Airport (371) and Boston Logan International Airport (366). Flights inbound to these four airports have also been severely affected. At least 2,253 flights scheduled to depart or arrive at the three NYC-area airports have been cancelled today.
At least 11 airlines had issued travel waivers along the East Coast as of Thursday morning. JetBlue has cancelled 60 percent of its flights today.
Drivers in New York City and Philadelphia have been urged to avoid unnecessary travel due to inclement conditions.
ABC News meteorologists predict that 50 million Americans are in the path of the winter storm. Temperatures in the Northeast, which have been unseasonably high, plummeted overnight into Thursday morning.
Blizzard warnings were in effect for eastern Long Island and eastern Massachusetts. Winter storm warnings were issued for Philadelphia, New York City, Boston, and Portland, Maine. ABC News meteorologists forecast that NYC will be hit with a foot of snow. Boston could be slammed with 15 inches of snow and Philadelphia up to 6 inches. The storm is expected to clear out by Friday morning.
ABC News' Max Golembo, Melissa Griffin and Whitney Lloyd contributed reporting.