Chilean President Michelle Bachelet has ordered supermarkets to give away basic supplies in an effort to help desperate victims of the devastating earthquake and to control looting that has broken out in some cities.
Looters had already stripped stores bare in some parts of the country, taking food, water, milk, diapers and other essential supplies, as well as TVs, gasoline and some luxury items.
Many Chileans said the wreckage left them with no choice.
"I have a baby and we have nothing to eat," said one woman, who had resorted to looting from a grocery store for supplies.
An estimated 2 million people were put on the streets and hundreds killed by Saturday's magnitude 8.8 earthquake, one of the largest to hit the quake-prone country since a record 9.5 magnitude struck Chile in 1960.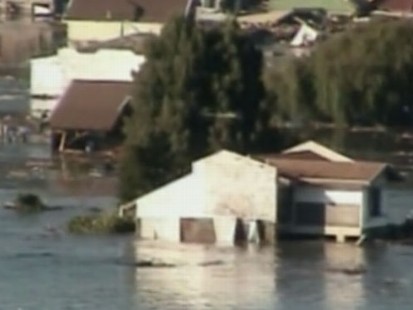 The official death toll stands at 723, the National Emergency Office said today. The U.N. World Health Organization said that figure is expected to rise.
"This tragedy, this problem, is going to continue in the next couple of days," Chile's ambassador to the United States Jose Goni said at a press conference in Washington today.
In Chile's second-largest city, Concepcion, the streets were still dangerous on Monday night, even after some 10,000 Chilean troops were deployed to restore order in hard-hit areas. People carried sticks and open flames as they roamed the streets, looting from stores.
Officials planned to enforce a curfew for a second night, requiring permission slips for people who had reason to be out later than a certain hour. Dozens of people were arrested for violating the first night of the curfew, and police turned to tear gas and water cannons to the control desperate crowds.
"I feel abandoned," Spanish professor Eduardo Aundez told The Associated Press as he watched the looting. "We believe the government didn't take the necessary measures in time, and now supplies of food and water are going to be much more complicated."
On Sunday, some looters rigged a system to siphon gasoline from underground tanks using tubes made of bamboo and plastic, the AP reported.
Concepcion's mayor told Chilean media that food began arriving in the city today to feed hungry victims, though water and electricity supplies were still disrupted.
Signs of Life: Knocking Heard from Apartment Building Debris
As authorities worked to control the looting in Concepcion, there were hopeful signs for the search and rescue effort at a 15-story apartment building in the city that toppled over during the quake. Rescuers heard knocking from victims trapped in the debris, the AP reported, and rescuers have started drilling holes through the debris to reach them.
So far, 25 survivors were pulled from the building's rubble along with the bodies of eight who died in the collapse. Dozens of people were still thought to be trapped inside the 70-unit structure.
Just one of the dramatic stories to emerge from the rubble -- a father and his 7-year-old daughter hugged one another and fell 13 flights as the building collapsed, but survived the fall.
Traveling in Uruguay on a previously scheduled trip to South America, Secretary of State Hillary Clinton promised that when she arrives in Santiago on Tuesday she will bring supplies, including 20 satellite phones and a technician.
"They have asked for communications equipment, some of which I am bringing with me on our plane," Clinton told reporters. "One of the reasons why they have asked me to continue my trip is to assess whatever else they might need and immediately begin the process of providing aid."
The State Department said today that Chile has already asked for aid including field hospitals, generators, water purification systems, tents, and rescue teams. State Department spokesman P.J. Crowley said those supplies will be on their way to Chile soon, and the United Nations and individual countries are also promising to send aid quickly.
Chile's Coastal Areas Hit Twice -- By Earthquake and Tsunami
Chile's president has called the quake catastrophic.
"We face an emergency without precedent in the history of Chile in which we need fast and urgent answers," said Bachelet, whose term of office ends on March 11. She will be succeeded by as president by Sebastian Pinera.
Life in the capital city, Santiago, began to return to normal today, but central Chile bore the brunt of the earthquake and likely has a long recovery ahead. Some coastal areas were completely destroyed by the earthquake, struck once by the quake and then by a tsunami wave that rushed in 30 minutes later.
Chilean Defense Minister Francisco Vidal acknowledged that the country's navy could have saved more lives by immediately activating a tsunami warning after the quake, the AP said.
In other parts of the country, the damage was less severe but still significant. In the small town of Hospital, south of Santiago, a major highway bridge was shaken from its support columns by the quake, crumbling onto a major rail line underneath the bridge. The structure was built recently to withstand earthquakes, leaving locals wondering why it fell.
While looting was a problem in some areas, other regions fared better. In the city of Rancagua, Chileans waited for gasoline and other supplies in long but orderly lines.
Saturday's earthquake was 500 times stronger than the one that hit Haiti over a month ago, but Chile's stronger infrastructure, building codes, and government are being credited with lessening the devastation.
The Associated Press contributed to this report