Tonight, baseball's most eagerly awaited rookie debut lived up to the hype.
Even before Stephen Strasburg had played a single game in the big leagues, he'd already been called one of the best pitchers in baseball.
Pitching for the Washington Nationals at home against the Pittsburgh Pirates, it was Strasburg who drew the largest crowd of the year for the D.C.-based Nationals.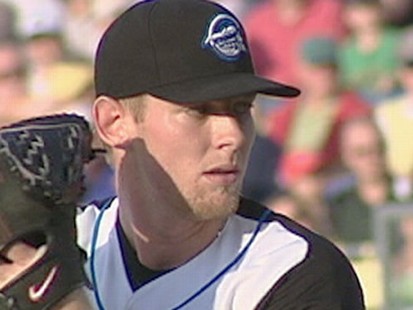 And it was Strasburg who, in his first ever major league game, struck out 14 batters, leading the Nationals to a 5-2 victory. In seven innings of work, he gave up just four hits and two runs.
The Strasburg phenomenon extends beyond baseball. He's been a one-man economic stimulus plan everywhere he has gone. He has played just 11 games in the minor leagues but has four wins, one loss and 38 strikeouts. In the past season he has earned a total ERA of 1.08.
While playing for San Diego State he became the first college player to be named to the U.S. team since the decision was made to use minor leaguers beginning in 2000. He struck out 180 batters in two seasons, which ranks him 15th on the San Diego Aztec all-time career list.
Drawing unprecedented crowds for the Nationals' minor league teams in Harrisburg, Pa., and Syracuse, N.Y. Strasberg has set more than just pitching records. And even as he played in the minors, Strasburg's #37 jersey became one of the top-selling jerseys in Washington at Nationals Park.
His autograph fetches nearly $200 on eBay and his one-of-kind rookie baseball card just sold for more than $16,000, which is also more than most Babe Ruth cards.
The Nationals paid $15 million to sign Strasburg after he graduated from San Diego State University last year. It was an unprecedented amount for an amateur baseball prospect.
ABC News caught up with Strasburg at one of his last minor league games with the AAA Syracuse Chiefs.
Fans started showing up hours before the game, eager to catch a glimpse of the guy with the 100-mile-an-hour fastball.
"I just want to see a $15 million arm," a young fan said. When asked what all the commotion was about, one father looked down at his son, "Tell him who's pitching?" His son looked up, "Strasburg," he replied.
Even though Strasburg has not started playing in the Major Leagues, he has managed to fill the stadium just by throwing warm-up pitches.
A group of boys spent eight hours in a car just for the chance to see Strasburg before he hits the majors.
Syracuse has had a professional baseball team since the mid-1800s, and baseball legend Babe Ruth played for a minor league team there, but Strasburg has attracted the largest crowds ever seen at Syracuse baseball games, filling the stadium beyond its 13,000 capacity.
During the game the fans watched the speed clock repeatedly hit 99 MPH, but Strasburg's' pitches might have been faster because the Chiefs' field clock only holds two digits.
There is a lot of pressure on Strasburg to meet high expectations. Former Boston Red Sox pitcher Curt Schilling says the day Strasburg hits the majors he may be the best pitcher in baseball.
Despite all the hype surrounding Strasburg, he seems pretty level headed. "He's a humble kid, you know there's obviously a lot of distractions around him with the media and the hype and all that stuff. But he does a good job keeping focused," says his teammate, catcher Sean Rooney.
Other pitchers have been able to throw in the upper 90's, but Strasburg's ability to control the ball is what makes him exceptional.
"He's able to control everything and pretty much spot up, when we ask him to throw inside he can throw inside, when we ask him to throw outside he can go outside," Rooney says.
At the end of the Syracuse Chief's game, Strasburg gave up a homerun and lost the game, a reminder that the phenomenon is still human. "It's baseball, you're gonna to lose. You win some, you lose some," Strasburg says.
Tonight, at least, he won one in a spectacular fashion.