Maj. Dan Rooney, an F-16 pilot in the Oklahoma Air National Guard, was on a commercial flight to Michigan on a rainy night in June 2006.
"It will be forever burned in my soul," he said. "As I walked down the jetway that night, I didn't realize it, but my life was going to change."
As the plane pulled up to the gate after the flight, the captain made an announcement: "We have an American hero on board," he said. "We're carrying the remains of Brock Bucklin home, who was killed in Iraq."
Bucklin's twin, Brad, escorted his brother's remains to the family's hometown from Iraq. Rooney watched as the casket of the 28-year-old corporal was unloaded from the plane to his grieving family.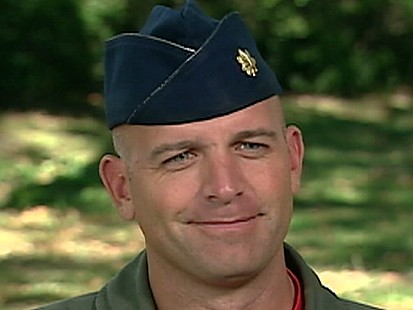 "That hits you in a real way," Rooney recalled. "And as an F-16 pilot, you've seen combat, you know what happens over there, but I'd never seen this side, this intimate side of war."
Few who have witnessed a scene like that have been able to forget it.
"So, the captain then asks, as a sign of respect, that we stay seated on the airplane to honor the sacrifice that Brock had made," he said. "And for the next 35 or 40 minutes, I watched the Bucklins on the darkest night of their life as their son came home."
Rooney watched as the family greeted the casket, Bucklin's son and his grandfather standing by the casket. Rooney wondered, "What if the tide of war ever turned on my family?"
"I got off the plane that night and I called my wife and I told her I have a mission in life," he said. "I don't know what I'm going to do, but I'm going to help that family I just saw."
Compelled to act, Dan turned to something he knew well -- golf. In addition to being a pilot, Rooney is a golf pro. He gathered golfers and made it their mission to fund scholarships for children and spouses of those killed or disabled in the line of duty.
On Labor Day of last year, Rooney launched "Patriot Golf Day," asking golfers at 3,400 courses across the country to donate an extra dollar in greens fees.
"We're just asking them to give a dollar to a cause," Rooney said. "That, I think, resonates with almost everyone in this nation. As patriots, we want to do more, we just haven't really been asked."
The $1 donations added up to $1.1 million over the three-day weekend last year. Rooney anticipates doubling that amount this weekend.
People "can get out this weekend and play golf," Rooney said with a smile. "Your country needs you."
Through his nonprofit, Folds of Honor Foundation, golfers have helped more than 200 families.
One of their scholarships went to Brock Bucklin's 6-year-old son, who Dan met for the first time on the tarmac that night.
Rooney is busy giving children a chance at a brighter future, and is scheduled for his third tour of duty, flying F-16s over Iraq, in the coming weeks.