Few know the value of a college education -- or the lack of one -- more than Mary Jean Price Walls.
The salutatorian of her high school class during the times of racial segregation, Walls said she studied hard and had a passion for learning. But, when opportunity knocked on her door to attend college, she was denied the chance even to open it.
In 1950, Walls applied to Southwest Missouri State College, now Missouri State University, in her hometown of Springfield. But instead of receiving a rejection letter, she heard nothing at all.
"I was sad, I was hurt," Walls admitted. "Say that you had been a good girl and your parents had promised you a special treat or something. Then, when you thought that you had been the best girl that you could, and then when you got ready to sit down to eat that cake, it was gone. How would you feel?"
Quite possibly around the time Walls would have received her bachelor's degree, in 1954, the U.S. Supreme Court ruled it was unconstitutional to deny black children educational opportunities equal to those offered white students in the historic case of Brown v. Board of Education.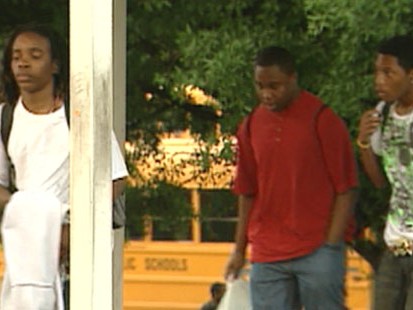 But for Walls, it was four years too late, and the rejection had already dashed her lifelong dream.
"I would have made a wonderful school teacher," Walls said.
Instead, she spent years as an elevator operator. And just last year, Walls retired from her job as a janitor at the age of 77, never having told her children about her past.
'Different Set of Memories'
Wall's scholastic history would have remained unknown had it not been for her son, Terry, who was able to confirm that she was in fact the first black student to apply to Missouri State.
Now, 60 years later, the revelation has spurred the university to correct the record, presenting Walls with the university's first-ever honorary undergraduate degree this Friday.
"There's an opportunity for her to have a different set of memories about Missouri State than the ones that she's carried for 60 years," said Dr. Leslie Anderson, interim chief diversity officer at the university.
Had Walls applied to Missouri State today, she would have joined a student body that is four percent African-American. Among those enrolled include Terry, who is working toward a degree in criminology.
It is Mary Walls who will see justice on Friday, with the diploma she never got. Although she's not one for a lot of fanfare, Walls said she sees it as a teachable moment for her grandchildren and great-grandchildren, one far more valuable than she ever learned in a classroom.
When asked what good a college degree does now at the age of 78: "Well, to say I tried. That's all," Walls said. "It's not a degree — it's the thought of what I went through."