Sure, there are a lucky few who have won an EGOT - Emmy, Grammy, Oscar and Tony. But how many of those folks can also say they've also won a Streamy? Probably none of them. But come Sunday, the exclusive Streamy winner's circle could include actors like Rob Corddry, Paul Rudd, and Lisa Kudrow. That's right, it is time for the second annual Streamy Awards, which recognize excellence in episodic web television programming.
In today's Conversation ABC's Sharyn Alfonsi talks with this year's master of ceremonies Paul Scheer about his hosting responsibilities for this year's Streamy Awards. Scheer already has a strong presence in the world of web videos, but has he learned more about the constantly growing industry now that he is hosting the award show? What are some of his favorite nominees this year? What makes a web video great? And the all important question: What food does the actual award statue remind Scheer of?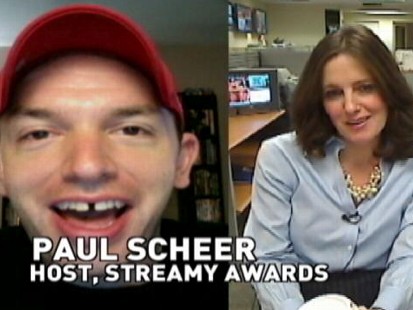 Sit back and enjoy the Conversation. Who knows? Maybe next year we will be a nominee!!
For more information about Sunday's award show click here.