Finishing the grueling 13-hour climb on all fours, South Korea's Oh Eun Sun crawled her way into the record books, the first woman ever to climb all 14 of the world's highest peaks.
The self-described climbing addict shouted "Victory!" when she reached the top of Annapurna, a 26,545-foot mountain that clinched the world record.
The 14 peaks she climbed each rise more than 26,000 feet, all of them in the Himalayan and Karakorum ranges in Asia. Climbing all of them with no extra oxygen is an astounding feat.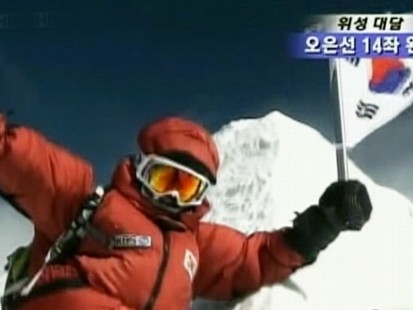 Climbing is an enormous source of national pride for South Korea. The last eight hours of Oh's climb were broadcast on Korean television and the country sent 23 technicians up with her, including two cameramen, to document the journey.
"I want to share this joy with the Korean people," she said from Annapurna's summit. "Thank you very much."
There's just one potential problem.
Her main rival, a Spanish woman climber named Edurne Pasaban, claims Oh never got all the way to the top of one of those 14 peaks -- the 28,169-foot Kangchenjunga.
The alleged evidence is photos, which Oh says were shot at the summit of Kangchenjunga. There is something odd about the shots, say other climbers who have been there. Standard proof that a climber has "summited" is a typically a photograph that shows the climber at the top, surrounded by neighboring peaks. Oh's official pictures, released by her sponsor company, show her standing on snow and in fog so thick that no other peaks are visible.
Oh has since said the photos had to be shot from just below the summit because of potentially deadly weather.
Furthermore, a video shot at the summit is so blurry that it's impossible to tell if Oh and her team are actually at the top of the peak.
The timing is suspect as well. Oh was monitored from a base camp with a telescopic lens until about 2 p.m. the day she allegedly reached the top of Kangchenjunga. After that, the weather became so inclement, the view was obscured. Critics say Oh must have made incredibly good time to reach the summit three hours and 40 minutes later. Perhaps too good to be true, critics say.
Then there are the sherpas. Three of them accompanied Oh up Kangchenjunga but only one has vouched for her.
And Oh's Korean flag was found about 200 feet below the summit, with four rocks holding it down.
Questions Raised About South Korean Claim to Climbing Fame
Elizabeth Hawley, 86, an American writer who has lived in Nepal since 1960, is the record keeper for all Himalayan expeditions.
"I plan to meet with Ms. Oh when she comes back from Annapurna," she says. "And I also want to talk to one of her sherpas."
For now, Oh's 2009 climb will go down in the Himalayan database as "disputed."
In the meantime, Oh's Spanish rival has only one more peak to summit to bring her tally to 14. She expects to reach it this year and claim "Victory!" for herself.
The BBC contributed to this report.
For more on this story tune in to World News with Diane Sawyer 6:30pm ET.