Sen. Jim Bunning has left dozens of infrastructure projects on hold and put thousands of federal transportation workers temporarily out of work, but he is sticking to his guns, despite withering criticism from the White House and his Democratic opponents.
Bunning, the Kentucky Republican, decided last week to block a bill that would extend government funding of highway and transit programs and unemployment benefits for 400,000 Americans, among other programs. He has been critical of the bill's $10 billion price tag and its potential to add to the national debt.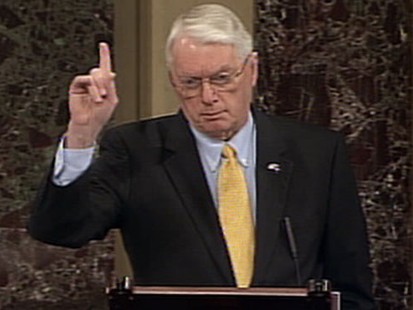 Earlier today,
Bunning
refused to answer questions from ABC News, even flipping his middle finger at a producer trying to catch up with him from behind.
"Excuse me! This is a senators-only elevator!" Bunning thundered as he boarded an elevator in the Hart Senate Office Building. "I'm not talking to anybody," he said.
Later, in a speech on the Senate floor, Bunning, who is not seeking re-election, outlined his rationale for blocking the bill.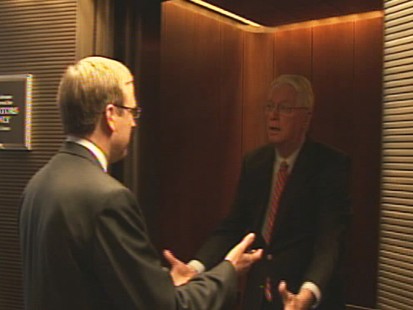 "I support extending unemployment benefits, COBRA [health] benefits, flood insurance, highway bill fix, doc fix, small business loans, distant network television for satellite viewers," he said. "But if we can't find $10 billion to pay for something that we all support, we will never pay for anything on the floor of this U.S. Senate."
Bunning has received support from fellow Republicans but none have joined him in blocking the bill. Sen. Lamar Alexander, R-Tenn., said he understands Bunning's objection.
"Two weeks ago, the Democrats pushed through a toothless Swiss-cheese proposal they were bragging about, saying, 'We're going to pay as we go.' And then the next thing you know, they turn around and offer $10 billion at the last minute to do what you just described without paying for it," Alexander said on ABC News' "Top Line."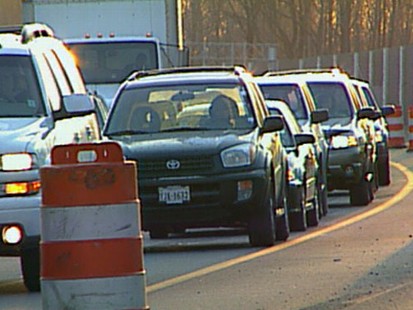 Bunning has proposed funding the extension of government programs with as-yet-unused stimulus funds, a move Senate Majority Leader Harry Reid opposes. Reid has favored a temporary extension of unemployment benefits as lawmakers negotiate a longer-term, bipartisan extension.
Democrats have criticized Bunning and the Republicans for blocking the measure.
"Because of the games of Washington, hundreds of thousands of people are without the benefits they need to continue as they look for work," said White House press secretary Robert Gibbs.
Transportation Secretary Ray LaHood said the impasse also hurts workers who have jobs, withholding pay from dozens of infrastructure projects around the country.
"This means that construction workers will be sent home from job sites because federal inspectors must be furloughed," LaHood said.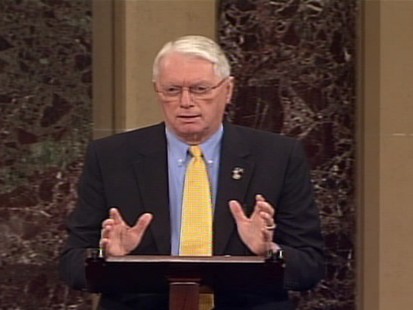 The Department of Transportation, which sidelined 2,000 federal workers and halted 41 construction projects this morning, says those numbers could climb if the stalemate over funding drags on.
Bills to Extend Unemployment, DOT Money Due Later This Week
Without the highway trust fund dollars, the federal government also cannot reimburse states for any ongoing construction projects. States were scheduled to get some $768 million from the feds this week, but they'll have to figure out how to make do without, for now.
Edward Wytkind, of the Transportation Trades Department, a labor union, called Bunning's move "irresponsible" and "downright dangerous."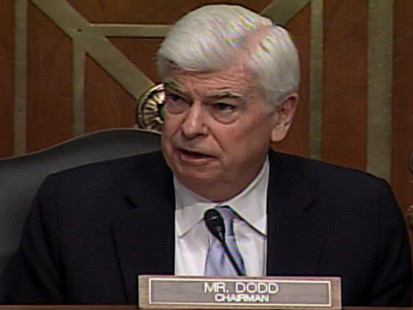 "In this economy, to purposefully put people out of work is cold-hearted," he said. "It's even worse that these workers perform essential functions to expand and build our nation's transportation system and ensure it is safe for all its users."
"He's preventing the Senate from moving forward," said Vice President Joe Biden today. "400,000 people will be kicked off the rolls this month if he has his way."
Senators will take up a more long-term version of the bill to extend unemployment benefits on the Senate floor today, but it's not likely to pass until later this week or next week.
As for the highway trust fund, money for that program is likely to pass the House this week as part of a jobs bill already passed through the Senate, meaning furloughed workers could soon be back to work.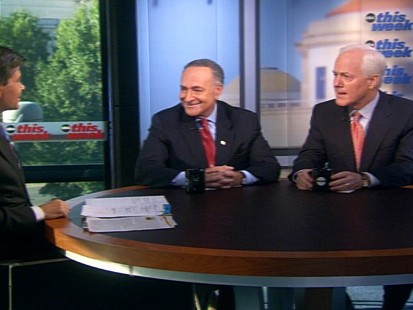 Bunning, who has served in the Senate for over a decade, has a history of saying inflammatory things. During his 2004 re-election campaign, Bunning described his Democratic challenger as looking "like one of Saddam Hussein's sons." After Justice Ruth Bader Ginsburg announced she had pancreatic cancer, Bunning said she would "likely be dead in nine months." He later apologized. More recently, Bunning threatened to sue the National Republican Senatorial Committee if it fielded a challenger to him in the primary.
ABC News' Lisa Stark and Matt Loffman contributed to this report.