Made in America Christmas: Are You In?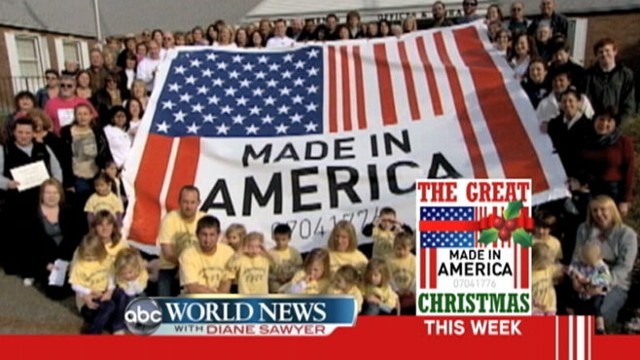 "World News with Diane Sawyer" is gearing up for a "Made in America Christmas" and we need your help.
The average American will spend $700 on holiday gifts and goodies this year, totaling more than $465 billion, the National Retail Federation estimates. If that money was spent entirely on US made products it would create 4.6 million jobs. But it doesn't even have to be that big. If each of us spent just $64 on American made goods during our holiday shopping, the result would be 200,000 new jobs.
Now we want to know, are you in? If so, we want to hear from you. How are you planning on spending your $64?
What great Made in America products have you bought or plan on buying?
We want to hear how you are buying American this holiday season and how you are inspiring others in your community to do the same.
Have you encouraged your family, friends, neighbors, book club or church group to spend $64 on Made in America products this holiday season? How many people have agreed to do it?
Share your story with us and it could be featured on "World News with Diane Sawyer" or on ABCNews.com.
And if you are looking to be inspired check out our constantly growing list of Made in America Christmas gift ideas!