It could be one of the greatest falls from stardom in Hollywood.
Mel Gibson's inflammatory, angry rant is reportedly caught on tape as he berates former girlfriend Russian singer Oksana Grigorieva, who is also the mother of his child, apparently unaware that she was taping him.
A phone call left to Mel Gibson's representative was not returned immediately.
"You are provocatively dressed all the time, with your fake boobs you feel you have to show off," he said. Gibson also told her if she was raped, it would be her fault.
Celebrity website RadarOnline.com has posted voice recordings of what they claim is Gibson's "racist rant" aimed at Grigorieva.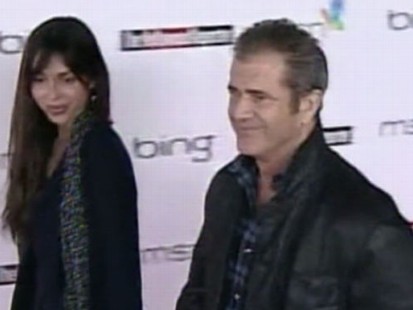 Click to hear the explosive "racist rant" on RadarOnline.com.
Harvey Levin of TMZ told ABC News this could be the end of the line for the 54-year-old actor.
"I think it's definitely possible that Mel's career is over, but I'm not certain of that," Levin said. "This is as vile as it gets."
All this from an actor who at one time was one of the most sought-after celebrities. He was the heartthrob from "Lethal Weapon," in 1987, and a two-time Academy Award winner for best director and best picture for "Braveheart," in 1995.
He used to make the news for his acting roles in blockbuster hits such as "The Patriot" (2000), "What Women Want" (2000) and "Signs" (2002). Gibson hasn't had a hit movie since directing "The Passion of the Christ," in 2004.
Some say that the fan support that Gibson has garnered over three decades of acting might just be enough to keep him afloat.
But Gibson's shocking behavior off-screen had already showed signs of his career in a stunning downward spiral. Back in 2006, when he was pulled over on suspicion of drunken driving, he unleashed an anti-Semitic tirade. According to a the police report, he used profanity and asked the arresting officer, "Are you a Jew?"
After the incident Gibson re-entered alcohol treatment. But his reputation never quite recovered. And there are now reports that he's been dropped by his talent agency, William Morris Endeavor Entertainment, amid allegations that he assaulted and made death threats against his ex-girlfriend.
Still, Levin said, "He's got a fan base, and it's amazing how forgiving people can be."
However, the damage done this time could go beyond Gibson's career and in to court.
"There is a domestic violence investigation that will go to the district attorney, so he has some pretty significant criminal issues to deal with," Levin said.
And many may not have forgotten his previous anti-Semitic invectives, which included saying to the arresting officer of his DUI, "The Jews are responsible for all the wars in the world."
Gibson faces more scrutiny as RadarOnline.com reports it has 30 minutes of recordings that will be released over the next few days.
But Levin says Gibson's upcoming movies could still have a chance for success as he says "memories fade a little bit." But after these latest comments and even newer recordings receive circulation, it might not be enough to save his career.