Michelle Obama's inaugural gown took its place alongside the dresses of Eleanor Roosevelt, Mary Todd Lincoln, Jacqueline Kennedy, Nancy Reagan and many other first ladies in the Smithsonian Institution today. Mrs. Obama was on hand at the Smithsonian Museum of American History to donate her gown to a collection that now includes items from 24 presidents' wives.
Calling the golden, beaded ball gown "one of the most tangible things I have left to remember that day," Mrs. Obama said she was still "embarrassed over the fuss" being made over her dress.
"I'll never forget the moment that I slipped on this beautiful gown," she said. "I remember how just luscious I felt as the President and I were announced onto the stage for the first of many dances, and I'll cherish that moment for the rest of my life."
Mrs. Obama's gown was designed by 27-year-old Jason Wu, a first-generation American who immigrated from Taiwan. Wu began sketching wedding gowns at age 5, went on to work around the world and opened his own store just four years ago.
"What an honor," Wu said to the first lady. "Thank you for having the courage and vision to choose a gown made by a young designer who didn't fit the traditional mold. Thank you for reminding us all that in this country, nothing is impossible."
Michelle Obama's fashion choices are deliberate and a powerful means of communication, said Kate Betts, a contributing editor at TIME magazine and author of the forthcoming book, "Michelle Obama: The Power of Style."
"Michelle Obama comes to the White House like Jackie Kennedy, with a fluency in style and fashion. She really loves fashion. She's not afraid of it," Betts said.
"In the beginning of the administration, she really spoke a lot through her clothing," she said, adding that unlike first ladies Hillary Clinton and Laura Bush, who dressed for the role of first lady, Michelle Obama was first-and-foremost "dressing for herself."
Mrs. Obama's gown joins a collection of dresses that spans the history of the country, everything from Eleanor Roosevelt's modest crepe gown with minimal trim to Barbara Bush's signature royal blue with pearls. Every gown has a unique message.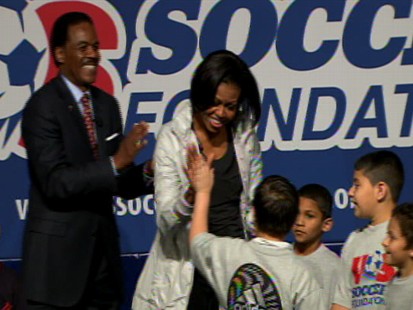 "Each dress stands alone in time," Betts said. "It's not like they're related or you can see an evolution or a connection between each dress. [...] It's a fascinating mix of public symbol and personal story."
Michelle Obama's Inaugural Gown Joins Smithsonian Collection
Dresses are sometimes controversial. When Rosalyn Carter wore the same evening gown to the 1977 presidential inauguration that she had worn six years earlier when her husband became governor, she intended it as a sign of frugality in tough economic times. Instead, she was roundly criticized for her decision. Just a few years later, Nancy Reagan had the opposite problem, when her $25,000 beaded inaugural gown drew criticism for being too ostentatious.
First Ladies' Style Changes With the Times
Michelle Obama isn't the first First Lady to display a flair for style. There was, of course, Jacqueline Kennedy with her off-white sleeveless gown that looks modern even today. But even before Kennedy, first ladies were pushing the boundaries of style.
"We can go back to Dolley Madison, who had her own style in which she drew from French style and kind of made it into an American conglomeration of style," Betts said.
One of Madison's gowns is part of the Smithsonian exhibit, a silk-satin open robe embroidered with flowers, butterflies and other delicate designs.
"Grace Coolidge had amazing style," Betts said. "She was the first First Lady to appear in newsreels and she was the first to really reach out to people. We saw her being very active and athletic, like Michelle Obama."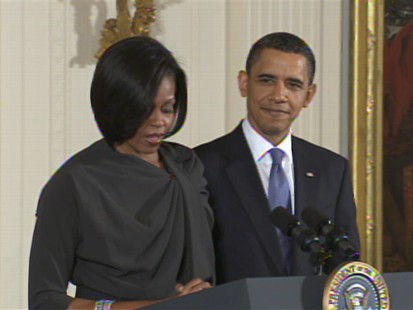 Coolidge's flapper-style evening dress is also on display at the museum, crafted of black and gold metallic lace, gold lame, and velvet trim.
The World's Greatest Red Carpet
"The inaugural gown is almost outside of fashion," Betts said. "It's not like you're looking at an Oscar gown on the red carpet. It's like the world's greatest red carpet, and it's this amazing symbol of where the country is at that moment in time."
A gown can also be symbolic of what might happen in the future. At today's ceremony, Michelle Obama said she hoped her dress sent a clear message. "With enough focus and with enough determination, someone in this room could be the next Jason Wu," the First Lady said. "Someone in this room could be the next Barack Obama. And it's about how something you create today -- whether it's a dress or a painting or a story or a song -- can help teach the next generation in a way that nothing else can."
ABC's Alice Maggin contributed to this report.