For the past 1,400 years, the faithful have flocked to the holy city of Mecca to take part in the annual pilgrimage, the Hajj. In accordance with one of the five pillars of Islam, every financially and physically able-bodied Muslim must perform the ritual at least once in their lives.
This year is no exception: Officials say they are expecting about 2.5 million pilgrims from 160 countries to converge on the Saudi Arabian city and the other sacred sites. But the threat of the H1N1 virus is looming large. The density of the pilgrims, the nature of the rituals and proximity in prayer provide what health officials describe as the perfect conditions for spreading the virus.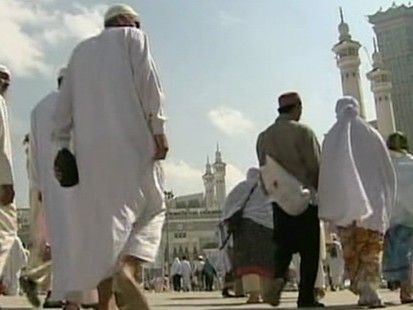 Still, followers have come to complete the sacred journey. Outside the Al Haram mosque, home to the large black cube called the Kaaba, some of the pilgrims said their faith in God is greater.
One woman said their fates are in the hands of Allah and they're all going to die one day. Another man, wearing a mask, said, "Nobody seems to be worried at all, so I am not worried."
He confessed, however, to taking precautions. "When it's crowded, I put my mask on,'' he said.
But for Saudi health authorities, there is a lot of international pressure to contain and prevent the virus from spreading. And it's a huge challenge to restrict people's movements, especially during the holy pilgrimage of Hajj.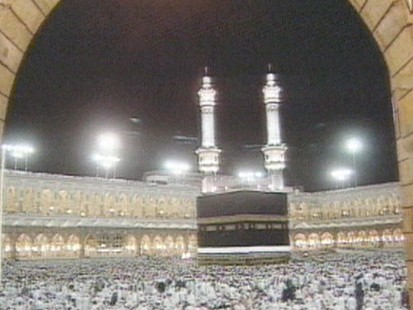 Indeed, it's impossible, Saudi Health Minister Dr. Abdullah Al Rabeeah told ABC News.
But he was quick to dismiss rumors that he had considered cancelling the Hajj, which started today and ends Thursday night. "Because of the attention of the media and the public, people are worried, some countries talked about it," he said. "However, it wasn't in the mind of Saudi Arabia, we never thought about it, it didn't cross our mind. I think the government is confident in its health facilities, is confident in its capabilities and, from day one, we told them that we would put guidelines and recommendations but we will not prevent people from coming to Hajj.''
Attempting to Mitigate the Pandemic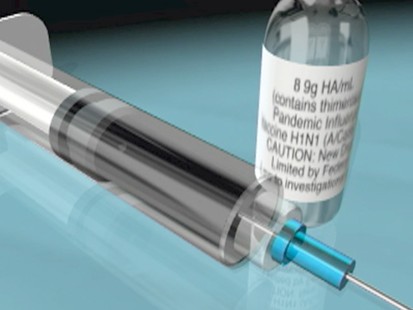 But
worries about the co-called swine flu remain
, he said. ''I think that like any other health professional, people are worried with mass gatherings and I think that Hajj is the largest mass gathering on earth.
"And, naturally, when there is a major mass gathering with the people being very close to each other for a few days, you worry about any infectious disease. One of them is H1N1.''
But statistics show "there is an increase of around 5 percent from last year,'' he said of the number of pilgrims.
The Saudis issued guidelines and recommendations, including advising pregnant women, the elderly and children not to come, as well as recommending vaccination at least two weeks before traveling to Saudi Arabia.
Some pilgrims were heeding the advice.
One woman waiting in line for the vaccination at a health clinic in Cairo said she was not worried about catching the virus. ''I am going to perform a ritual for God, why should I be scared?''
Another woman said God will protect her.
Commemorating various events in Abraham's life, the grueling rituals are meant to test one's faith in God. So, for many, it is a journey of a lifetime.
But not every country followed the Saudi's recommendations.
''It was our hope that countries would have listened to our advice and recommendations that we have put back in June," the Saudi health minister said. "Unfortunately, some countries did not abide by those regulations, namely elderly and young children people with associated diseases that affect their immunity like heart and kidney and liver disease and also they did not follow the vaccination guidelines for H1N1.''
Working feverishly since it became a pandemic, Saudi health officials have reached out to the Centers for Disease Control and Prevention for help.
Dr. Shahul Ebrahim of the CDC said the agency is sharing its disease and surveillance expertise, as well as a system used during Hurricane Katrina to control the virus.
"There is no more stopping the spreading," he said. "What we do with a pandemic, whether it's the U.S., China or Saudi Arabia Hajj or Olympics, is to mitigate ... to reduce the burden. ... Instead of having 100 cases, we'd like to see 20 or 15. We cannot say we will have 0 cases, that is impossible.''
Is It Already Too Late for Prevention?
Detecting the virus begins in the kingdom's entry ports. As soon as the pilgrims arrive, they are greeted by health officials. Using sophisticated technology to check their temperatures, officials will closely monitored pilgrims for a seven-day isolation period if they show flu-like symptoms.
Otherwise, they are given packs including masks, hand sanitizers and information about the H1N1 virus.
As for whether it's too late for prevention, "We will have enough data to answer that question, at the moment we cannot answer that question because it requires extensive laboratories and examinations," Ebrahim of the CDC said. "It will take a few days but we will have the answer to that question as we analyze specimens.''
Whatever the answer, Ebrahim and the Saudi health minister said, the pilgrims who begin their final journey home could be carrying a more virulent strain of the virus.