Imagine dining on tuna sashimi overlooking Belgium, or indulging in fresh lobster dangling next to a French cathedral.
Pig's trotters with baby leeks and wild mushrooms would be delicious, but when your restaurant table is dangling 130 feet in the air, there can be problems.
Dinner in the Sky, a new restaurant venture developed by two Belgian entrepreneurs, takes the idea of going out to eat to a whole new level.
The table, which can fit up to 22 diners and three servers, is suspended from a crane hundreds of feet in the air. There are no walls, no doors, or floor or any markings of a traditional restaurant for that matter.
Dinners normally last one hour and clients can set the menu themselves, choosing anything from lobster to french fries, depending on the budget. They can even bring in infra red heating for an added cost.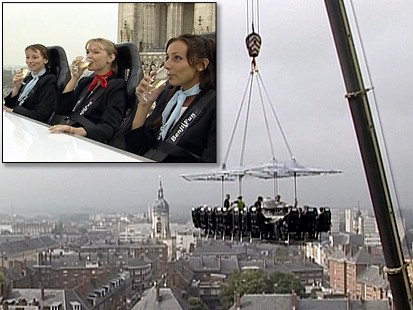 David Ghysels and Stephan Kerkhofs came up with the idea of a floating restaurant that you could bring to any location you desired. But Dinner in the Sky brings sky-high dinning for a minimum cost of $6,500, which doesn't make it available to the average diner.
The event is very successful among corporate entertainers, who enjoy the combination of amusement park thrills, a bite to eat and the view. Kerkhofs wants to expand into other venues, such as weddings.
ABC News' Nick Watt went to Barcelona to dine in the sky. During the March visit, Barcelona was blustery and the windy conditions prevented cooking at altitude. Flambé is not on the menu. The wind made it almost impossible to drink, but champagne and canapés were plentiful.
While the idea is exciting in theory, it does create a few practical concerns, such as what if you have to use the restroom?
"That's the same problem if you step into a helicopter. Go before," Kerkhofs said.
Another problem -- dropping things.
"So far, the only thing we've lost over the side is one champagne cork," Kerhofs said.
Also, safety is a concern. Though the chair is equipped with a six-strap seat belt to secure diners, Kerkhofs, too, worries.
"I'm not going to lie. This isn't a massively pleasurable experience for me," said Kerkhofs. "I have a real urge to hang on for dear life. Because when you look down, you see the ground."
Unlike in a conventional restaurant where the chef moves around the kitchen, here, the chef wears a harness and works in the center of the table, reminiscent of a Japanese hibachi setup.
The 7-ton table is suspended from eight cables, and no one has fallen off -- at least not yet.
The company operates all around the world, from Barcelona to Cape Town, London, Istanbul, Las Vegas, the United Arab Emirates and more. Now they're building more tables to keep up with a global demand.
The only thing left to do is conquer the vertigo.
For more information, check out its Web site and watch a video explaining the experience.