No one expected the Elizabeth Avenue Eagles, a Newark, N.J.-based little league baseball team, to make it to the semifinals of the playoffs.
The team truly defied the odds. Last year, their field was filled with dirt and broken glass. When the season began, some of their players couldn't even afford gloves.
"Off the field, they see pretty much life as bad as it can get," said Jon Schuppe of the Newark Star-Ledger, who has been following this team from the beginning of the season. "A lot of them come from homes that are broken, fathers who they have never known, and mothers who are working, or have their own problems to deal with."
To top it off, at the season's start, they stunk.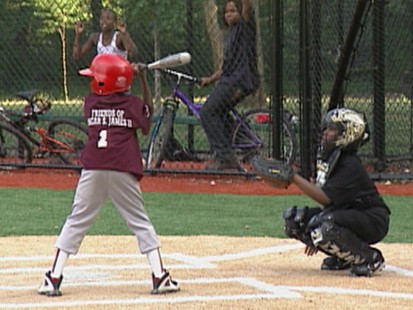 "It reminded me of 'The Bad News Bears,'" said Coach Rodney Mason. "But I knew that, in a matter of time, we could get together and make this work."
Mason, who the kids call "Coach Rock," coaches from an unconventional seat: his wheelchair. He is a paraplegic. A bullet remains lodged in his spine from the days he dealt drugs on the street, before he turned his life around. Mason has taken this haphazard group with little to no baseball experience and given them the skills to succeed, on and off the field.
"I really know what they are going through and can relate to most of them," Mason said. "I am trying to give them a positive path instead of a negative path."
Newark is a city currently battling gangs, drugs and violence.
Irene McKoy, grandmother of Derek Fykes, the team's catcher, credits baseball as the activity that keeps her grandson off the street.
"If it is baseball that is going to keep them busy, keep their minds mentally on something other than the street life, I am all for it," she said. "I don't get off work until 6 o'clock, but Rodney is not letting him out of his eyesight. He is going to watch him; if anything goes wrong, he calls me on his cell phone."
Fykes, 10, along with many of the other players, views Mason as not only a coach, but as a role model.
"It's like, it's like a mentor, and now we have someone to look up to in baseball," Fykes said.
Parents and spectators agree that Mason has not only imbued the kids with confidence and discipline, but he has made a personal connection to each player.
"He has been a father figure to some, because some of them don't have fathers around," said Tinneka Thompson, whose two children are on the team. "So, he has been a father figure, a best friend, they can come talk to him. He has just been great."
The most important lesson the boys have learned this season is to stop fighting and work together. Since the beginning of their season, the boys' sportsmanship, spirit and team morale have dramatically improved, according to Schuppe.
"There's very little arguing. There's very little blaming each other and throwing gloves in the dirt," Schuppe said. "And there's a lot of patting each other on the back and cheering each other."
Last night they cheered each other to victory. Mason couldn't be more proud. The unlikely win by an unlikely team has created an unlikely source of hope in Newark, N.J.
"Coach Mason is an underdog in the truest sense of the word," Schuppe said. "He hit rock bottom. He willed himself to the top, and now he is a role model, and that's the most compelling part of the story -- Coach Mason's personal journey."