Tomato growers blame the government for killing their crop.
Farmer Mike Gardoni buried his tomato crop Wednesday, uprooting hundreds of acres of perfectly healthy tomatoes on his farm just south of Bakersfield, Calif.
"It tears me apart. I put a lot of effort into this crop and to watch it just mowed down," Gardoni said. "It's hard -- it's not an easy thing to do."
Gardoni blames the Centers for Disease Control and Prevention's warning that tomatoes may have caused the salmonella outbreak for the damage he has suffered.
Watch this story on ABC's "World News" tonight, July 10 at 6:30 p.m. ET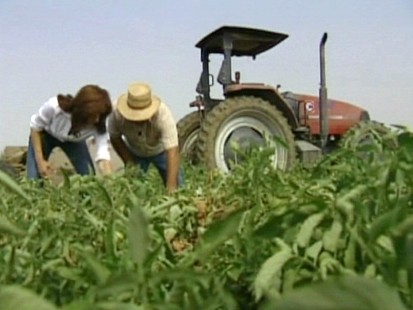 Since the start of July the number of salmonella cases has grown from 869 to 1,017 through Wednesday. For every confirmed case, the CDC estimates that many more go unreported. So it's likely that tens of thousands of people have actually been sickened. The CDC also reported that the outbreak has spread to 41 states.
While the CDC and FDA pinpointed tomatoes as the likely source and warned consumers against eating raw tomatoes, their investigation has proved inconclusive. Officials expanded the scope of their study to include raw jalapeno and serrano peppers, as well as cilantro. Officials say that jalapenos contributed to some salmonella cases, which has further angered tomato growers who believe their crop has been unjustly singled out.
"It's a serious problem, and the FDA needs to come clean here," Gardoni said. "There should be congressional investigations and, frankly, this whole mess should be declared a disaster."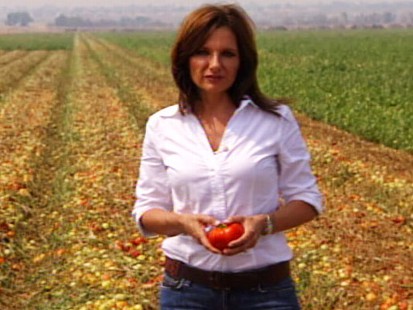 Gardoni's family farm, which stretches back four generations, stands to loose millions of dollars from plowing these fields under. Consumers' fear of tomatoes has made the farm's tomato crop unmarketable, Gardoni said.
"The government should be in the process of helping American agriculture," Gardoni said. "They shouldn't be in the business of putting us out of business."
Gardoni's personal hardship and frustration are being felt on farms across the country. Farmers and professionals predict that the tomato market will never completely recover.
"You might never regain the same amount of consumption as you had in previous years," said Tom Nassif, CEO of Western Growers. "It's devastating for us."
In 2006, spinach was linked to a similar salmonella outbreak, and when the government sounded alarms growers said it implicated the entire industry.
Today, the U.S. Department of Agriculture said spinach consumption is still down by nearly 15 percent.
"The FDA seemingly learned no lessons from spinach," said Caroline Smith DeWaal, director of food safety at the Center for Science in the Public Interest. "They have continued to operate with guidance to the industry that had proven ineffective for over 10 years."
Tomato growers say they're the FDA's latest victim. Two months into the outbreak, the farmers believe they are still being blamed for making people sick without real proof.
"Somebody's got to be held accountable," Gardoni said. "I'm held accountable if something goes wrong. Why aren't they accountable for making a problem that we didn't have?"
When tomatoes were supposed to have a banner year, Gardoni's farm and many others are simply struggling to survive.
For more, check out a video diary of Lisa Fletcher inside a suffering California tomato farm.