Flor Crisostomo's church has always felt like home. But now, it is her home.
"I can't fathom leaving," Crisostomo told ABC News in Spanish. "My children need me."
Crisostomo is an illegal immigrant. She came to America to earn money to support her three kids in Mexico, because there are simply too few jobs in her homeland, she said.
Six months ago, when she was ordered to be deported, she sought refuge at her local church, Adalberto United Methodist Church on Chicago's west side. She has a bedroom and shares a kitchen and said she is ready to stay "until there is immigration reform."
Although the U.S. government knows she is there, officials have yet to arrest her.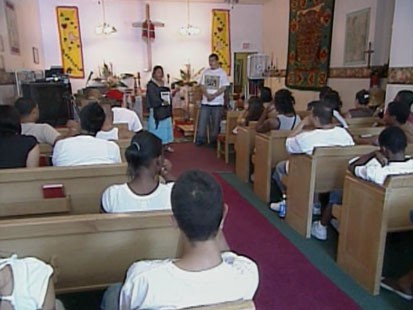 "When the time is appropriate, we'll make the arrest," Deputy Assistant Secretary of U.S. Immigration and Customs Enforcement John Torres said. "She's not posing a threat to anybody, so with the limited resources we have, we're going to focus those on the more real threats that are currently out there in the community."
It's a choice that angers some people who believe that the government should move aggressively against all illegal immigrants.
"To me, it reflects the unwillingness and spinelessness of the Department of Homeland Security, and of Michael Chertoff, to enforce immigration laws on the books," said Rosanna Pulido, founder of the Illinois Minuteman Project, a group that defines its mission as "educating Americans about illegal immigration in Illinois."
Adalberto United Methodist is part of a growing national movement of churches that increasingly harbor illegal immigrants.
It was the church that started the trend two years ago when it provided sanctuary to another woman, Elvira Arellano. Arellano was deported after a year, but officers did not arrest her until after she had left the church.
The government is careful about where it arrests illegals, according to a former top immigration official.
"There's been basically an unwritten rule -- no churches, no schools, no parks," said Doris Meissner, a former head of the Immigration and Naturalization Service, the agency that used to oversee immigration until the Department of Homeland Security took over in 2003.
Meissner, now a senior fellow at the Migration Policy Institute in Washington, said immigration officials would pursue an illegal immigrant in a church if that individual was dangerous or wanted for a more serious crime, but those cases are rare.
"[Churches have] just not been a place where immigration enforcement actions have worked very well, and they tend to stay away from it," Meissner said.
Throughout history, churches have served as sanctuaries for those fleeing from authority. But at Crisostomo's church, the concept of sanctuary is less about hiding from the law than about changing it.
"It's a form of non-violent civil disobedience -- no different than sitting at a lunch counter or anything else," Adalberto United Methodist Church pastor the Rev. Walter Coleman said.
In fact, Crisostomo has been a vocal critic of U.S. immigration policy. She speaks to groups at the church, and even writes about immigration issues in a blog.
Coleman said he would not intervene if officers attempted to arrest Crisostomo, but other churches say they would protect those who have sought safe haven inside their walls.
"We would surround [the illegal immigrant]. And it would not be a very pretty picture," said Father Richard Estrada of Our Lady Queen of Angels La Placita in Los Angeles.
It's a scene immigration officials would like to avoid.
"They're not likely to allow themselves to be pulled into that in a way that is just going to create a public spectacle for its own sake," Meissner said.
So, for now, these public standoffs continue.
And Crisostomo and the U.S. government wait.