Dayna Camp, an avid amateur photographer from New York City, fills album upon album with pictures of her family.
"I love photographing my family and keeping those memories and moments alive," she said. "But even the simple things -- my son and his dad sitting around and playing with the blocks. I'm like, 'You guys are so cute, let me take a picture.'"
Camp realized that some less fortunate families don't know the joy of pouring over picture albums. So with the help of the New York City Department of Homeless Services, she organized a photo shoot in Central Park for families living in shelters.
"I found myself literally thinking one day that it's such a simple joy that maybe families that are going through a difficult time just aren't thinking about," Camp said.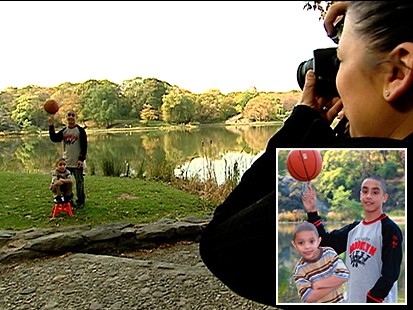 To learn more about the Portrait Project, or to make a donation, you can contact photographer Dayna Camp directly by e-mail: Dayna@aportraitproject.org.
She gathered families -- mothers, fathers, brothers, sisters -- whose sense of normalcy had been upended, and brought them together for family portraits and a chance to feel special.
"It's wonderful, so when they grow up they can see us together… see themselves, when they were little," said Josephine Bubb, mother who took part in the shoot.
"It means a lot to me to have this moment, this day with my children and grandchildren," said Shawaun Laffette, a grandmother.
Camp organized the photo shoot for free, holding a bake sale at the dance studio where she works to defray the costs of framing and printing. She presented each family a portrait just in time for the holidays.
"So many times, people think that when you're homeless, you're worthless. You're nothing, you know. She puts a different face on it, she shows the world that we're people," Laffette said.
"Some of the families said today that this was the first photo that they had of all of them together," Camp said. "You know, they can just look at that photo and say, 'this is our family, this is what our strength is.' It was nice… it's sad in a way, but nice to give them that."