As part of our series "The Kitchen Table," "World News" will spend considerable time in the coming months in Brockton, Mass., to get a firsthand look at how the city is coping with the recession and preparing for the challenges ahead.
After an undefeated season, the Brockton High Boxers earned a spot in the state basketball semi-finals at the Boston Garden -- the same court that the reigning NBA champion Boston Celtics call home. But for hundreds of students at Brockton High, there was one thing standing in the way of seeing that moment -- $8.
Most of the students couldn't afford an $8 ticket to the game.
"It's been a challenging year for us," said Brockton High School principal Sue Szachowicz. "We have registered a lot of new students at Brockton High who are homeless."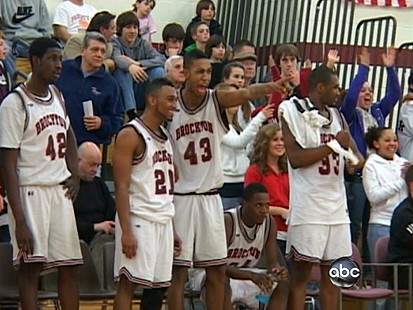 To say times are tough in
Brockton
would be a great understatement. The city's crime rate is 1.5 times the national average, and budget cuts have been proposed to slash the already thin police force in half.
Once a manufacturing town, Brockton will see the last of its 39 shoe factories shut down this month, in a city where unemployment is already at 10 percent. More than 500 families have lost their homes and many more are struggling to make ends meet.
That's when Szachowicz stepped in. She organized teachers, staff and parents to scrape together their own money to buy 80 tickets to the big game and raffle them off to needy students.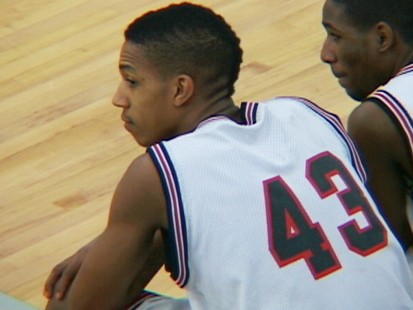 Basketball Star Holds Tight to Dreams
The community gathered last night to watch the Boxers play at the Garden. The night marked a chance to finish a perfect season on top.
But for 18-year-old Rondell Best, the team's senior forward, the night was far more than a childhood dream.
"I saw Michael Jordan play here, Paul Pierce play here, Larry [Bird] play here. This is a huge, extreme dream ... and I am very, um, very honored just to be here," he said. "When you have nothing, you have to have something to hope for."
Homeless Player Determined to Stay 'Undefeated'
Last fall, Best's family was forced to move out of their home because they were facing foreclosure. Along with his mother, 3-year-old brother and 9-year-old sister, Best has spent most of the last three months living in a string of homeless shelters.
"I've seen so much stress so far. I know what it feels like to be sad. I have to find out what it feels like to be happy," he said.
Best's hopes echo the struggles of so many in this city. While moving between shelters, he said, he considered dropping out of school -- even dealing drugs to make ends meet.
"Why am I in school?" he said he asked himself. "Why am I working hard if a shelter is all we have to show for it?"
Surrendering to a life on the streets would have been an easy choice, but Best didn't quit. He kept playing basketball and kept studying, working to be a role model for his young siblings.
"If they see me successful, then they will want to be the same way," he said. "They need someone to look up to. I have to be one of the ones that makes it."
Best kept up his grades, and has earned a full scholarship to Newbury College, in Brookline, outside Boston, next fall. His family just moved into public housing.
Even though his team lost last night in overtime, a smile graced Best's face.
"This is a huge dream, I've always had as a child to be here… just to get to be here and actually play is huge to me," he said. "I will never forget this moment, ever, I will never forget this moment."
Even facing heart breaking loss, a player and city are holding on to their gritty determination to be "undefeated."