General Motors Corp. announced today a tentative deal to sell its Saturn brand to former race car driver and dealership-group owner Roger Penske. The agreement likely means a second chance for more than 300 Saturn dealerships across the country.
"This is the beginning of a great new future," said Marty Mollway, sales manager of the Saturn dealership in Oak Lawn, Ill.
Penske, the automotive tycoon whose racing team recently won the Indianapolis 500 for the 15th time, also owns the nation's second-largest chain of car dealerships, which presents a ready-made network to boost Saturn sales.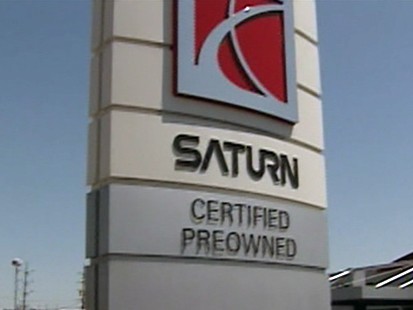 "Where can you walk into a marketplace and have 3.5 million consumers that are already using your product," Penske, head of Penske Automotive Group, told ABC News. "I think it's going to be a home run."
The deal calls for GM to supply Saturns for at least two years, saving 13,000 jobs for now. After that, Penske hopes to find another partner -- perhaps Renault S.A. of France -- to make the cars. Neither GM nor Penske disclosed the purchase price but Penske said he expects the deal to close before fall.
Penske said he plans to succeed where GM failed because the company will be able to sell cars without the expensive baggage that burdened GM.
"We will not have the legacy costs, the overhead associated with an organization like General Motors because they really had to feed many brands," Penske said.
Penske Automotive Group, based in Bloomfield Hills, Mich., consistently scores high in customer satisfaction surveys. The company also has race teams in the IndyCar, NASCAR and Grand-Am series. Penske received wide acclaim for heading Detroit's successful effort to host the 2006 Super Bowl.
Penske Automotive also distributes Daimler AG's Smart subcompacts in the United States but Smart has its own dealership network and Saturn dealers will continue to distribute Saturn vehicles exclusively, according to the company.
Saturn was GM'S answer to Japanese imports 25 years ago. The company made a splash with its no-haggle pricing and new "team" approach with union workers. But sales peaked in 1994 and the company never made a profit. Sales dropped 22 percent last year as the U.S. car market withered.
Saturn, 'the Stepchild,' Suffered
"Penske's organization is a much smaller, leaner organization," said Mike Dushane, editor of CarandDriver.com. "Saturn suffered as the sad stepchild of a really big, huge bureaucracy."
Saturn production is scattered at plants across the United States. The Aura model is built at GM's factory in Kansas City, Kan. The Outlook model is built in Lansing, Mich., while the Vue is built in Ramos Arizpe, Mexico.
The Saturn Sky roadster is built in Wilmington, Del., but that plant is scheduled to close in July and the model will be discontinued. The Saturn Astra compact hatchback was imported from GM's plant in Antwerp, Belgium, and was discontinued last year.
After years of stagnation, Saturn has introduced new models. And the Company still has loyal customers.
"They make quality vehicles," said Pat Mcauliff, a customer at the Saturn dealership in Oak Lawn. "[I've] never had any issues with them."
General Motors filed for bankruptcy court protection Monday. The company has said it plans to shed its Saturn, Hummer, Pontiac and Saab brands.
GM said earlier this week it found a buyer for Hummer in China's Sichuan Tengzhong Heavy Industrial Machinery but any such deal would require Chinese Commerce Ministry approval. State-run newspapers in China said Sichuan Tengzhong had not yet obtained the OK.