$100,000 Hen House Features Brooder 'Boudoir'
By Kelley Robinson
As you flip the pages of a good cookbook, sunlight pours through classic French windows. The recipe you like calls for pristine, home-hatched eggs, so you reach out and collect a few. As you exit, you pass under a crystal chandelier.
You're in a hen house. The hens who recently laid your breakfast are clucking at your heels as you go.
This is how Svetlana Simon, of Boynton Beach, Fla., starts her day, and she hopes you will too. Her custom-made luxury hen houses can be purchased for $100,000 through this year's Neiman Marcus Holiday Book.
"It's paying homage to poultry - they are beautiful," Simon said. "It's about high time we give them more than the four square feet minimum required in feeding operations."
Click here to see a picture story of quirky gifts
Inspired by Le Petit Trianon, the grand house once occupied by Marie Antoinette in Versailles, the hen house is large enough for the 10 heritage-breed hens it comes with - and for you to go in and out comfortably.
The home has multilevel rooms, including a living room, nighttime roosting area, a library for your cookbooks, and a "broody room" for when a hen wants some alone time with that special rooster in her life.
"When she is ready to become a mother, a hen will pluck the feathers on her chest and will sit on her clutch of eggs," Simon said. "At that time she needs a different environment, and our hen house has a separate room for the brooder - a boudoir, you could say."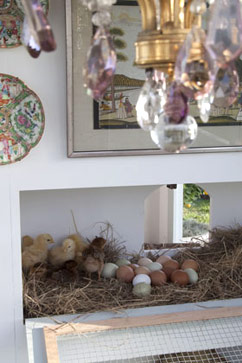 (Image Credit: Neiman Marcus)
Simon's unique product made the Neiman Marcus fantasy list this year in its famous Holiday Book. While much of the catalog highlights items for under $250, other fantasy gifts include a special edition McLaren 12C Spider sports car for $354,000, a JetLev water jetpack for $99,500, and a walk-on role in Broadway's "Annie: The Musical" for $30,000.
Click here to see a slideshow of other fantasy gifts in the 2012 Neiman Marcus Holiday Book
Ginger Reeder is the expert gift finder who finds the gifts in the Holiday Book.
"I always ask people to give me your fantasy," she said. "Do not edit yourself. Don't guess what I want. Tell me what you've always wished someone would ask for. Svetlana came back with this idea."
Simon said her house includes personal home visits on which she will advise customers how to best raise their chickens.
"This hen house, to me, speaks of looking to poultry and how beneficial it is," Simon said. "They are beautiful animals that give a dual purpose. They can either be pets or give us food."