'Dancing With the Stars' 2011: Chaz Bono Voted Off in Week 6 of Season 13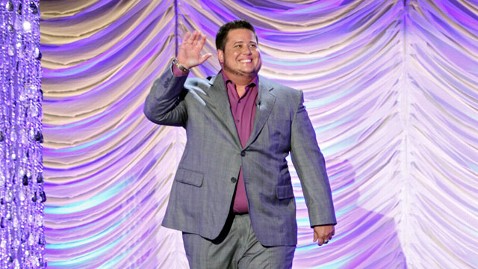 (ABC News)
Transgender activist Chaz Bono was voted off ABC's "Dancing With the Stars" tonight.
The audience and judges gave him a standing ovation when the results were read.
"This was an amazing journey … ," Bono said, standing next to his partner, Lacey Schwimmer. "I came on this show because I wanted to show America a different kind of man. If there was somebody like me on TV when I was growing up, my whole life would have been different."
He and soccer World Cup star Hope Solo had both been in jeopardy, but Bono  received the lowest in combined audience and judges' votes.
Bono has struggled since the beginning of the competition six weeks ago. His low scores have consistently landed him in or near the bottom of the leaderboard, and he's also been in jeopardy of elimination but managed to avoid being cut.
Last night he again was the low scorer of the pack with 19 points out of a possible 30 for his tango to a song from the musical "The Phantom of the Opera."
Watch "Good Morning America" tomorrow to see the booted couple, live!
Judges told him his tango needed more aggression and technique.
In a backstage interview that aired during tonight's show, Bono took aim at judge Bruno Tonioli, who in a critique of Bono's tango likened him to "a cute little penguin trying to be a big, menacing bird of prey."
Tonight Bono reacted, saying judges often praised overweight women who came on the show and lost weight, but didn't give overweight men the same latitude.
He said Tonioli had often made disparaging comments about him, "like I'm some fat troll dancing with this beautiful woman every week, and I'm sick of it."
Other blunt reviews from judges last night caused emotions to run high, and Maksim Chmerkovskiy, Solo's pro partner, vented his frustration by engaging in a war of words with the judges.
After a particularly frank critique of Solo's performance from head judge Led Goodman, Chmerkovskiy protested, saying the audience would react well to the dance pair's journey. Goodman started to reply, saying that he'd been in the business for 50 years, when Chmerkovskiy cut him off with a terse: "Maybe it's time to get out."
Judge Carrie Ann Inaba didn't appreciate the comment: "Don't be disrespectful like that," she told Chmerkovskiy.
In a backstage interview with co-host Brooke Burke Charvet, Chmerkovskiy explained that he was frustrated because he believed judges were assessing scores inconsistently, awarding points to some stars for effort and to others for performance.
And then, he added this: "With all due respect, this is my show. I helped make it what it is."
Tonight, viewers got to see the judges' reactions to those comments.
"Did he just say this was his show?" Inaba asked. Goodman and Tonioli seemed taken aback.
Tonight Charvet asked Chmerkovskiy if the judges weren't entitled to their opinions.
"Of course. So are we," he said, but added that he wanted to apologize if the comment he made about the show being his was in some way misinterpreted.
"It's not my show. I'm part of a very large cast," he said, adding that he was proud to be among them.
Public reaction to the ballroom dustup appears to have come down evenly on both sides. Some fans who weighed in online said Chmerkovskiy's gripe was legitimate and the judging was inconsistent, while others said they thought he was arrogant and disrespectful to a judge who was merely rendering a professional evaluation.
Six celebrities will return to dance on Monday: actor David Arquette,  reality TV personality Rob Kardashian, actor J.R. Martinez, Solo, former talk show host Ricki Lake and TV host Nancy Grace.
Fashion guru Carson Kressley was booted off the dance floor last week. Reality TV star Kristin Cavallari, Italian model Elisabetta Canalis and NBA star Metta World Peace (former Ron Artest) also have been eliminated this season.