Movie Review: Outstanding Performances Make 'Prisoners' a Must-See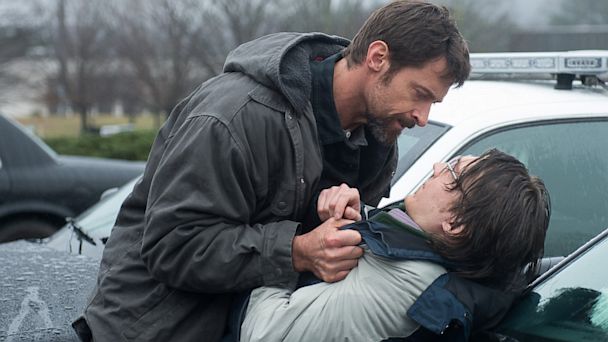 If you have children, before you leave for your night at the movies, give them a hug. When you return home, you won't just hug your kids, you'll probably never want to let them go. This is the residual effect of "Prisoners," one of the most intense movies of the year.
Hugh Jackman is Keller Dover, a God-fearing survivalist and family man who teaches his son life lessons through deer hunting and keeps his basement stocked with supplies and provisions, seemingly for some sort of apocalypse. He's a tough guy.
On a cold and dreary Thanksgiving, the Dovers - Keller, wife Grace (Maria Bello) and their two children, son Ralph (Dylan Minnette) and daughter Anna (Erin Gerasimovich) - walk up the block to visit their neighbors, the Birch family (Terrence Howard and Viola Davis), for a holiday dinner. Both families' lives change forever when they let their daughters outside to play.
For More Movie Reviews from David Blaustein, Click Here!
The girls never come back. Their disappearance may be linked to a suspicious motor home that was parked near the Birches' home earlier.
Then we meet Jake Gyllenhaal's Detective Loki. He's sitting in a Chinese restaurant, flirting with a waitress when he gets the call. Loki isn't your typical-looking detective. He's covered in tattoos and he's twitchy. There's a bit of cockiness in his gaze but at the same time he seems to long for something else.
It's raining. The motor home has been found, and so has Paul Dano's disheveled, bespectacled, childish Alex Jones. Loki shows him no mercy. It's clear, as far as the detective is concerned, that Alex is guilty before proven innocent. It's quite a different story, however, when they arrive at the station for questioning. Alex has the mentality of 10-year-old. Loki is forced to let him go for lack of evidence to hold him.
The news of Alex's release infuriates Keller, who decides to take matters into his own hands. He stalks Alex, who lives with his reclusive aunt, played by Oscar-winner Melissa Leo. We are left to watch Keller as he does what he feels is necessary to find the missing children, no matter what the cost to him, their families, or to Alex.
Dano and Leo both turn in astonishing performances in "Prisoners," as does Jackman, who follows up his Oscar-nominated role in Les Misérables with another role that could score him yet another Oscar nod. To me, though, the story here is Gyllenhaal, delivering the performance of his career in a career already filled with exceptional performances. He delivers an acting clinic, a performance for the ages drama teachers should require all of their students to study.
"Prisoners" is a great film but it is also a difficult film, and that's a testament to director Denis Villeneuve. It takes a brilliant mind to balance the dark twists and turns "Prisoners" takes, enveloping the audience in fear and disgust while also managing to entertain and keep us guessing.
Five out of five stars.