MTV VMAs 2014: Katy Perry Channels Britney Spears and Justin Timberlake with Denim Versace Dress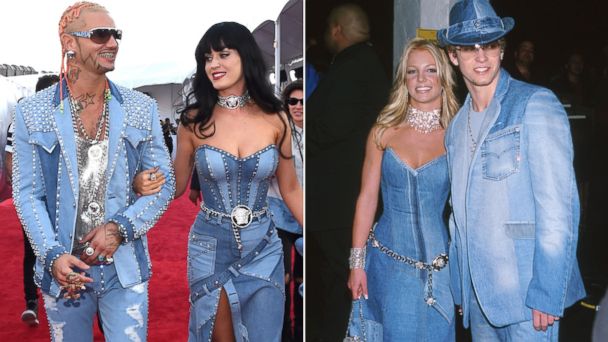 Right before the 2104 MTV Video Music Awards kicked off, Katy Perry brought back fond memories of when Justin Timberlake and Britney Spears were the hottest couple on earth more than a decade ago.
Perry, 29, showed up with rapper Riff Raff in matching full custom denim Versace outfits.
Read: Must Watch MTV VMA's - What to Expect
Perry said she just collaborated with Raff on a remix to "This Is How We Do," one of the songs off her latest album.
Perry wowed in a full-length denim dress, showing off her amazing body, and definitely brought back memories of when Spears, 32, and Timberlake, 33, wore the same style outfits at the 2001 VMAs.
Raff even had the denim hat Timberlake sported.
Timberlake and Spears dated from 1999 until they split in 2002.