'80s Week: 80 Best Songs of The '80s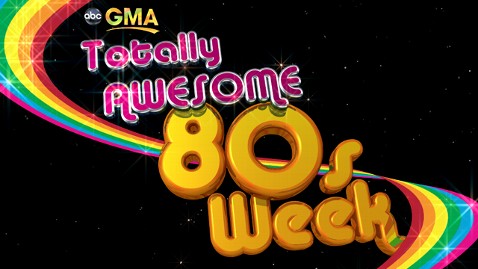 The 1980s are known for neon colors, scrunchies, and Rubik's Cubes. But what we remember most is the music. We asked our anchors, correspondents, producers and viewers what their favorite '80s songs were and we've put together this list of some of the decade's best music. It's by no means exhaustive or definitive — but it will certainly bring back some memories.
Listen to GMA's 80 Best Songs of the '80s for free on Spotify.
In no particular order, our list:
"Jessie's Girl" by Rick Springfield
"Mickey" by Toni Basil
"Karma Chameleon" by Culture Club
"Let's Hear It For The Boy" by Deniece Williams
"Don't You (Forget About Me)" by Simple Minds
"Everybody Wants to Rule The World" by Tears for Fears
"Hungry Like The Wolf" by Duran Duran
"Take On Me" by a-ha
"Walk Like An Egyptian" by The Bangles
"(I Just) Died in Your Arms" by Cutting Crew
"Manic Monday" by the Bangles
"Beat It" by Michael Jackson
"How Will I Know" by Whitney Houston
"Danger Zone" by Kenny Loggins
"Invisible Touch" by Genesis
"Get Outta My Dreams, Get Into My Car" by Billy Ocean
"Footloose" by Kenny Loggins
"We Built This City" by Starship
"My Prerogative" by Bobby Brown
"Girls Just Want to Have Fun" by Cyndi Lauper
"We Didn't Start The Fire" by Billy Joel
"Billie Jean" by Michael Jackson
"Bizarre Love Triangle" by New Order
"Centerfold" by J. Geils Band
"Every Breath You Take" by The Police
"Every Little Thing She Does is Magic" by The Police
"I Wanna Dance With Somebody" by Whitney Houston
"Thriller" by Michael Jackson
"Stand" by R.E.M.
"I Still Haven't Found What I'm Looking For" by U2
"Physical" by Olivia Newton-John
"All Night Long (All Night)" by Lionel Richie
"Straight Up" by Paula Abdul
"In The Air Tonight" by Phil Collins
"The Lady in Red" by Chris De Burgh
"Sweet Dreams (Are Made of This)" by the Eurythmics
"Purple Rain" by Prince & The Revolution
"Little Red Corvette" by Prince
"Dancing In The Dark" by Bruce Springsteen & The E Street Band
"Call Me" by Blondie
"Wild Wild West" by The Escape Club
"Private Eyes" by Daryl Hall and John Oates
"Jack & Diane" by John Mellencamp
"Missing You" by John Waite
"Tainted Love" by Soft Cell
"With or Without You" by U2
"Born in The U.S.A." by Bruce Springsteen & The E Street Band
"Africa" by Toto
"Time After Time" by Cyndi Lauper
"I Melt With You" by Modern English
"Pour Some Sugar On Me" by Def Leppard
"Chariots of Fire" by Vangelis
"Eye of The Tiger" by Survivor
"Down Under" by Men at Work
"Flashdance… What A Feeling" by Irene Cara
"Total Eclipse of The Heart" by Bonnie Tyler
"Hello" by Lionel Richie
"Let's Go Crazy" by Prince & The Revolution
"Like A Virgin" by Madonna
"I Just Called to Say I Love You" by Stevie Wonder
"Can't Fight This Feeling" by REO Speedwagon
"Juke Box Hero" by Foreigner
"St. Elmo's Fire [Man in Motion]" by John Parr
"Kiss" by Prince & The Revolution
"Livin' On A Prayer" by Bon Jovi
"Here I Go Again" by Whitesnake
"Faith" by George Michael
"Need You Tonight" by INXS
"Don't Worry Be Happy" by Bobby McFerrin
"Sweet Child O' Mine" by Guns N' Roses
"Red Red Wine" by UB40
"Like A Prayer" by Madonna
"Material Girl" by Madonna
"Don't Stop Believin'" by Journey
"Every Rose Has Its Thorn" by Poison
"Video Killed The Radio Star" by The Buggles
"Come On Eileen" by Dexy's Midnight Runners
"Don't You Want Me" by The Human League
"Jenny (867-5309)" by Tommy Tutone
"I Wanna Rock" by Twisted Sister
blog comments powered by