Dia de los Muertos: Day of the Dead
If all goes as planned, souls of deceased loved ones will be welcomed home this evening, at least in Mexico, where friends and family have been preparing for their arrival for weeks. Today is Day 2 of Dia de los Muertos, the day when adult souls are welcomed home. The souls of children arrive one day prior at midnight Oct. 31., according to goMexico.com.  Not to be confused with Halloween,  Dia de los Muertos/Day of the Dead, is its own entity.  Born out of the Aztec festival for the goddess of the underworld, Mictecacihuatl, and the Catholic Spanish conquistadors' All Saints/Souls Day, the modern tradition has become a Mexican National Holiday and  the country's biggest celebration of the year.
Candles illuminate grave sites at the San Gregorio cemetery during the Dia de los Muertos, or Day of the Dead holiday on the outskirts of Mexico City, Nov. 1, 2011. (Marco Ugarte/AP)
Candy skulls, chocolates, sweet bread and candles are prepared to present at alters and grave sites of the deceased. Cemeteries are adorned with hundreds of candles to light the way home.  Alters are erected in homes and furnished with food and drink to nourish the dead,  decorated with the symbolic Mexican flower of death, the Marigold. Even a bar of soap and a mirror might be presented in case the deceased would like to freshen up. "No place on Earth do the dead receive such a warm and festive welcome from the living than during the observance of el Dia de los Muertos in Mexico," California-based academic Ray Hill told the Sydney Morning Herald.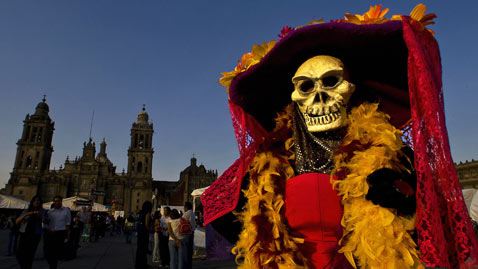 A girl dressed in a costume of "La Catrina" is shown in Mexico City's center square of Zocalo, in this Oct. 30, 2008, file photo. (Luis Acosta/AFP/Getty Images)
While the holiday focuses on celebrating life, it is is also in good fun that many people choose to dress-up in costumes. One of the most popular is "La Catrina," above and below.  Legend has it that "La Catrina" was a selfish, rich woman who did nothing to help the poor and is, thus, mocked each year in costume, reports the Seattle Times. The caricature was a creation of artist Jose Guadalupe Posada and is said to be social commentary for his time, late 180os Mexico, according to Inside-Mexico.com.
A child is dressed as "La Catrina," in this 2007 file photo, in Mexico City.  (Omar Torres/AFP/Getty Images)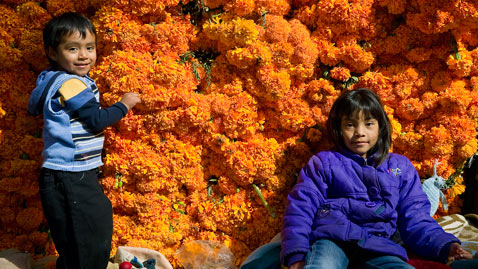 Children sit near the Mexican flower of death, the Marigold, at the Jamaica Flower Market in Mexico City Oct. 31, 2011. Like the Christmas holiday season in the United States, "Dia de los Muertos," with all of the gifts purchased for deceased loved ones, provides a boost to local businesses selling essential items for the holiday, like the Marigolds above and the skulls below.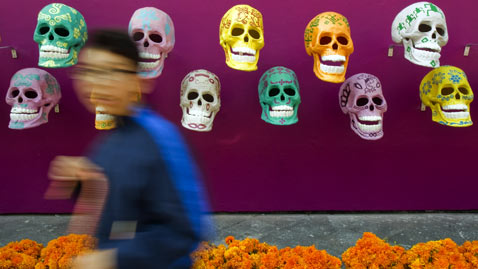 A man walks past skulls for sale in regard to Dia de los Muertos, Nov. 2, 2010, in Mexico City. (Afredo Estrella/AFP/Getty Images)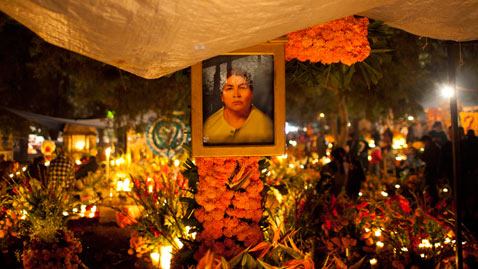 An alter decorated with a photo of the deceased is shown at a grave site, while people pay their respects to the dead at the Tzintzuntzan Cemetery, Nov. 1, 2010 in Patzcuaro, Mexico. (Rodrigo Cruz/LatinContent/Getty Images)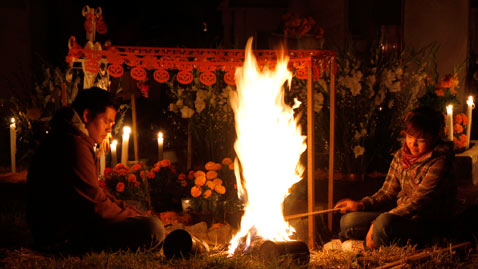 Two people sit by a campfire at the San Gregorio Cemetery during the Dia de los Muertos on the outskirts of Mexico City, Nov. 1, 2011. Family members and friends flood cemeteries during the holiday, sharing food and drink together, and telling stories of the deceased. (Marco Ugarte/AP Photo)