Man Wins Lamborghini, Crashes it 6 Hours Later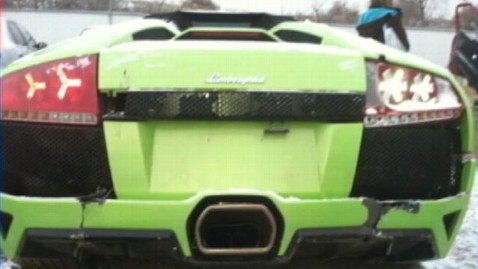 A Utah man was speechless when he found out he won a $350,000 Lamborghini in a contest hosted by a local convenience store chain last month, but his excitement came to a halting stop six hours later when he crashed the luxury Italian sports car.
"We were coming up a hill and going down a corner, and we hit a patch of black ice," David Dopp told ABC News' Salt Lake City Affiliate ABC 4 news.
Dopp won the 2008 Lamborghini Murcielago LP640 on Nov. 12 at LaVell Edwards Stadium during Maverik's "Joe Schmo to Lambo" contest. According to a spokesperson, the Lamborghini is worth more than $350,000 and its 640-horse powered engine can go from 0 to 60 in 3.4 seconds.
The Lamborghini was delivered to Dopp on Dec. 17, and soon after he took the car for a drive around the neighborhood with friends and family. Noise complaints forced Dopp to re-route his joy rides to the outskirts of Sataquin, Utah, where things turned sour.
Dopp said he hit the ice patch while traveling about 40 or 50 mph around a turn, causing the car to spin backward and hit a fence post, damaging the fender on his dream car.
"Everything is going to be OK and we'll move on from here," Dopp's wife Annette Dopp told ABC 4 news.
Dopp paid $3,500 to insure the car for six months, and his down payment for the repairs was $1,000. According to Dopp, the car is on its way to Vegas for repairs.
But even when it returns, there will be no more joy rides in the pricey Lamborghini. Dopp plans on selling the car to pay off bills and buy his wife a new car.