Woman Accepts LEGO Video Proposal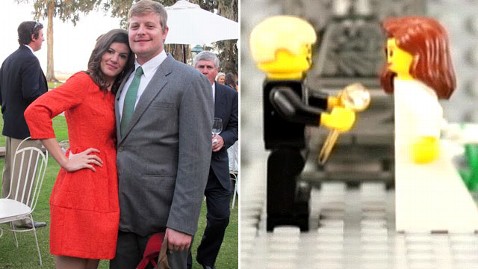 Nealy Dozier and Walter Thompson,(l), began their engagement with a stop-motion LEGO film proposal. Courtesy Walter Thomson, Nealy Dozier; Walter Thompson/Firepit Pictures.
Walter Thompson did not want to offer a traditional proposal.
"I didn't want to do something lame like drop on one knee and pop the question."
Rather than a lame start to their married life, Thompson spent four days, hundreds of dollars and thousands of photographs creating a stop-motion LEGO film to recreate the romance he had with his now fiancee, 28-year-old Nealey Dozier.
Thompson said that he wanted to propose by the end of their third year together, which meant that before Jan. 4, 2012, he had to have a ring and a plan.
"When it came time to start looking for a ring, I started building on the idea that telling a story with a stop-motion LEGO world would be kind of cool," he said, adding that it "became a lot more work than I originally anticipated."
Thompson matched their outfits from their first meeting- he in overalls, she in Auburn University gear-to the LEGO dolls' clothing in the video. He found a LEGO table that matched uncannily a table in the couple's kitchen, and reenacted scenes from the couple's courtship.
"We kind of had this ongoing joke where I would do her food photography and give her the memory card with a LEGO figure in the background," Thompson said, referring to his habit of taking photos of her while she was cooking. "Every so often this LEGO guy would show up on the back of the pictures and she would laugh."
Beside the 30 hours of posing the figures, photographing them, and editing the pictures together into a movie, Thompson had the added stress of keeping the project a secret from Dozier while he worked on it in their shared home.
"I had to do the whole thing in my room with the door shut and just assume she knew what was going on," Thompson said, noting that he had to screen the DVD at a neighbor's house to make sure it worked.
"I was very shady about it. It's an engagement based on lies," he joked.
On Jan. 3, Thompson told Dozier that he had a surprise for her later that night. For their past anniversaries, he had written poems to give her, and said that for this anniversary he had an epic poem he wanted to share with her. Meanwhile, he had secretly discussed his plans with Dozier's parents over Christmas and arranged for both sets of parents to surprise Dozier at the couple's home shortly after the proposal.
When he sat her down to watch the DVD, he said, Dozier knew something was up.
"I'm sitting there trying not to pound a bottle of red wine when I'm waiting," he said. "She said that she could feel my heart beating, just pound and she had an idea pretty quickly that it wasn't really just an anniversary poem."
Thompson said that after he pressed "play," everything became blurry for him, but for Dozier, "her eyes kind of welled up and she didn't say anything."
"By the time you see the last frame, she tried to run around and look at me, and when she turned around, I went on one knee and had the box, with two LEGO figures, the bride and groom, he had ring in hand," Thompson said.
Dozier, stunned, peppered her then boyfriend with questions about the film for 20 minutes before realizing that she hadn't yet agreed to his proposal.
Dozier, of course, said yes, and the couple's happy video became history.