Black History Month: Selma-to-Montgomery Marches
March 1965 marked a pivotal time for the U.S. civil rights movement, when the Rev. Martin Luther King Jr. led demonstrators to protest discrimination against black Americans in Alabama who had been denied the right to vote. The march from Selma to the state capital began three times before the demonstrators were finally able to finish it.
The first attempt took place March 7, 1965, when 600 demonstrators were attacked by state and local police with weapons and tear gas as they reached the Edmund Pettus Bridge in Selma, injuring 17 protesters in what came to be known as "Bloody Sunday."
It became national news when televisions across the country displayed images of bloodied and severely injured marchers.
The second march, March 9, resulted in 2,500 protesters turning around after crossing the main bridge because of the restraining order a federal district court judge issued barring the march from taking place until he could hold additional hearings later in the week.
The third march started March 16, when the restraining order was lifted after a judge ruled in favor of the marchers, citing their First Amendment right to protest anywhere, even in Alabama. They started March 21 and walked an average of 10 miles a day on their 54-mile trek. The National Guard and the FBI looked on as the march proceeded to Montgomery. About 25,000 people marched to the steps of the Alabama State Capitol Building in Montgomery March 25 when King delivered the speech "How Long, Not Long."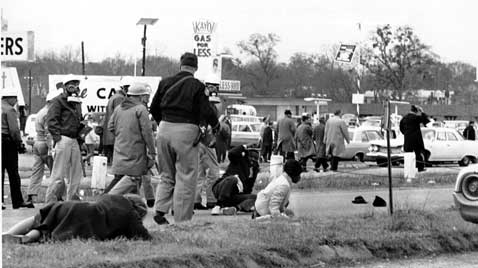 Civil rights demonstrators struggle on the ground as state troopers use violence to break up a march in Selma, Ala., on what is known as "Bloody Sunday" March 7, 1965. The supporters of black voting rights organized a march from Selma to Montgomery to protest the killing of a demonstrator by a state trooper and to improve voter registration for blacks, who were discouraged to register. (AP Photo)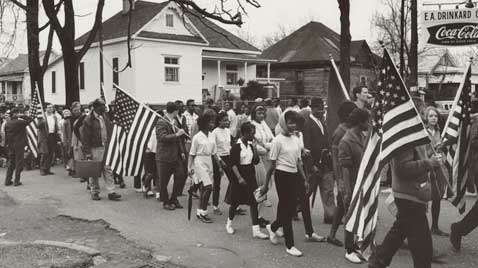 Participants, carrying U.S. flags, in the civil rights march from Selma to Montgomery, Ala., March 25, 1965. (Photo by Buyenlarge/Getty Images)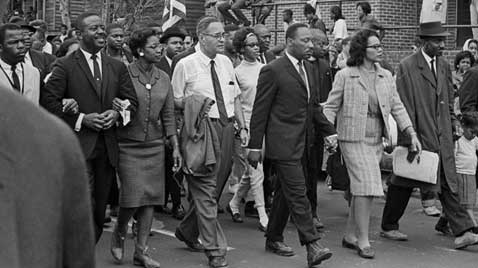 Civil rights leader the Rev.. Martin Luther King Jr. and wife Coretta Scott King (center right, hand in hand) lead others during the Selma to Montgomery marches held in support of voter rights in Alabama, late March 1965. Among those with them are the Rev. Ralph Abernathy (1926 - 1990), second from left, smiling, and Pulitzer-Prize winning political scientist and diplomat Ralph Bunche (1904 - 1971), front row, in white short-sleeved shirt. Bunche's wife, Ruth , holds Abernathy's arm. (Robert Abbott Sengstacke/Getty Images)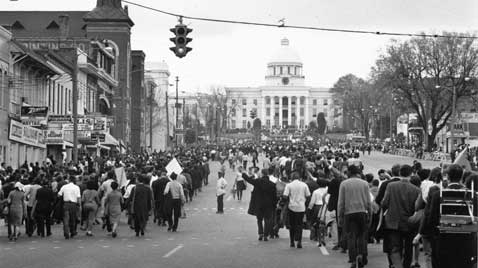 U.S. civil rights demonstrators, led by the Rev. Martin Luther King, approach the Capitol Building in Montgomery, Ala., at the end of their march for black voting rights from Selma. (William Lovelace/Express/Getty Images)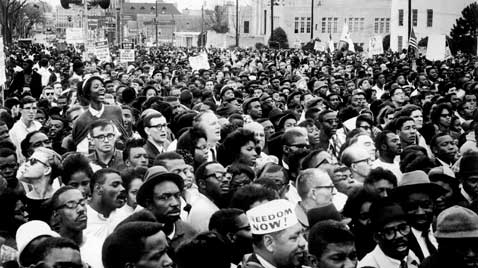 Civil rights demonstrators, led by the Rev. Martin Luther King Jr. (not pictured), arrive in Montgomery from Selma March 26, 1965, in Alabama on the third leg of the Selma-to-Montgomery marches. The Selma-to-Montgomery March for voting rights represented the political and emotional peak of the modern civil rights movement. The first march took place March 7, 1965 ("Bloody Sunday") when 600 civil rights marchers were attacked by state and local police. (AFP/Getty Images)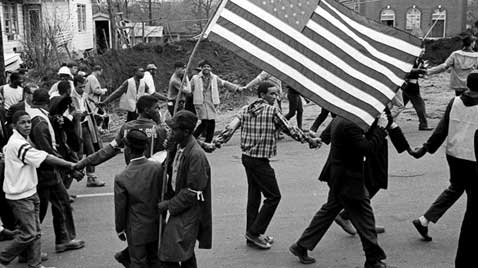 Marchers, hand in hand, walk past a fellow marcher waving a U.S. flag, during the Selma to Montgomery march, held in support of voter rights in Alabama, late March 1965. (Robert Abbott Sengstacke/Getty Images)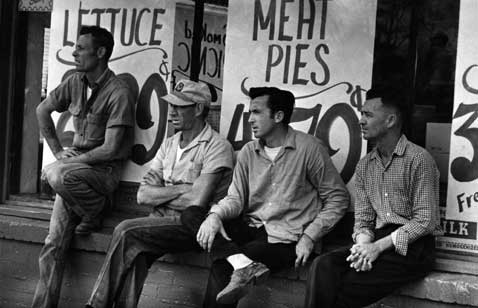 Four local men are seen watching the civil rights march from Selma, Ala., to the state capital of Montgomery, March 1965. (Photo by William Lovelace/Getty Images)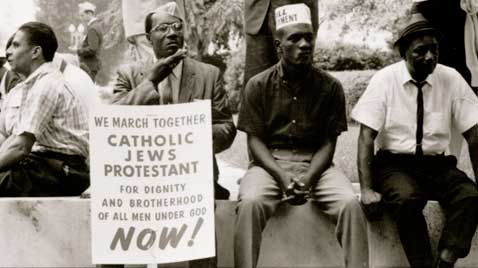 Marchers take a rest during the civil rights march from Selma to Montgomery in Alabama, March 1965. (Buyenlarge/Getty Images)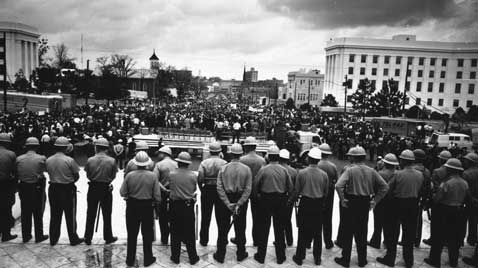 A line of policemen on duty during a black voting rights march in Montgomery, Ala. The Rev.Martin Luther King Jr. led the march from Selma, Ala., to the state capital of Montgomery. (William Lovelace/Express/Getty Images)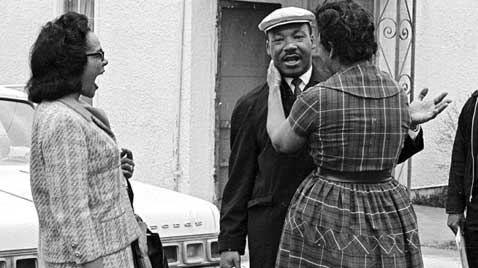 The Rev. Martin Luther King Jr. is greeted happily by an unidentified friend and supporter outside the home where he spent the night in Montgomery, Ala., before the final day of the Selma to Montgomery march, late March, 1965. His wife, Coretta Scott King stands, on the left. (Robert Abbott Sengstacke/Getty Images)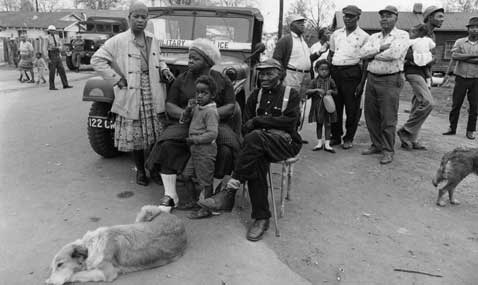 People on the roadside near Montgomery, Ala., after the civil rights march from Selma. (Bob Fletcher/MPI/Getty Images)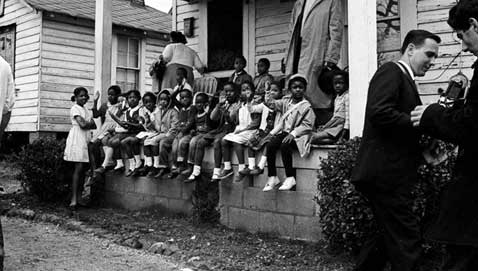 Young children, sitting on their front porch, wave to marchers walking past their home during the Selma to Montgomery marches held in support of voter rights in Alabama, late March 1965. (Robert Abbott Sengstacke/Getty Images)