2012 Pulitzer Prize Winner: Massoud Hossaini's Breaking News Photography
The 2012 Pulitzer Prize for Breaking News Photography went to Agence France-Presse photographer Massoud Hossaini for his heartbreaking image of a 12-year-old Afghan girl, Tarana Akbari, surrounded by dead bodies after a suicide bomber's attack at a crowded shrine in Kabul.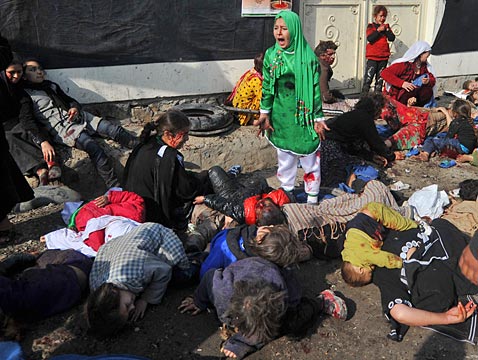 (Massoud Hossaini/AFP/Newscom)
"First of all I should say that I'm so happy and excited to be the first Afghan to win a Pulitzer," said Hossaini. "I cannot sleep even. Also, I'm humbled to be an Afghan who can be a voice for the painful life and moments, which people have here. I know that whoever sees this photo will think about the photographer but I hope they don't forget the pain Afghanistan's people have in their life."
Hossaini was just yards away when the bomb went off on Dec. 6, 2011, killing at least 70 people.