Vinyl Record Day: Dust Off Your Turntables!
Pull out your albums and dust off your record players. It's Vinyl Record Day. After the San Luis Obispo County Board of Supervisors in California adopted a proclamation declaring Aug. 12 Vinyl Record Day in 2002, the
Vinyl Record Day Co.
was formed as a non-profit dedicated to preserving the culture, art and future of vinyl. The date is a nod to when Thomas Edison invented the phonograph in 1877.
Since 2008, Brooklyn-based photographer and self-proclaimed vinyl addict Eilon Paz has been traveling the globe to document record collections and the personalities behind them, and establishing an international hit website, Dust & Grooves. He has gained access to the personal troves of well-known collectors from around the globe, showcasing each collector as well as his or her collections.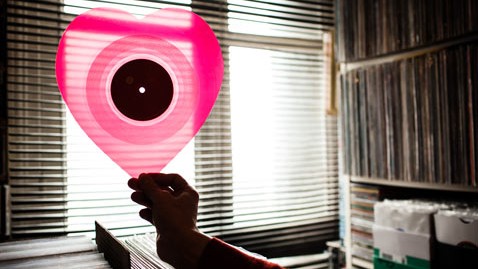 Phil Perfect, a vinyl collector from Paris, holding a Mayer Hawthorne "Just Ain't Gonna Work Out" heart-shaped red vinyl.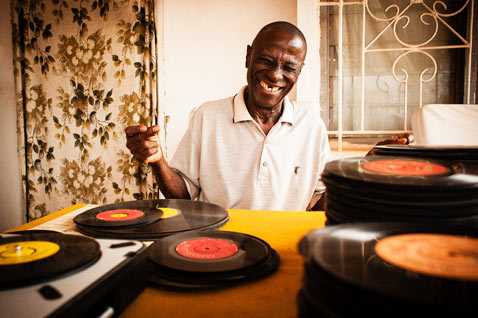 " In January 2011, I traveled to Ghana to document a digging trip with Frank Gossner of Voodoo Funk," Paz said. "We met Philip Osei Kojo, an 80-year-old man from Mampong. He did not listen to his records for the past 30 years just because he could not fix his record player. The first time we played the record was an unexpected emotional surprise, for him and for us."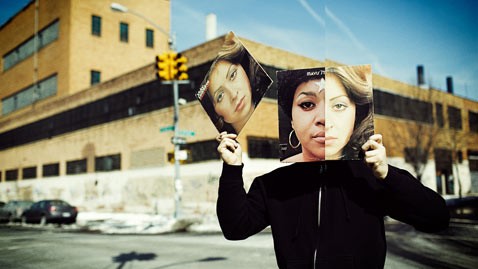 Here's Danny Akalepse doing a double-sleeve face by connecting two almost identical photographs. The challenge was finding two covers with matching faces in a collection of more than 20,000 LPs. We ended up with Mavis Staples and Vicky Leandros.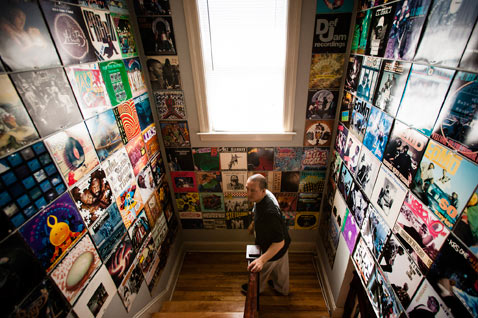 DJ Shame is seen walking through his Worchester, Mass., foyer covered from floor to ceiling by vinyl record covers. Most of his records are funk, soul and hip-hop, which he uses for his hip-hop productions.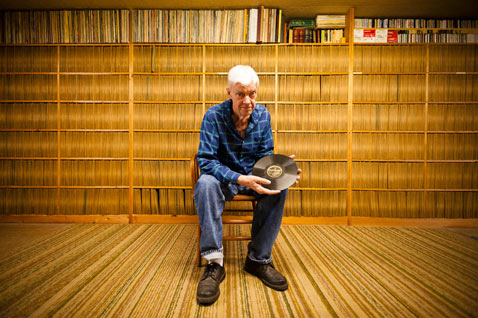 Joe Bussard of Frederick, Md., maintains a collection of more than 15,000 records, primarily of American folk, gospel and blues from the 1920s and 1930s. It is believed to be one of the largest 78 RPM collections in the world. He was the subject of a documentary film, " Desperate Man Blues," and his collection was mined for a compilation CD, "Down in the Basement." If you write Bussard a letter with your favorite songs, he might make you a cassette tape.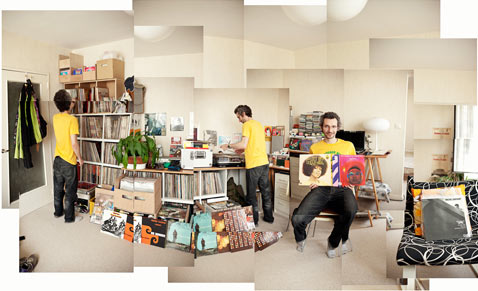 Thomas Pasquet is a collector and dealer from Paris. He has immaculate taste and a great affection for graphic design. He loves to collect library music from the '60s and '70s used as soundtracks for commercials, radio shows and TV shows. Most library music records are rare and super funky.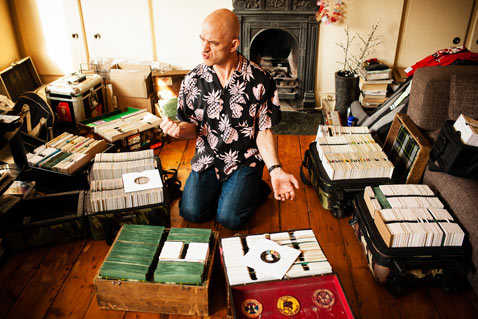 Paz considers Keb Darge, a collector from London, one of his favorite collectors.
"He was my all-time hero when it came to rare funk and grooves," Paz said. "I grew up listening to his fabulous compilations, 'Keb Darge's Legendary Deep Funk.' In one of my trips to Israel, I had a layover in London. That day, the volcano erupted in Iceland, leaving half the world immobile. I was stuck in London for seven days, but I decided to make the best out of it. I called up Keb, and he invited me to his house for a cup of tea and an amazing photo session."
Alejandro, a collector living in Buenos Aires, Argentina, specializes in bizarre record covers from all around the world, specifically from South America. He is the creator of the vinyl blog, http:// discosbizarrosargentinos. blogspot.com/. In this photo, we used albums of the legendary tango musician Carlos Gardel, who's Argentina's biggest cultural icon.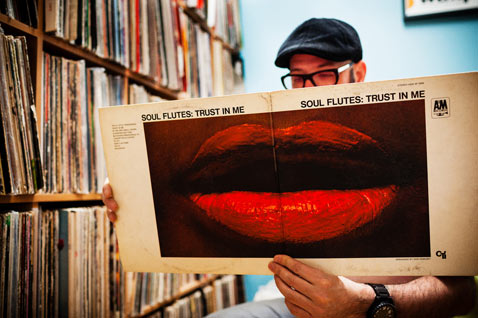 In his apartment in Brooklyn, N.Y., Jamison Harvey is a dedicated funk and soul collector and DJ. He writes and runs the successful blog, www.fleamarketfunk.com. This photo shows the "Soul Flutes" compilation album featuring Herbie Hancock, Ray Barretto and Grady Tate.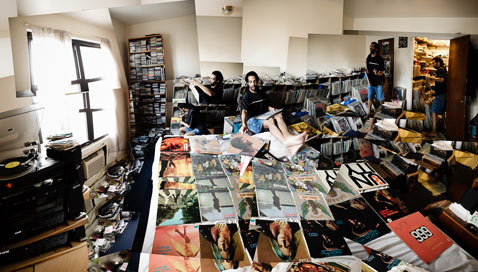 Greg Caz, a music journalist, DJ and a dedicated vinyl junkie from Queens, N.Y., was photographed showcasing a small part of his ever expanding-shrinking collection. Greg writes for Wax Poetics magazine and released a couple of Brazilian funk compilations based on his collection. See Baile Funk 2: Agora E Moda.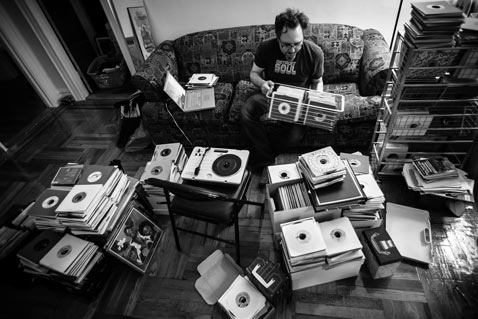 Matt Weingarden, better known as Mr. Finewine, is a 45 vinyl collector from Brooklyn, N.Y. This is probably a casual day at the "office," while Matt is getting ready for his weekly radio show, " Downtown Soulville," at WFMU. Weingarden is originally from Detroit, and much of his music collection is based on the Detroit soul/funk scene.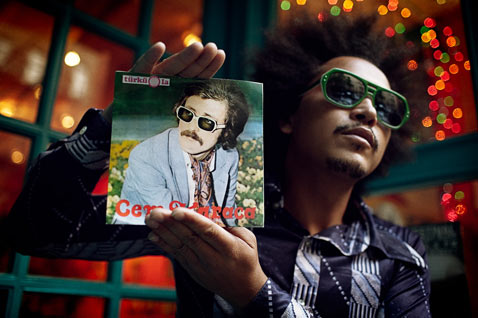 The first collector ever shot for Dust and Grooves, Joel Oliveira, is seen holding a Cem Karaca 7-inch record. Originally from Brazil, Oliveira moved to New York City 12 years ago, starting as a shoeshine boy in Grand Central Station. His love for music and vinyl gave him a real hope and purpose in life. He is the guru of psychedelic Brazilian music, and is the owner of "Tropicalia in Furs" record shop in New York City's East Village.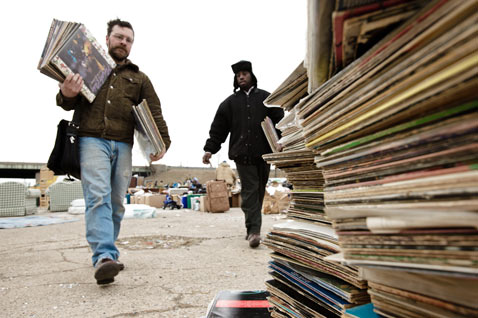 At 6 a.m. at a flea market in Philadelphia, Mark is getting a first look at a truck full of records. Mark is a vinyl dealer and collator. Finding good, valuable vinyl in flea markets is getting harder each day, as the flea market vendors have more options to sell the valuable records through eBay.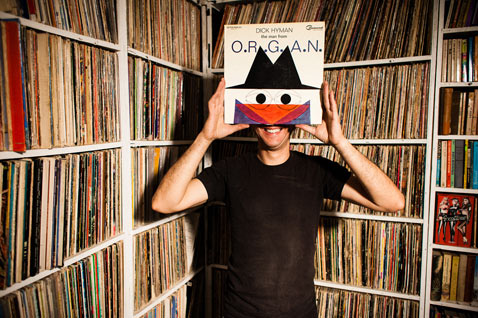 "Matt Mikas lives in an amazing, two-floor loft in Williamsburg, Brooklyn," Paz said. "He was there way before it was cool to be there, and cheaper. The bottom floor of his loft is dedicated to his over-20,000 records of eclectic music and exotica records."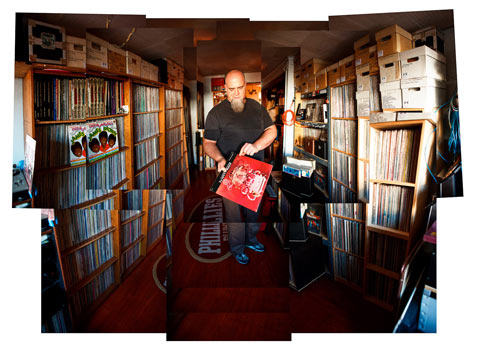 "Since I met Pat James Longo three years ago, he has been my mentor to everything funky," Paz said. "Here, in his little office room in his Jersey City home, his collection is a goldmine for '60s garage rock, funk, rare grooves and a special section for 'Batman' soundtracks."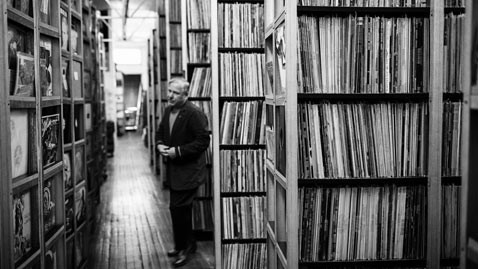 Bob George is seen browsing the collection at the Archive of Contemporary music, New York, N.Y.
All Photos and stories: Eilon Paz
See More Collectors at Dust & Grooves
Eilon will embark in the fall on a two-month, 11,000-mile Americana journey to continue to document vinyl collectors for the upcoming D&G book funded by his successful Kickstarter Campaign. ( "This project is helping preserve the world's musical heritage by revealing and gratifying the people who archive it." - Eilon Paz