PHOTOS: Neon New York Nights
James and Karla Murray's new photo book, "New York Nights," documents the city's bright storefronts that keep the city that never sleeps awake, fed and inspired. With interviews from the owners of theaters, pharmacies, liquor stores, hot dog stands, restaurants and speakeasies, the Murrays give an illuminated and historical account of the urban landscape after dark. "New York at night, seen from above when flying into one of its airports, is a glittering wonderland of numerable tall buildings and lit streets, forming a beautiful panoramic," the Murrays write. "But we wanted to capture the city as we've experienced and love it best, from the ground."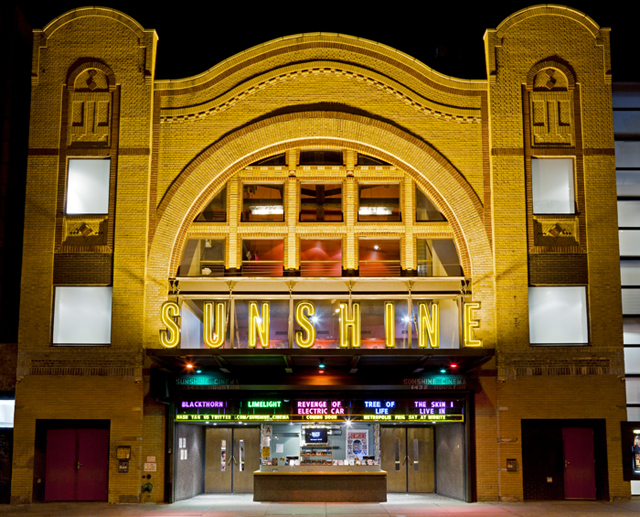 The Sunshine Theater, on East Houston Street near Forsyth Street, was established in 1917 by Charlie Steiner. The building has a long history with varied uses, having initially been built as a church in 1844 but later used as a meeting hall and a boxing venue.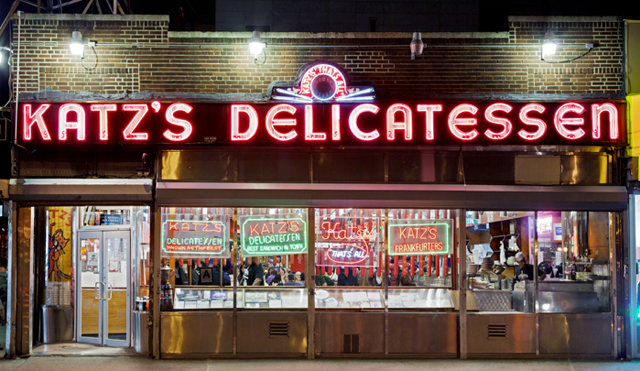 Katz's Delicatessen, on East Houston at Ludlow Street in Manhattan, was established in 1888. It's famous for its Jewish deli foods and serves an average of 5,000 pounds of corned beef, 2,000 pounds of salami, and 12,000 hot dogs every week.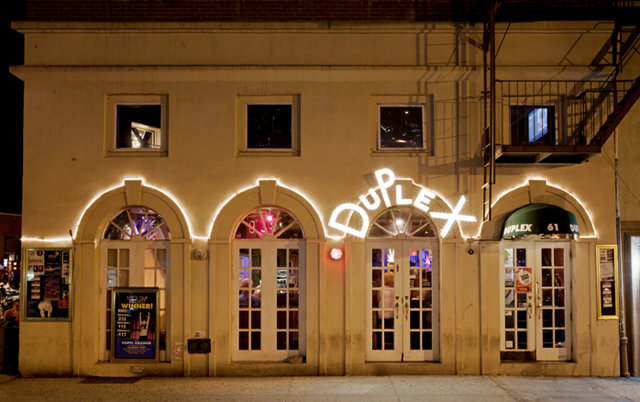 Woody Allen and Joan Rivers both performed their first stand-up routines at the cabaret and piano bar Duplex in Greenwich Village. Duplex is located on Christopher Street at Seventh Avenue South and has been in business since 1950.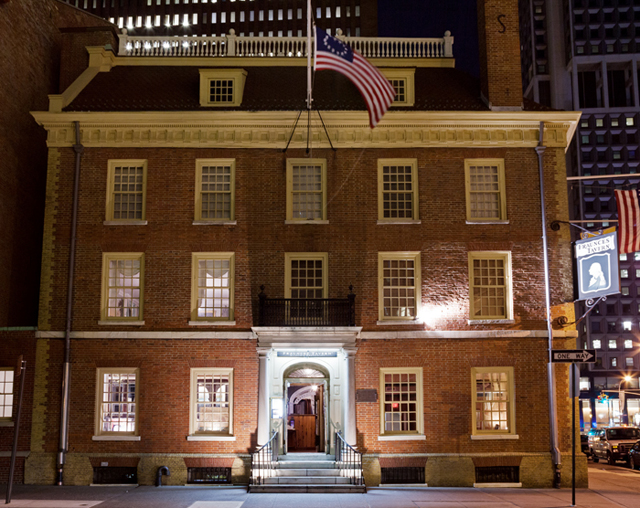 Fraunces Tavern on Pearl Street in lower Manhattan is the site where George Washington bade farewell to his troops after the American Revolution.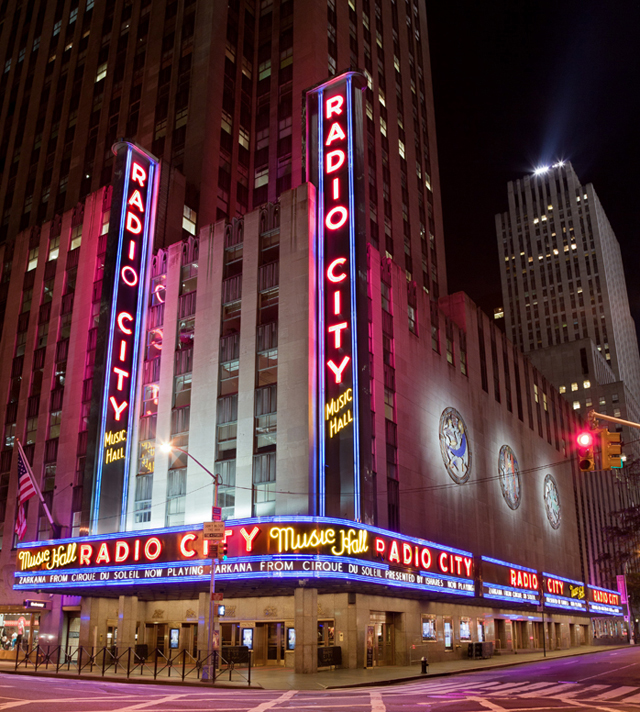 Radio City Music Hall, located within Rockefeller Center at Sixth Ave at West 50th Street, is the largest indoor theater in the world.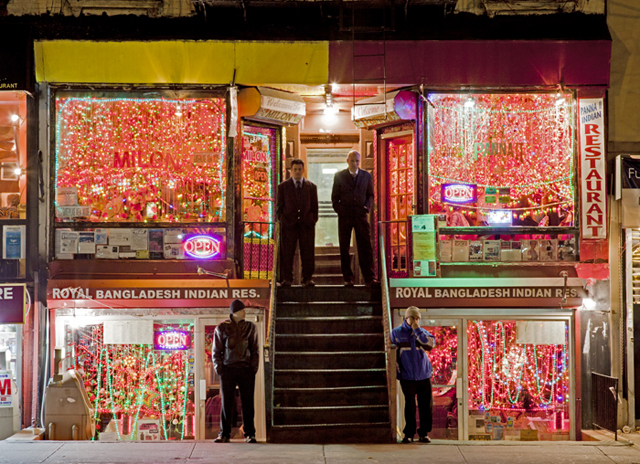 Milon, the window at top left, on First Avenue near East 6th Street in the East Village, is a family-owned restaurant that has been in business since 1982. Milon's lights, and those of its neighbors, were first put up to celebrate Diwali, and have remained (and grown) ever since.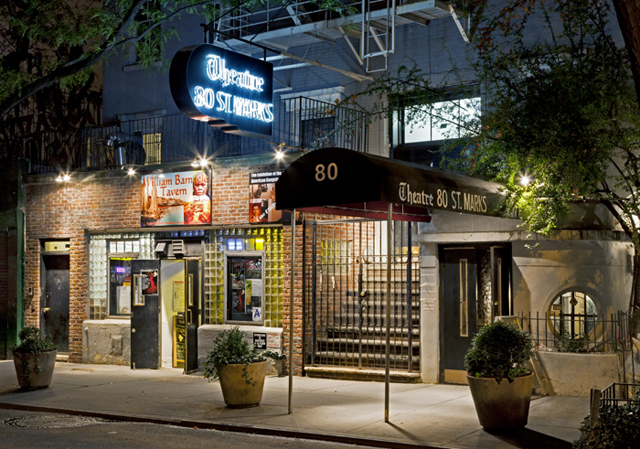 A former mobster's locked safe containing over $2 million in 1928 gold certificates was found by the owners of Theatre 80 St. Marks on St. Marks Place near First Avenue in the East Village. Frank Sinatra was a singing waiter here when it was a former nightclub.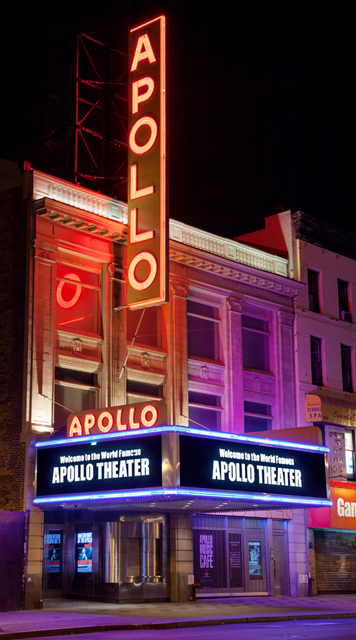 The Apollo Theater, located at West 125th St near Frederick Douglass Boulevard, is a legendary African-American entertainment venue located in Harlem. The Supremes, Stevie Wonder, and Marvin Gaye held their debut concerts here and James Brown and many other great acts recorded live performances at the Apollo.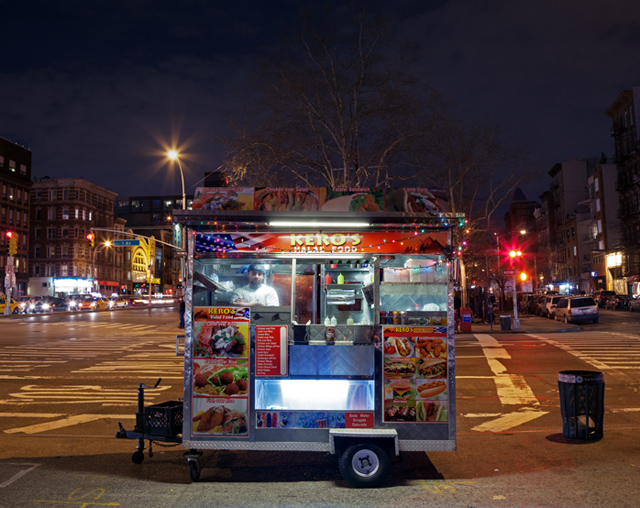 Kero's Halal Food cart on First Avenue at East Houston.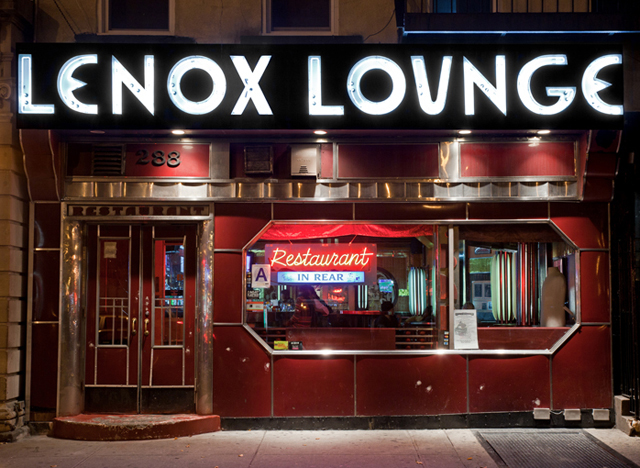 Billie Holiday, John Coltrane, and Miles Davis performed at the Lenox Lounge, on Lenox Avenue near East 125th Street, and it was a gathering space for cultural and political luminaries such as Langston Hughes, James Baldwin and Malcolm X.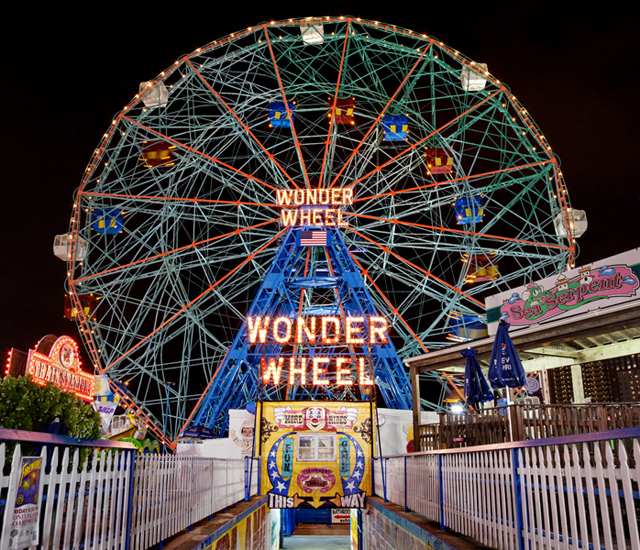 The father of the current owner of the Coney Island Wonder Wheel often told his wife that one day he would buy the Wonder Wheel for her as a wedding present -"a ring so big that everyone in the world would see how much he loved her, a ring that would never be lost."
Photographs from "New York Nights" will be on display at Clic Gallery beginning on March 4, 2013 and in an opening reception on Thursday, March 7, 2013 between 6-9 p.m. Clic NYC, 255 Centre Street, New York.