PHOTOS: Bikini Babes Back Then
Bikini. The word conjures up a lot of feelings, from dread to pride to titillation. Before the bikini, bathing costumes, as they were known, were decidedly more modest. The arrival of two-piece bathing wear led to the arrest of Australian swimmer Annette Kellerman in 1907.
It has been a beachfront staple since its shocking arrival on French beaches in the 1946, when Louis Reard hired nude model Micheline Bernardini to show off his fashion creation, and was further popularized by Hollywood starlets and socialites. Here is a look back to its humble beginnings, and some of its iconic appearances.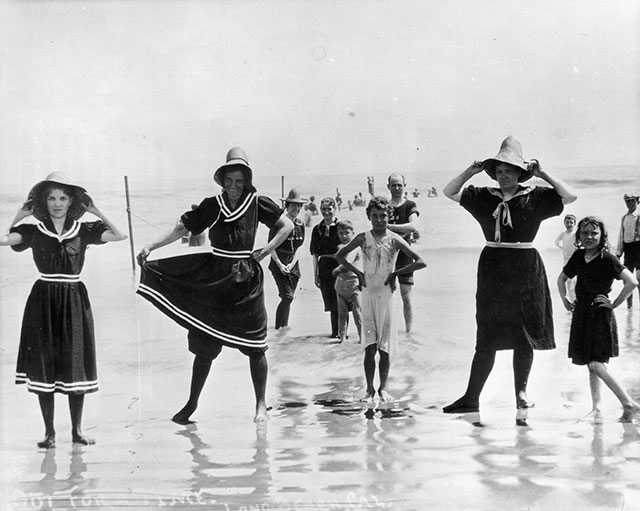 Holidaymakers posing in bathing suits in the ocean surf at Santa Monica, California, circa 1890. (Getty Images)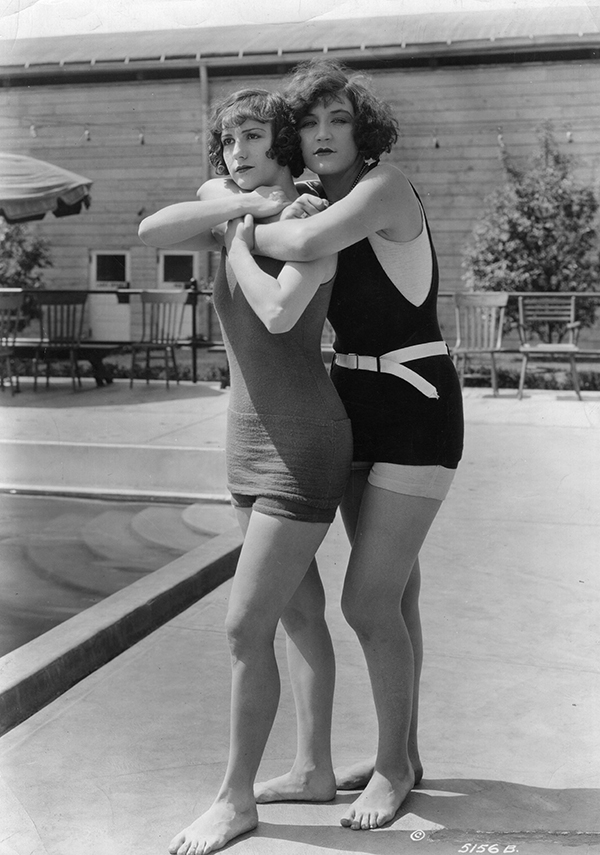 Bathing beauties Andrea Sayley and Margaret Oliver, two of Mack Sennett's bathing girls, demonstrate how to save someone from drowning. (Getty Images)
Nylon became a game-changer for bathing suit designs in the 1930s, allowing for more form-fitting cuts, lower backs and skinnier straps. Smaller swimsuits also meant less material used, a necessity during wartime rationing.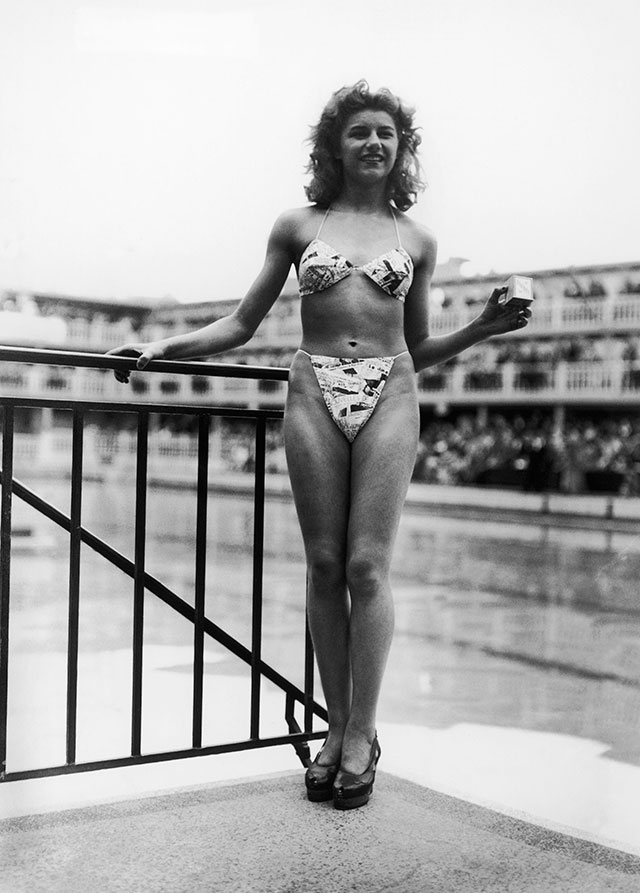 Michele Bernardini who has just won the prize for the prettiest 1946 swimmer of the Molitor swimming pool, showing off on July 5, 1946, the first bikini, created by the fashion designer Louis Reard. The box she holds in her left hand allows her to put the bathing suit away. (Getty Images)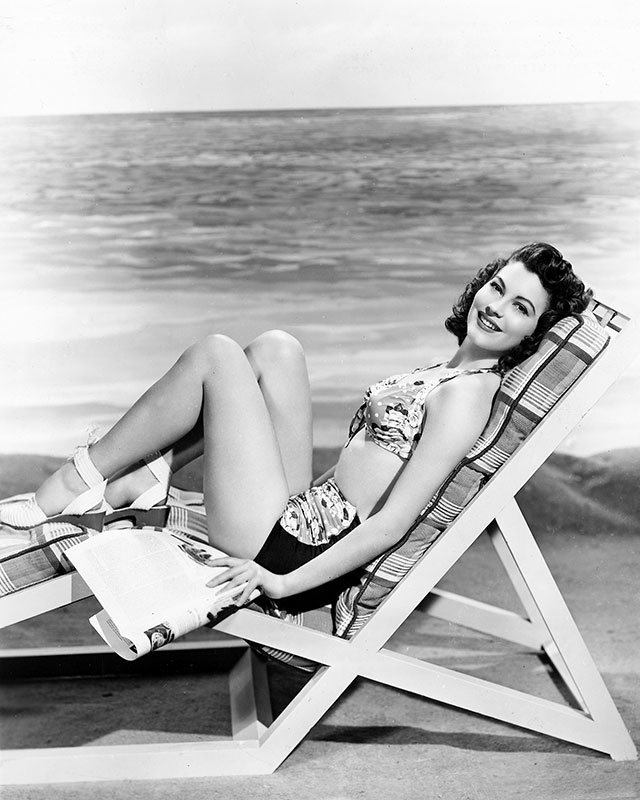 American actress Ava Gardner relaxing in a deckchair, circa 1945. (Getty Images)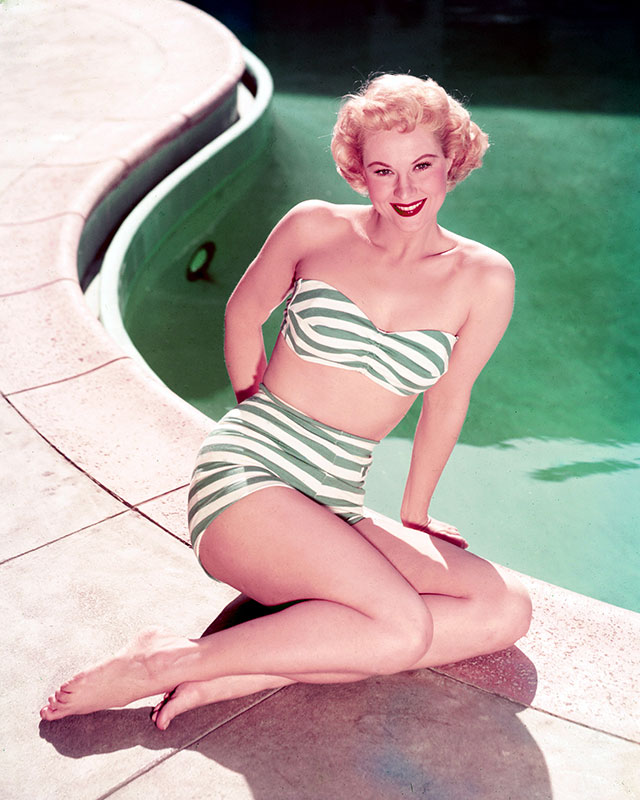 Virginia Mayo, US actress, wearing a green-and-white striped bikini, posing at the edge of a swimming pool, circa 1946. (Getty Images)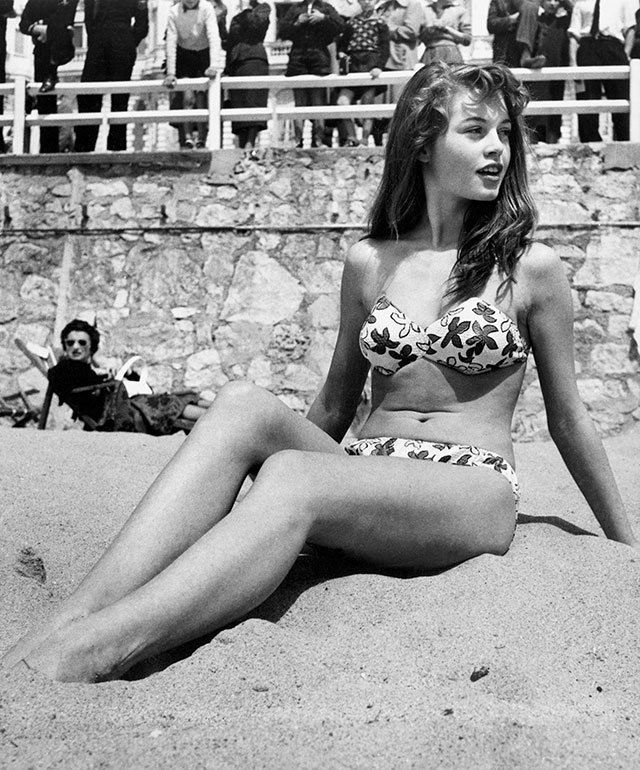 French actress Brigitte Bardot sitting on the beach during the Cannes Film Festival, 1953. (Getty Images)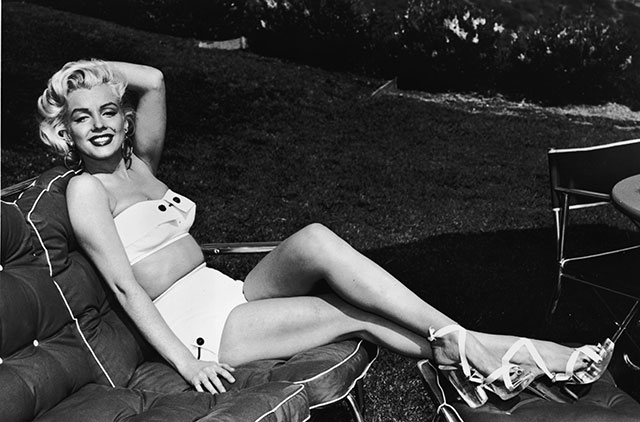 American actress Marilyn Monroe reclines on patio furniture on a lawn, early 1950s. She wears a two-piece swimsuit, lucite heels, and bangle earrings. (Getty Images)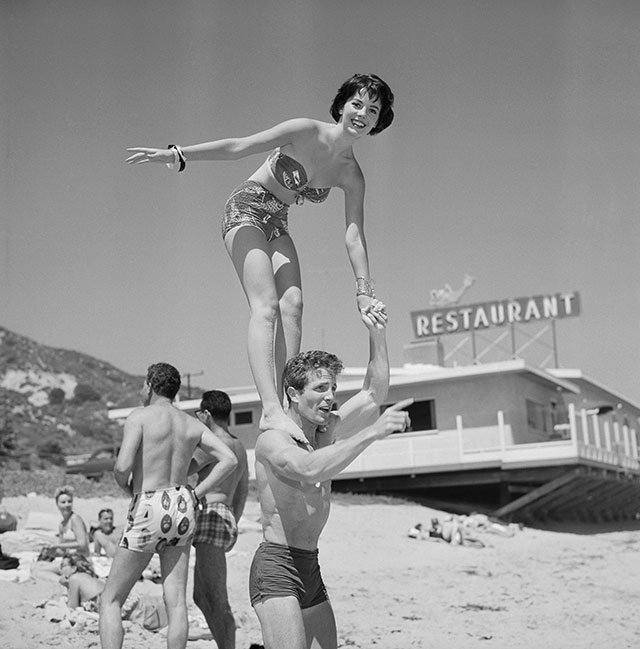 Actress Natalie Wood stands on the shoulders of actor Steve Rowland at the Thalians Beach Ball which was held at the home of Elaine Stewart on July 15, 1956 in Malibu, California. (Getty Images)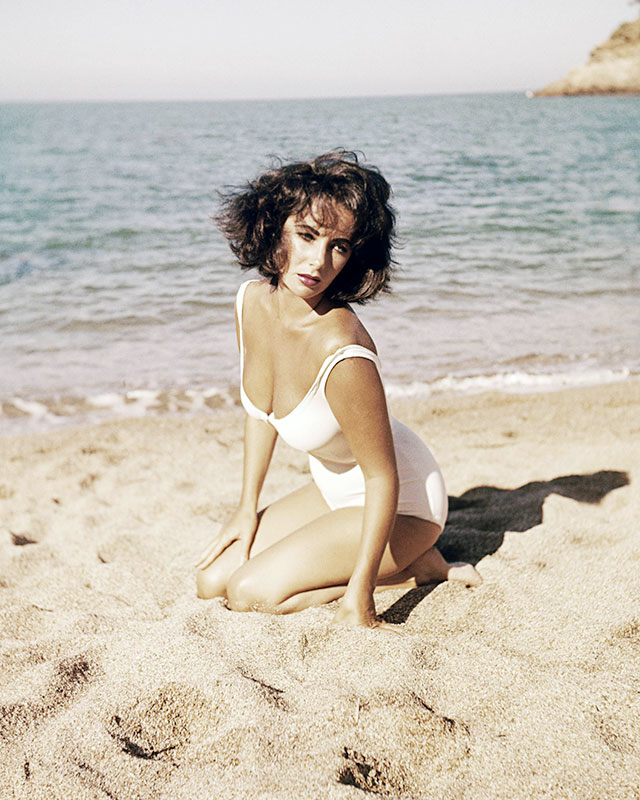 Elizabeth Taylor, British actress, wearing a white swimsuit as she kneels on the sands of a beach in a publicity still issued for the film, 'Suddenly, Last Summer', 1959. (Silver Screen Collection/Getty Images)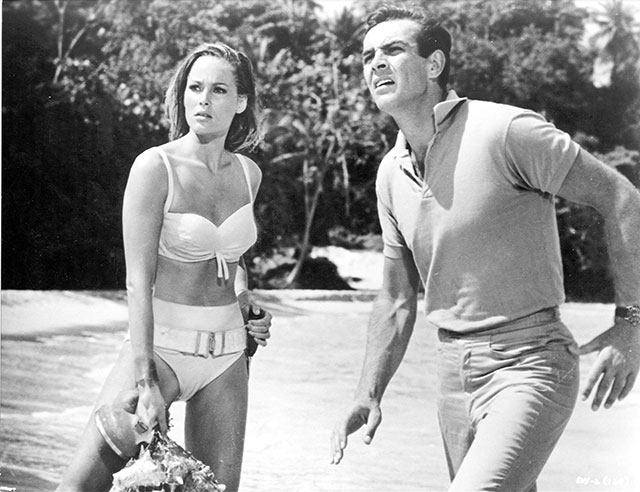 Actors Ursula Andress and Sean Connery in a scene from 'Dr. No", a 1963 film directed by Terence Young. (Getty Images)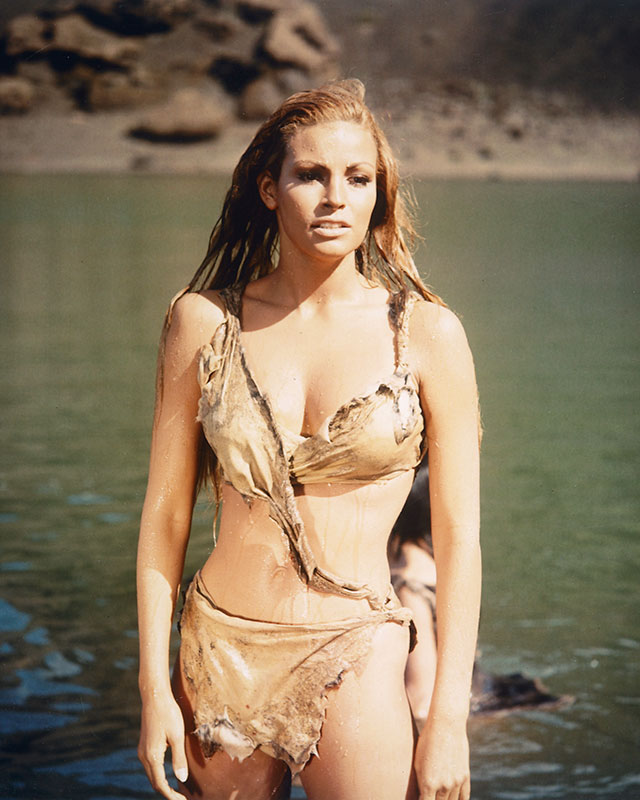 Raquel Welch, US actress, wearing an animal hide bikini in a publicity portrait issued for the film, 'One Million Years BC', 1966. (Getty Images)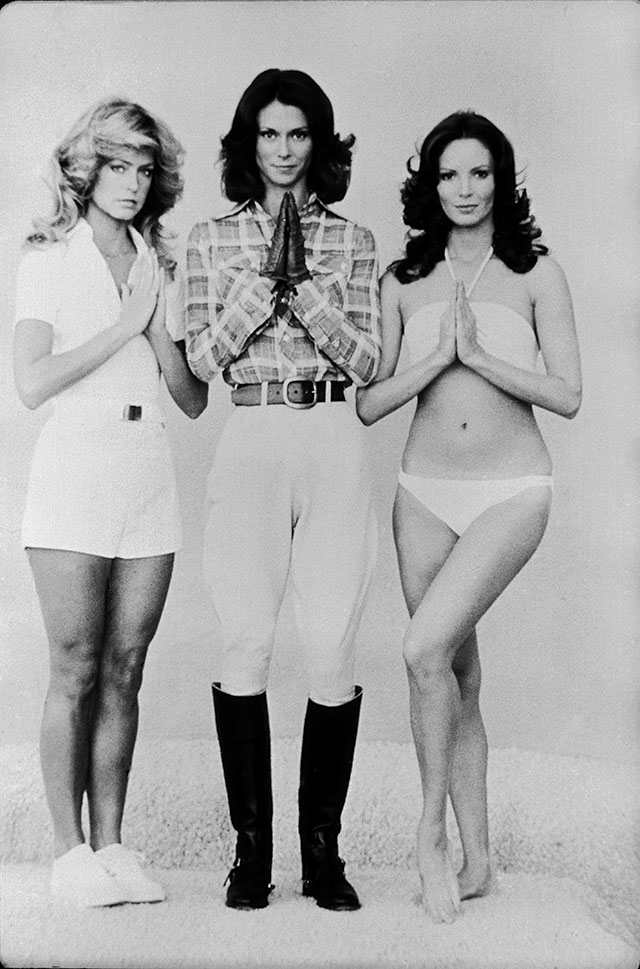 American actresses Farrah Fawcett, Kate Jackson, and Jaclyn Smith as they pose with palms together for the television program 'Charlie's Angels,' mid 1977.
Charlie's Angels was one of the first television shows with women in roles traditionally reserved for men, but still managed to squeeze the crime-fighters into bikinis on a regular basis. There have been many iterations of the bikini since, from Brazilian to barely-there microkinis, and the beach style shows no sign of abating.
See more featured photography curated by ABC News photo editors and Picture This, the ABC News photography blog.