Man Drives Car Off Cliff, Survives
A California man drove his car off a 40-foot cliff in San Diego and into a cove, and was transported to a hospital by helicopter, the San Diego Fire Rescue Department told ABC News.
It appeared that the man only sustained minor injuries, said Maurice Luque, the Public Information Officer for the San Diego Fire Rescue Department.
Authorities have not released the man's name, so ABC News was unable to obtain the current status and severity of his injuries from the hospital.
Luque said the department received multiple calls at 5:45 a.m. this morning that a car had gone off a cliff and into the beach. The department immediately dispatched medics to go to the beach and assess the situation.
Read the story of a former NFL linebacker who also drove off a cliff in California.
Luque said the man exhibited unexpected behavior with would-be rescuers.
"He was combative, he wanted to fight with our crews, he wanted to be left alone," said Luque. "He was not cooperating."
He calmed after the medics restrained him, and they were able to transport him to the hospital.
The San Diego Police Department said it will not know if the man was inebriated until his bloodwork comes back, which is expected to happen within the next 48 hours.
The San Diego Police Department is conducting an investigation into the incident.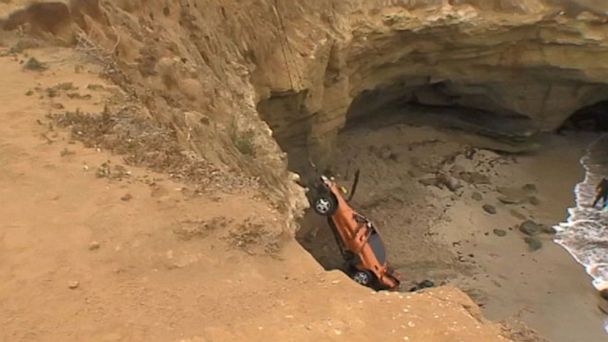 Maurice Luque